Our wonderful pediatrician saw both boys today.  They were, of course, found to be healthy and quite fit; but they are very silly!!!  While we were waiting for the doctor to come in, we found more things to laugh about!  At one point, Aaron was laughing so hard he had tears on his cheeks!  In fact, we were in the midst of one of our group giggles, Copper, the boys and I, when the doctor came in!  She had not seen Aaron in several years, though she's seen Will a few times for injuries and such.  It was a good appointment and wonderful to visit a bit with the doctor who has seen all four of our children through so many things –  Injuries, illnesses, the infection that threatened Aaron's life, not once but twice, when he was a newborn, and diagnosing William's Tourette's.  We've always had a good working relationship with her; and I am thankful for her laid back approach and her willingness to let my husband and I make the decisions for our children's health care.
Aaron will be returning to the medical office later this week.  Without stimulating a discussion on the ins and outs of immunizing our children, I will tell you that we've talked with Aaron recently about a couple of "childhood" diseases and their possible impact on young men and pregnant women.  After discussing things with him, he agreed that this would be a good time for him to be immunized against measles, mumps and rubella.  I'm telling you this because I am so pleased that my son, though obviously not looking forward to having an injection, has matured to the point that he can think about his future family and their well being.  Oh, my boy is growing up; but that is just as the Lord ordained things to be.
My husband had a few errands to run while we were in town, and I needed to pick up a couple of my boys'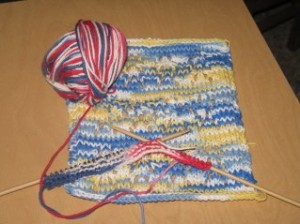 spelling notebooks
, too.  We ended up spending a lot of time in the car today, but I finished up one knitted dishcloth and started yet another as we drove about.  Knitting dishcloths is a perfect car project.  They are small and easily worked in the confines of a car.  We've been using the knitted cotton dish cloths for about a week now, and I absolutely love them!  Dani has been busily knitting baby hats for the Afghans for Afghan project (you can find the link for this project in the sidebar on her blog), so she brought her knitting along today as well.
My girlie-girl and I ordered some yarn from Knit Picks today.  We combined our order and qualified for free shipping.  I love it when that happens!  Dani ordered yarn for Christmas gifts. I ordered some beautiful wool yarn (in the Amethyst Heather colorway) to make an everyday shawl for myself.  I was inspired by the lovely knitted shawls that Jewels and her daughters have made.  I knew when I saw them that they were just the thing to have when the weather turns cool, and even cold, to keep by the back door to put around my shoulders when I go out for the mail, to walk a visitor to their car, or just to take a stroll.  Warm and cozy, and yet so feminine.  I have already worked out how I will make my own shawl by experimenting with some of my bits and pieces of left over yarn.  I will be anxiously awaiting the delivery of my new yarn to get started!
My planning is coming right along!  We spent a rare Sunday home yesterday, and I spent most of it seated on the couch in my school room, surrounded by my notes, my lap top, books, and the rough drafts of all of my schedules.  I worked there for several hours, sometimes with my feet up, and sometimes with them curled up on the couch beside me.  I think I am almost there.   Almost!  The planning, for the most part, is done.  What is left to be done is what I enjoy most – physically getting things organized and put together!!!  With our unusually busy schedule, I won't be able to get to it until later this week, but what a treat that will be!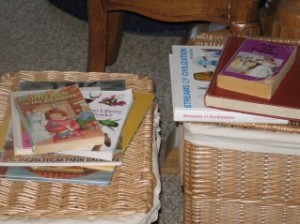 Filling the basket near the school room couch with all of our read aloud and morning time things

Pulling books from the shelves for the boys' school baskets (though I even did a bit of that yesterday!).

Organizing their now-shared desk space with cups of pencils, pens, etc. within easy reach.  Not that they sit at the desk much, but it is a fine central location for them to retrieve needed supplies.

Cleaning and organizing my area at the breakfast bar/command central, with all of the little things that I keep there for my own use.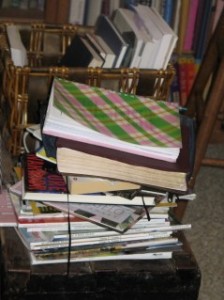 The process, though, has left my school room in a bit of  a shambles!  I have stacks everywhere!  In fact, there  is one stack to the side of the couch that is teetering!  I believe if I added just one more thing to it, it would all come topping down!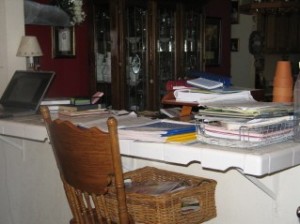 The stacks will be, in the next few  days, dealt with as things are assembled and organized. As I said before,  this is my favorite part of the process.  What a pleasure it will be to see the piles disappearing and to see our school room organized and ready for next Tuesday's first day of the new school year!
I know many of you are already longing for fall, which is still a few weeks away.  I love autumn, too; it is truly my favorite season!  However, the beginning of each new school year is the time that I enjoy most.  We homeschool year around, but we schedule our year so that the day after Labor Day is always the "official" start of a new year.  It's such a wonderful time of new beginnings!  We look forward to what new things we'll be learning together.  For Will and me, it will be a bit of Spanish.  The boys eagerly look through the books that I've pulled out for them to read and browse through them with such anticipation.  Aaron is a bit nervous about beginning Algebra, but I know that it's an exciting prospect for him just the same.  What an accomplishment it will be to complete that first lesson!  I always eagerly anticipate the new things we will learn together; but I also look forward to seeing the spiritual growth that, Lord willing, my boys will achieve during the coming months.
I was so sleepy after riding around in the van while we ran errands all day!  I certainly enjoyed the leisure of it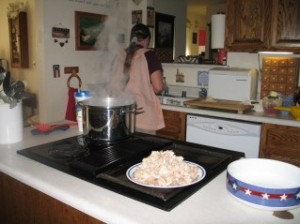 being Dani's night to fix dinner.  She runs a very organized kitchen!  As the pasta boiled, her plate of diced chicken, and her container of fresh-from-the-garden halved cherry tomatoes, cubed mozzarella cheese and herbs, as well as her smaller container of freshly grated parmesan stood at the ready.  Just like her mama, she cleans as she cooks – loading dirty utensils into the dishwasher, hand washing up small items, and wiping the counters as she goes.  I don't remember ever "teaching" her that.  It's all just a matter of most things being caught rather than taught as our children learn by doing and watching at our side.
The table was set, the salad made and the drinks were  poured and on the table by the time the pasta was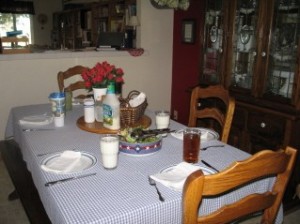 done.
She quickly tossed the main dish together and what a wonderful, beautiful main dish it was!  We have only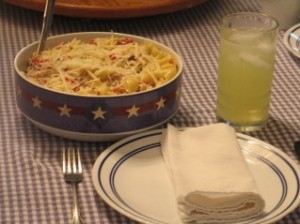 recently begun to pick up issues of Everyday Food when we see them.  With recipes like this one in every issue, though, I think we may subscribe!
My day has flown by, yet again; but it was a full day, just as always.  The evening chores have all been completed, the animals are all fed, and the sun has gone down.  We have met together for a time of family worship.  The boys have gone to bed, and the rest of us will soon be headed that way.  We have a full day ahead of us again tomorrow, and I am very much looking forward to it!
God bless you as you look well to the ways of your household!
Proverbs 31:27