It's been so long since I have had a normal day, I'm not even sure I'd know what to do with one if it came my way!!!  Woo hoo, life is exciting, isn't it??  Honestly, I wouldn't have it any other way.  Though I had fully intended to use today to regroup and get life back onto schedule, my husband called me from work and said that he would like me to do some research on a new dishwasher.
I pulled up the very lengthy list of dishwashers that qualify for rebates with our electric company and then headed to the Home Depot web site to see what they had.  They have a really cool feature on their site, which I must have triggered by using their comparison page to check out dishwashers.  A nifty little window popped up asking me if I'd like to consult live with a major appliance specialist.  I clicked "yes" and was quickly connected to "Tim".  I wish now that I'd known a bit more what I was looking for (price range, features, etc.) because he was very helpful.  I gave him some rather vague requirements (built in, large capacity, Energy Star rated).  He asked a couple more questions, and then gave me a link to several dishwashers he'd found with my requirements.  Give it a try!  I thought it was a great feature!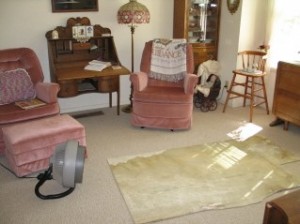 On the broken dishwasher front, the huge fan has been running 24/7 for about three days now.  The only time it is off is when I need to stand at the sink to wash dishes.  The floor is beginning to dry out.  The cut out piece of linoleum in my parlor is also drying out, with its own 24/7 fan, though it is drying a bit more slowly.  I love the added ambience that the upside down linoleum gives to my parlor, don't you?
Oh, I really don't mind.  The linoleum needed a place to rest upside down in a flat position.  Outside really isn't an option with all of the wildlife around here.  At least in the house I know that it's going to remain clean.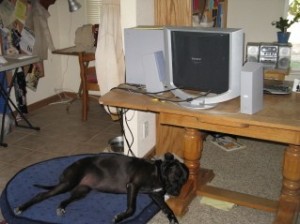 My planning for our fall term has included changing things up a bit in the schoolroom.  The computer on the  table Aaron uses for a desk has just really bugged me for quite some time.  Not the computer so much, as all of the cords that were hanging down the back.  Ideally, a laptop or notebook computer would be the best arrangement for the boys desk, but that isn't an option.  I am so grateful that we were able to keep components from an older computer to allow the boys to have one for their use.  Seeing how I can improve things using only what I already have is always a fun adventure.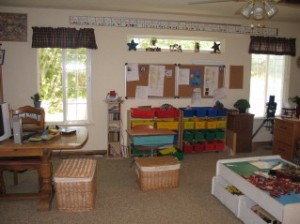 Another area that needed attention was finding a place for William to do some writing.  He has always loved  having his own little school desk.  He is only eight, but he is very tall and has finally outgrown the last of our thrifted school desks.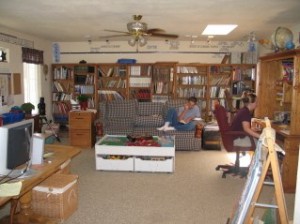 Finally, I wanted to be able to have a real coffee table in front of our school room couch. The train/activity table works, of course, but it is usually covered in….well…..activities!!!  I knew if I spent some time thinking about it, I would find a way to keep the table for projects and still be able to have a coffee table there.
Before I even started work, I put a glass jug of sun tea out on the front porch to brew.  One of Will's jobs is to  sweep the cobwebs down from the porch a couple of times a week.  I was noticing that he needed to be a bit more diligent in his work, when I noticed that a mud dauber had begun a nest high up on the porch.
I tried to catch a picture of the wasp because he (she?) kept poking her head out to look at me.  I never quite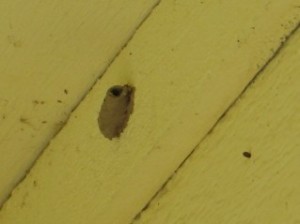 caught it.
Aaron helped me move the computer components a bit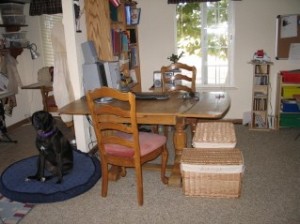 .  I'd love to put the CPU on the floor under the table, but the only spot for it would block the outlet for the central  vaccum.  We ended up just sliding the CPU over to the bit of wall space next to the book cases.  I put both speakers on top of the CPU, and then swung the monitor over to an angled position.  The keyboard and mouse are wireless, so it's relatively easy to push those out of the way and then pull them back into position when needed.  I put a cord keeper on my shopping list for next week to finish corraling all the cords under the table.   (You'll notice that we FINALLY woke Dixie up from her lazy, afternoon nap!) We brought an extra chair in from the kitchen and put it on the other side of the table for Will.  His school basket fit nicely under the table next to Aaron's.  Will's old school desk was, sadly, set aside.
I put Aaron to work vacuuming for me.  He vacuumed the area where Will's little desk had been.  The two of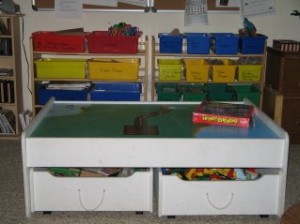 us then moved the train/activity table over in front of the buckets that house our art supplies
!  My instant thought was, "why didn't I think of THIS before?"  A nice, low, kid height table right in front of all of the art supplies!!!   Perfect!
Aaron, my faithful assistant through the entire project, then went out to our storage barn and brought in our old coffee table that had most recently seen service in the parlor.  This particular table was an anniversary gift for my husband and I from my parents too many years ago to remember.  It's given us many years of service, and I'm so glad to have it back in my home again!  Oh, sure, the finish is a bit rough.  I plan to give it a good coat of polish in the next day or two to help protect it a bit.  My family lives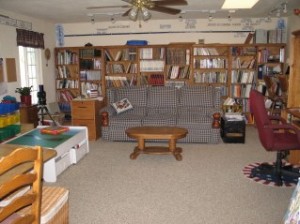 in our home 24/7.  We eat here.  We rest here.  We school here.  We play here.  While we definitely make every effort to take good care of the things that the Lord sends our way, I'm certainly not ashamed of a piece that begins to show the use it's had!  I'd much rather have my children gathered around my coffee table playing a game that might scratch it a bit, or enjoying a drink that might drip onto the table, than have them anywhere else!
Nothing is on the coffee table yet.  I was hoping the basket I use for our daily read aloud times and joint studies would fit on the shelf underneath.  It was just a hair too big!  I just now looked up, though, and saw the basket I keep my journaling supplies in.  Sure enough!  It fits perfectly!  It will just be a matter of switching the contents of the two baskets to have things just as I'd hoped!
I thought this was going to be such a huge project, but Aaron helped me and I believe we had it all done, vacuuming and cleaning things off as we went, in under an hour.  I am so pleased with the results!  I know that my boys, and my grandchildren, will be able to enjoy playing games and doing crafts at the activity table without having to worry about them being in the way..  We will all enjoy having a coffee table close at hand when we're reading on the couch (which happens a LOT in my home!) without having to worry about disturbing someone's project on the train/activity table.
When we were done with the school room the iced tea was brewed, too.  It was just a bit light, but oh, it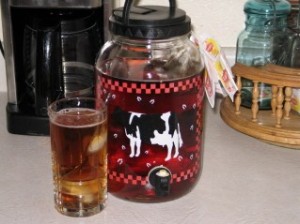 tasted so good poured over ice and sweetened just a bit!  Aaron and I both enjoyed a nice cold glass, and then we both returned to the school room to enjoy the fruit of our labors!
If my days are not going to be "normal", then I will still make the most of them!  I may not be doing what I had planned each and every day, but I can still work to make my home function better and look nicer.
God bless you as you look well to the ways of your household!
Proverbs 31:27