Our Saturday was our normal busy day.  Yard work, lots of laundry, cleaning the animal pens, watering and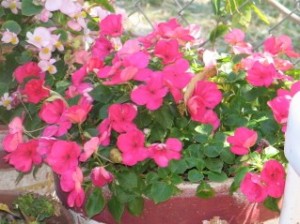 irrigation, and preparing food in advance for the Lord's Day.  We do a lot on Saturday, but we do tend to work at a more leisurely pace than we do during the week.  Slow, but steady throughout the day.  I often find myself working a bit hurriedly on Saturday evenings, finishing up those few last things; but for the most part, my Saturday pace is more relaxed than it is during the week.  At the end of it all, though, it's nice to look over freshly mown lawns, well watered orchards and flower beds, drawers filled with clean, neatly folded clothing, and a kitchen filled with all sorts of good food.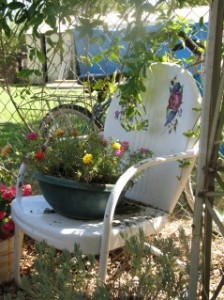 Yesterday was our Friday to shop.  I am pleased with the purchases we made.  Dani had a new recipe she wanted to try, so we were sure to pick up the shell pasta needed for that.  The cash in our food envelope was carefully guarded and we talked about different things we could put on the menus for the next couple of weeks to stretch that money further.  We're looking forward to having cheese enchiladas, BBQ Chicken Pizza, and quiche. Today Dani thought of adding Focaccia and a hearty, homemade macaroni & cheese, as well as some black bean & corn tostadas!   Hmmm……..I may have the menu already planned for the next two weeks!
I found  a lovely four tiered serving piece at Costco that I knew would be used frequently throughout the year for various functions in our home.  It was under $20, and somehow it wandered right into the basket!  I am really looking forward to using it . I'm already thinking of all of the possibilities!  I also picked up a couple of Christmas gifts!
We have, in the near-by city where we shop, a discount grocery store chain.  It's big and noisy.  It's sometimes dirty, and oftentimes quite crowded.  We have to bag our own groceries.  What we have found, though, is that this store's everyday prices usually match most stores' sale prices.  On occasion, we have made special trips to another store to pick up an item or two that was on an exceptionally good advertised sale, only to head to the discount grocer's to see the same item at the same price, or a price several cents lower.  After several months of price checking, and watching the ads, we are convinced that we are getting our best prices by shopping at just the discount grocery.  Even if they only meet the other stores sale prices, I'm still saving money in gas, as well as that very valuable commodity, my time.  If you have a WinCo Foods in your area, check it out and see if you find the same thing.
In all honesty, despite its faults, I have really come to like this store over the years.  Because of the low prices, we often find large families shopping there.  I enjoy getting in line behind a cart with a toddler in the seat and visiting with the little one while we wait.  I enjoy watching the older folks carefully choosing their produce, or selecting just a scoop of this and a scoop of that in the bulk foods section.  I always enjoy the comments we encounter when we are filling our large bags of baking supplies in the bulk foods section!   "No, no, we're not planning for a bake sale, semi-sweet chocolate chips are a staple in our home!"
"No, I don't run a day care, we just eat a lot of old-fashioned oat meal!"  Honestly!  And we are a small family of only five!
Have you ever used grocery shopping for kitchen inspiration?  I do, and it's a lot of fun!  For example, I have  been known to cruise the prepared frozen meals aisle, and then head home and create my own versions of some new dish I spied there.  Yesterday we stopped to look over the racks of specialty breads at the store.  Cinnamon Raisin Bread.  Apple Streusel Bread.  Blueberry Bread (which had an amazing looking streusel topping!)  Of course the loaves were tiny little things and over $2.00 per loaf!  These types of quick breads can be made quite simply at home.  Sometimes all that is needed is a little inspiration to tweak a recipe you already have, or to remind you of a family favorite that hasn't been made in awhile.
Dani took the inspiration a step further and made up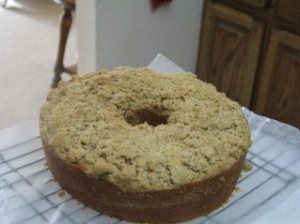 a Cinnamon Streusel Coffee Cake today.   We will put this in the freezer and then schedule into our menu sometime in the next week or two.  It turned out beautifully, and she has discovered a wonderful new-to-us cooking blog in the process.
She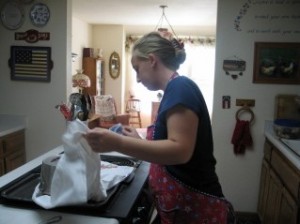 used the instructions found at the recipe site for inverting the cake without losing the streusel topping.  It  worked!
We've had a lovely breeze today, which has kept our temperature hovering just under 90 all day.  It's warm, but not uncomfortable, with the house opened up.  I can hear the wind chimes on the front porch, as well as the set outside my bedroom windows.  I absolutely love the sound of large wind chimes!
This next week will be full.  The boys have appointments with the pediatrician on Monday.  Dani has an apopintment for a much-needed eye exam on Thursday.  My husband also has two wonderful day trips planned for us.  I am very much looking forward to both day trips!  We don't take vacations, but these little day trips bring us the same refreshment and delight!  We will also be implementing the new chore lists for everyone next week.  With next week's schedule so full, posting might be slim, but things should be back to normal after Labor Day.
I am very much looking forward to the week after Labor Day.  For the first time in many years, I will again have a homeschooled high school student.  That's always an exciting time!   I've a bit of school planning yet to do, but, Lord willing, I will find the time this next week to get it all done!  (Be sure to scroll down below this post for two recipes that I promised for today.)
Have a blessed Lord's Day tomorrow!
God bless you as you look well to the ways of your household!
Proverbs 31:27