I believe I was the first to wish my husband a happy birthday today.  The alarm went off at 4:35 a.m., and I wished him a happy birthday then.  Then I went back to sleep!
My husband went to work as usual on this his 52nd birthday.  When I talked to him early in the afternoon, he was having a so-so kind of day.  I wish it were going better, but……….
……..we do have plans for him here this evening!  Yes, we do!  Corin, Rob and the grandbabies are all coming over.  I've whipped up a Banana Split Cake for us to enjoy.  We've all been working quickly today to try to get all of our Saturday chores finished up before dinner so that we'll be ready to party a bit when my love gets home from work around 7:00.  Corin has a cute post on her blog for her Dad's birthday that you might enjoy.
As I type this, it's almost 4:00.  The last of the laundry is in the dryer (my husband's second uniform).  The rest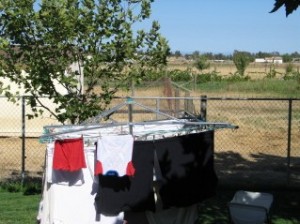 of the laundry is on the line and most of it is ready to be brought in, folded and put away.  My sheets are still out there, and I'll be sure to bring them in in plenty of time to give them a spritz with my homemade lavender linen spray before pulling all of the top covers up.  Aaron is putting clean sheets on the bunk beds right now.
The boys did all of the weekly outdoor jobs this morning and early afternoon – the mowing, edging, cleaning the animal water buckets, putting new grass in the nesting boxes, spreading dry straw in the barns, and raking up the goat and sheep yards.  It's dirty, hot work, but the air conditioner has been on and running since noon so they came in to a cool house when they were done.  It's over 100° here again today – our two thermometers in the shade are registering 101° and 102° respectively.  Though I know our electric meter is probably spinning out of control, I am thankful for the air conditioning in my home, and for the husband who pays the electric bill!
The watering is almost done……there was a minor mishap when Will cleaned out the sheep buckets; and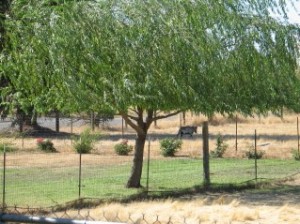 though the hose to the citrus orchard was hooked back up, it was not turned back on.
That's okay, the last thing that is watered on that line is a row of three weeping willow trees, and I sometimes turn them on late in the evening and let the drippers run all night anyway.  They love a good, deep watering!  It all works out!  All of the rest of the watering or irrigating is on its last setting, and I'll be venturing back out to turn most of it off soon.
Dani and I laughed this morning.  Not only did I forget to thaw out the chicken for tomorrow's church potluck last night so that it could be baked first thing this morning, I also forgot the bananas for the Banana Split Cake when we shopped yesterday.  How do you forget the bananas for a Banana Split Cake???
Everything is right as rain now.  Dani dashed to the store for bananas this morning, and even though it's quite late in the day, I have two dozen chicken thighs in the oven cooking for tomorrow's fellowship lunch.  They're starting to smell really good, too!  Dani still has a batch of oatmeal cookies to make up when the chicken comes out, but she made our Blueberry Coffeecake this morning.
In my "less than perfect kitchen", my baking center and food preparation area is on the counter top just above the dishwasher.  The morning and lunch dishes were washing as I started making the dessert for this evening.  There was so much steam rising from the dishwasher, that my glasses kept fogging up!
I used the bottom of my apron to mop the perspiration from my face frequently.  However, I am still mightly glad that I took the time to set this area up a couple of years ago.  Everything I needed was right at my fingertips – ingredients, mixer, bowl scraper, knives, cutting board.  The cake went together quickly and I was outta there until the dishwasher was done!
The sewing machine is humming merrily in our little sewing nook!  Dani's pattern finally arrived yesterday.  She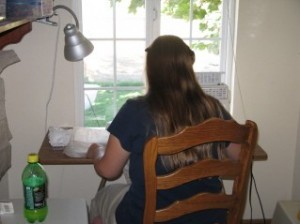 cut her top out this afternoon while I was making the Banana Split Cake, and she is busily overcasting all of the edges of her pieces now.  It's a time consuming step, but one that makes for such a nice looking finished product. Well worth the bit of extra time and effort spent.  (Do I spy a Mountain Dew within her arm's reach????)
Some days are just so busy and full!  This is one of those days.  I'm afraid that I won't quite have enough time to tend to some little homemaking tasks that I usually do on Saturday evenings, but no one will mind the stack of books on the breakfast bar, or probably even notice the dust on the mantle.  Okay, well now I've done it!  Now that I've mentioned the dust, you know that Corin and Dani are sure to comment about it!
Still, as much as I like having my home in good order on Saturday nights, tonight I'd much rather take the time to freshen up a bit before my wonderful birthday boy comes home from work, and be sure that everything is ready for church before he comes home, too.  The big basket with our Bibles, notebooks, etc. will be packed and waiting by the back door, as will the boys' bags with their after church play clothes.  Church clothes will all be hung out ready for dressing in the morning after the animals have been fed.  (Yep, we feed the critters in our jammies on Sundays!)   I'll have my knitting back there ready to go as well.  With everything ready to go for tomorrow, we can enjoy our evening with our family celebrating my husband's big day without having to worry about doing things later tonight. We'll just visit and enjoy our family until the city folks have to leave and then we'll head for bed and a good night's sleep!
I do still have those clothes on the line now, though, and a bit of ironing to do before dinner, and so I will get back to work. I do so appreciate the kind comments you all are leaving for me. You are so sweet to let me share my days with you.  (We have not had e-mail service for a couple of days, so if you've sent me an e-mail, please know that I'm not ignoring you.  It will come in, by and by, and I will read and answer then.)  Have a blessed Lord's Day tomorrow!
God bless you as you look well to the ways of your households!
Proverbs 31:27