Treasure beyond measure.  Untold riches.  Blessings, oh, yes, definitely blessings!  My children, and my grandchildren, are this and so much more.  This all came to mind this afternoon, while Corin and the grandbabies were here.  Last Saturday, when Corin and I attended the homeschool conference, a lady working one of the doors offered to "help hold the baby" as we entered.  I assured her that if anyone was going to help hold the baby, it would be me!!  She giggled, of course, and said that she was available when I got tired.  I laughed and told this sweet gal that Corin's in-laws, both of them, were also at the conference, so it looked like we had the baby holding covered.  That sweet, kind lady told me then something I already knew – how rich I am to have my children and grandchildren close at hand.  Every time I ran into that gal on Saturday, she would tell me again what a rich woman I was.  I have always considered it a huge blessing in my life that my married daughter and grandchildren live just a short distance away.  Lord willing, all of my children will settle within short distances from us as they marry and begin their families.
We've fallen into a routine, of sorts, for our Thursday Grandma's Library Day.  There is nothing wrong with that.  Nothing at all.  It is soothing for my son and grandson who have problems dealing with things that are out of order.  It's soothing to me, too!  I love the little things that have become part of the routine that I would never have "planned" to be a part of our Library Day.  For example, my almost four year old grandson loves doing a few Lauri puzzles after we read together.  My five year old grandson comes outside with me after we read to help me hang the last load of laundry out, or to help me water my flowers.  This has been a great one-on-one time with him, though it's short.  "What kind of flowers are these, Grandma?"   "Do I water this tree now?"   "What are these flowers called?"  "Hey, I got wet!"  He keeps up his lively chatter as we work together.  I was disappointed when I ran out of laundry to hang and potted plants to water this afternoon.  And I absolutely LOVE that the grandbabies line themselves up on the school room couch shortly after they arrive waiting for Grandma to come read books to them!  They line up the same way, every time, too!
The kids all had a good time in the pool today.  The five year old continues his fear of the pool, but he did get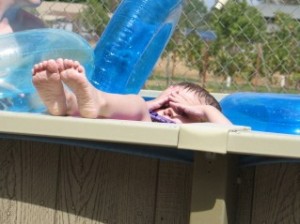 in with Corin for a bit to float in an inner tube.  He and his two year old sister spent the rest of their time on the pool ladder with their feet in the water, watching all of the others.
My three year old grandson, vegging out in the pool!  Check out those wrinkly feet!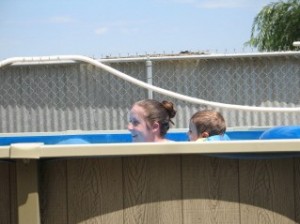 Corin and her three year old son team up for "Marco Pillow"!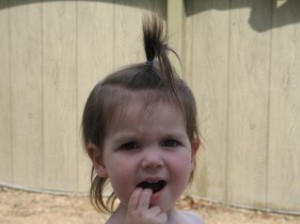 I think that little two year old girl is cutting some molars!  Poor sweet thing was just out of sorts all day, and I  noticed her chewing on her fingers quite a bit.
(Update – Corin IM'd and this sweet thing has two molars half way in and two more on the way!  Gramma is always right!
)
The baby, of course, spent her afternoon snoozing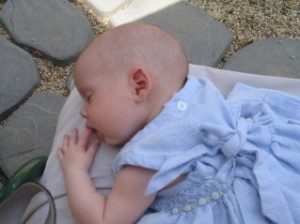 peacefully on my lap!!!  What a joy!  By and by, we had  our ice cream treats and it was time for everyone to change back into regular clothes and for my city-folks to head home.  As Corin left the drive way, Dani and I made a quick sweep of the back yard, picking up cups and hanging up swim suits and towels, etc.  Then I was back out to finish up the watering, back in to finish up the laundry, back out to move another sprinkler……….Thursday afternoons pass much too quickly!
Thursday mornings pass much too quickly, too!  I'm always so determined to have all of my household tasks completed, watering done, etc. before they come.  I never quite make it, but I do try!  I was coming in from changing irrigation in the orchard when they arrived today and had to change a couple more hoses before I came in.  Dani washed up the lunch dishes for me, which was a huge help.  I had to remind myself throughout the day that I was behind from my day yesterday, so there was just a bit more work than was usual for Thursday.
We spent the morning with the usual morning tasks, as well as our weekly Thursday jobs.  The bathrooms were deep cleaned.  A few loads of laundry done.  Dani washed up our living room and kitchen floors this morning with some Murphy's Oil Soap, which left the rooms smelling lemony fresh.  I caught up Aaron's reading chart.
Our refuse pile is still sitting in front of our house.  My poor sweet William.  He is just beside himself that "they" would say it would be picked up on August 1 and it is still here on August 2.  I know, of course, that it's his alphabet soup of disorders talking, but my heart cannot help but be pleased that he expects folks to live up to their word.  I pray that his love for integrity sticks with him as he matures and grows into a young man!  I'm also praying, for his sake, that the pile is picked up tomorrow!
Dani is still waiting for her pattern to arrive from Simplicity.  Have any of you ever ordered from Simplicity.com?  Delivery was to be in 5-7 days, and she has now waited 8 days and still no pattern.  I know that it's not outside the realm of normalcy for things to be a day or two outside of the promised delivery dates, but she's been looking forward to making the top to go with her new skirt!  She is patient, but I know that it's hard to wait when you're excited about learning a new skill and are hindered through no fault of your own.  I'm wondering if their delivery is always a bit slow.  The half price patterns are a nice deal when buying on line, but it would be good to know that waiting for delivery might be something to factor into the "expense" equation.  I think I will encourage her to pick out several patterns now that she would like to make up in the future and we'll wait, patiently, for Jo-Ann's to have one of their great pattern sales.
I started the next dishcloth from the pattern I've been using a couple of days ago.  I've not had quite as much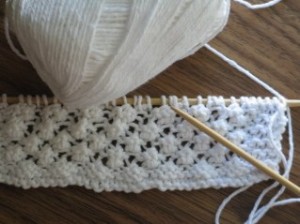 time to work on this one, and the pattern is a bit more difficult than the last, just as the author of these patterns promised.  Nothing too tough, I just need to pay a bit more attention to what I'm doing and which row I am on.  This one is called "Bramble Cloth" and is quite pretty in pure white cotton
.  I think this pattern would be quite nice in a variegated cotton as well.  I'm working up a nice little stack of these cotton cloths.  I plan on using them at my kitchen sink as soon as my current dish sponge is beyond use (soon, I'm sure!).  I already have a lovely, small basket ready and waiting to hold them, which I'll keep in the kitchen window over the sink.  Caution – knitting up these cotton dish cloths is addicting!
I've seen a couple of beautiful knitting patterns here lately that I'd love to make up….. For myself, of all things!  One is a beautiful short-sleeved cardigan, and the other a comfy looking pair of felted clogs.  I will have to save up my pennies and see if I can swing one of these projects sometime soon.
The plants I bought last Friday are still waiting in the front yard today!  They are where the front lawn sprinklers keep them watered in the early morning hours, so they are okay; but I plan to get out there right after dinner tonight and pot them all up.
I'm thankful for my menu plan and the fact that I can plan a quick-to-fix meal for the kids and me on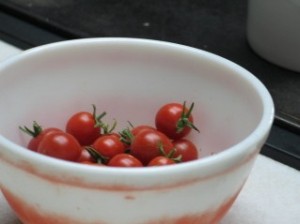 Thursdays.  No more 5:00 panic!  Ham steaks on the barbecue, fried potatoes in the electric skillet and a crisp, green salad.  Oh, and we have cherry tomatoes, at long last, in the garden for the salad tonight!
My house is quite warm now, at 5:30, but the kids are all still cool from their swim.  I have a wonderful little fan that will keep me cool in the kitchen as I prepare dinner and fry the potatoes, so there's no need to flip on the air conditioning.   In fact, the gentle noise from the fan running is pleasant to hear as well.  The ceiling fans throughout the house are keeping the air moving and things will cool down quite a bit before my husband comes home around 7:30.  I do enjoy keeping that electric meter from spinning out of control!
I've much to do tomorrow, and I must make a run to town. We've had far too many "runs to town" lately, but sometimes it cannot be avoided.  I am making a list of a few extra things I can take care of on my trip tomorrow, though, so hopefully I can avoid so many trips next week.  I have some mini-reviews for four of the children's picture books I bought at the conference to share with you, too.  And I've not forgotten my promise to share about building a Heritage Library.  I simply must find a good way to present a LOT of information with you on that, and I'm not quite sure how I'm going to do it just yet.  A couple of options are simmering, though, so please bear with me just a bit longer.  I have some new projects to start, too, which I will share as well.  Busy, busy days……serving my family, serving my Lord.
God bless you as you look well to the ways of your households!
Proverbs 31:27