While we rarely take an actual vacation, my husband does usually save up every year to take us on one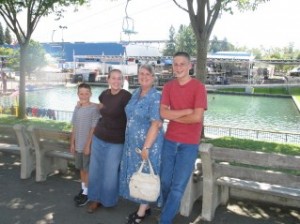 spectacular day trip.  This year he decided on a day at the state fair.  We've not been in about four years, so we were all looking forward to it.  Despite the forecasted high temp of 103°, we set out undeterred.
I'd love to tell you that the day was unexpectedly cooler than predicted, but it was not.  In fact, from all reports, it sounds like the temperature was at least 105° yesterday.  There is very little shade on our state fair grounds, and most of it is covered in black asphalt.  Guess what?  We still had a great time!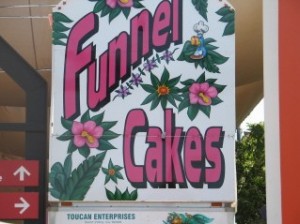 After entering the main gate, we headed through the  food stand area.  We had lunch on our way to the fair, but were sort of scoping out the dinner possibilities early.  You know what, nothing says "fair" quite like fried funnel cakes…….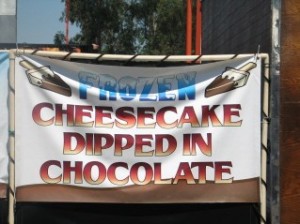 ………….unless it's frozen cheesecake dipped in chocolate!  I didn't have either.  It's just as well, it would have  been a tough decision to make between those two yummy treats.
We browsed through the livestock barns.  One thing that disappoints me about our state fair is the fact that they do not have a full livestock show running the entire length of the fair.  One time we just happened to attend on the day that they were showing and judging the dairy goats and we ended up spending hours in the livestock area.  This year we were there for the beef cattle and the meat goats.  We ooooed and aaaahhhed at the size of some of the angus bulls, and held our noses as we passed by the Boer buck judging.  I love my goats, I really do; but there was a reason we kept our buck far, far away from our back door!
We headed indoors and wandered through the commercial buildings.  William just marvelled at all of the wares there for sale.  We weren't really tempted to buy anything, but it was so nice and cool inside that we made our way very slowly through the exhibits.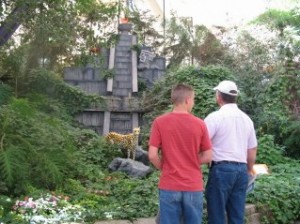 Back outside in the heat, we toured the small flower show.  They had a rain forest theme this year, with a lot of  whimsical animals worked in.  There were monkeys in tree houses, and orangutans hanging from the trees.  All sorts of fun little things to look for and discover.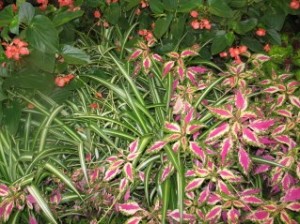 I saw these beautiful coleus and begonias growing in amongst the spider plants and thought it was just a beautiful  combination.  I think I will buy some coleus to plant in the funny little out of the way bed where I have my spider plants growing.  They will add some color to that area and really liven it up a bit.
We were ready for air conditioned comfort once again, so we headed into the counties building.  Do all state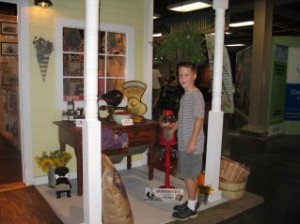 fairs have counties buildings?  Not all of our state's counties exhibited, but there were quite a few, very nice booths.  My favorites were always the old-fashioned looking ones.  I think they were William's favorite, too.
I picked up visitor's guides for my own county as well as another close by.  I'm planning to browse through those over the weekend and see what sorts of events might be coming up in the fall that would be fun to attend.  I've already noted a couple in my own county that I'd either not heard of or had forgotten about.  Call your local chamber of commerce and see if they have a visitor's guide for your county.  You might find a hidden treasure or great, free event right in your own backyard!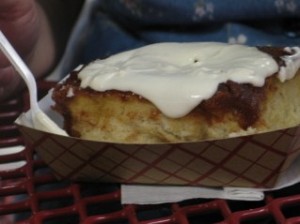 My husband spied a cinnamon roll stand in the counties building and bought one for each of us.  They were  very good – rich and sweet and sticky.  I may not be a partial judge of this, but I like Dani's cinnamon rolls better.  It was nice to sit down for a bit with a snack and a cold drink.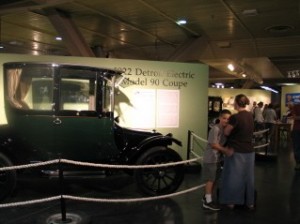 There was quite a large area devoted to energy, water use, etc.  We browsed through, always looking for  more tips on using less electricity, etc.  Dani checked out the electric cars!
I was pleased to note that we are really doing just about everything we can to lower our electric bill.  Any further steps would require a tremendous outlay of cash (installing solar panels, for example) so I think we're doing okay.
Dani and I always enjoy the buildings that house the jams, quilts, and other homemade goodies.  They guys were very good and browsed through those areas quickly and then just sat outside and waited patiently for us to make our way through.  I think Dani should enter some of her crocheted items next year.  I saw a quilt that absolutely had me spellbound.  It was  made up of blocks of appliqued renditions of retro aprons!  All sorts of styles and fabrics!  The gal had, very cleverly, even reversed the fabric for the neck piece on one apron so that it looked just as it would if you saw the apron lying down!  The squares were surrounded by a lovely cream background with bright red cherries, and then the binding was done with bits and pieces from all of the fabrics used in the apron appliques.  I thought it was the most beautiful quilt I'd ever seen!  (I did not take pictures of the quilts as there were signs asking that visitors not do so.)
However, Dani came around the corner and said, "Mom.  You've got to come see this amazing quilt around the corner."  I tore myself away from the retro apron quilt to see the one she had discovered, and she was right.  It was absolutely amazing.  This quilter had taken photographs of her parents and had them transferred to fabric.  Just their faces.  Then she created a paper doll themed quilt by dressing the figures for a night of dancing, and then each one had other paper doll outfits lined up beside them.  Her father had been a physician, so there was a doctor's outfit complete with lab coat.  Her mother had been a pharmacist, so her next "outfit" was her pharmacy uniform.  There was a third outfit for each of them from their college days.  The outfits were appliqued beautifully using fabric from her parents' clothing.  She included the tabs that paper doll clothing would have, and they were left loose on the fabric for a more three dimensional look.  The bottom of the quilt was covered with bits and pieces of things that had belonged to her parents – her father's name tag from a lab coat, a favorite pair of her mother's earrings, watches, tie tacks, etc.  These were all, I assume, sewn on somehow.  What a lovely tribute it was to her late parents.
After stopping by the food area for a bite of supper, we headed to the midway.  It was just getting dark, but it  was still really, really hot!!  The kids each chose a couple of rides.  William was very brave.  He chose a rather scary roller coaster to ride with Dani and Aaron, which he did not really enjoy; but I was so proud of him for giving it a try.  (Pardon the red eyeballs…..the red eye feature on my photo program just would not work today!)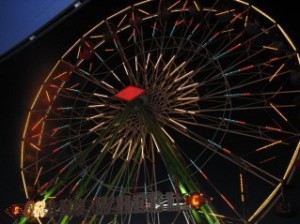 If you read Corin's blog, you might remember that her family gave the "wheel of death" a try, but decided against it.  I will, quite honestly, tell you that I have wanted for years to ride that enormous ferris wheel, but always chickened out when I got there.  It is huge, and I just don't really do looking over the edge from up high very well.  Nope, I don't!  So, when my husband asked who was going to ride the  "Grand Wheel", there was a lot of  hemming and hawing that took place.  Dani started in with her, "go, Mom, go" chant and I decided that I could do it.  Dani did not want to go (Hey!  What's up with that?!?!), but the rest of us went.  Will and I were a little shaky on the first trip up as they were still stopping and loading, but once we started really going around, we had a ball!!!  We waved at Dani on every go around!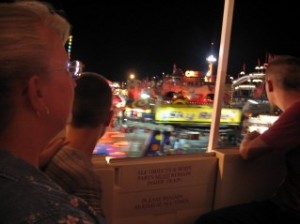 Traditionally, the final ride is always a nighttime trip on the monorail.  We did not realize that the monorail  stopped running at 9:00 p.m. and we didn't get there until 9:15!  However, the ride was still open and we were able to take what was the final run of the evening.  I love riding the monorail at night.  It's cool and the fairgrounds and midway are so beautiful in all of their neon splendor!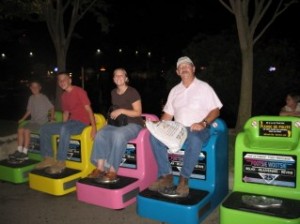 As we exited the monorail, my wonderful husband handed us each a quarter.  We found a family-sized bank  of Footsie Wootsie machines, plopped in our quarters and laughed ourselves silly as our feet and legs were vibrated from achiness to numbness!!!!  That lovely green model to the right was mine!
With our feet revived, at least temporarily, we hiked out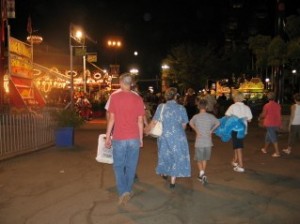 to our car.  Copper swung through a McDonald's and bought us all cold drinks for the drive home.  We had completely forgotten that the fair had fireworks at 10:00 until we were almost to the freeway, but the kids watched out the back windows and saw most of the show anyway.
We had a wonderful day.  Yes, it was hot.  However, we spent our day together as a family and that it what made the day!!!  The fair was great, the food was fried, fattening and fun, and the rides were thrilling!   We laughed together, we rolled our eyes at one another over the salesmen's silly pitch lines, and we dared one another to ride scary rides.  We enjoyed our little one day vacation, and will talk about it for weeks, and months, to come.
God bless you as you look well to the ways of your household!
Proverbs 31:27