What a lovely day we had!  We drove a couple of hours up into the mountains to a state park, and then drove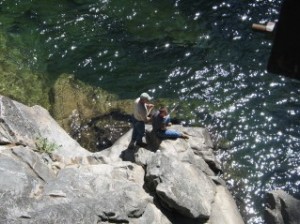 all the way through the park to the river.  The guys fished all day, from a bit after 9:00 until a bit after 4:00.  They caught six, but only three were keepers.  Copper has cleaned them, filleted them, and put them in the freezer.  Not quite enough for a dinner, so we'll try to head up again in a few weeks.
Dani and I only lasted about half an hour in the picnic area.  The meat bees were vicious!  I walked the quarter mile to the river, picked up the van and we loaded up our stuff and drove to the river.  We spent the day under the trees next to the parking lot, but we had a fabulous time.  I finished up one dishcloth and started another.  I looked through the things I was considering using for school, decided yes on one and not right now on the other.  I took several books and I read.  I read a lot!!  I finished one book and read half of another.  It was relaxing and wonderful.  The air was cool, the sun was warm and the rushing river was in view just behind us.  I love the sound of the water hurrying downstream!
I liked being closer to where the guys were.  They could come up and get cold water out of the ice chest, or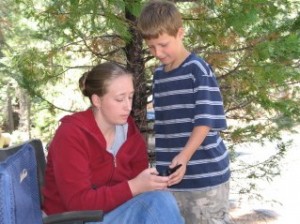 take a handful of cookies back down to the river with them.  Will had a bit more freedom to wander, which is always a good thing for him.
We listened to a Hank the Cow Dog book on CD on the drive up, and A.A. Milne's Winnie the Pooh on CD on the way home.  We laughed at the stories; and we laughed at Will laughing at the stories!
We returned home after 7:00.  We are all tired, but content.  Summer will soon be past, so we will take every opportunity for day trips together in the meantime.  They are like mini-vacations and do us all a world of good!
I am sleepy and headed for bed.  Tomorrow will be a full day here in my home and it is also Grandma's Library Day!  I am so blessed!  I'll leave you with a few pictures from our day today.
God bless you as you look well to the ways of your household!
Proverbs 31:27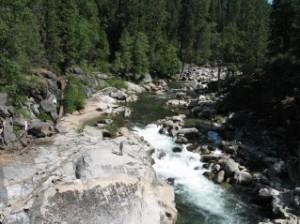 The tiny speck on the rocks is William!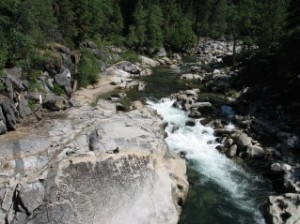 And yes, that's him on the rocks again, right at the edge of the cliff!!!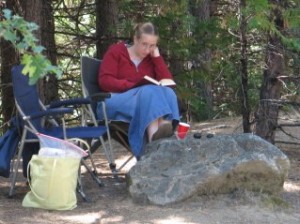 Dani in our little home away from home.  That's my big bag of books and knitting in the foreground.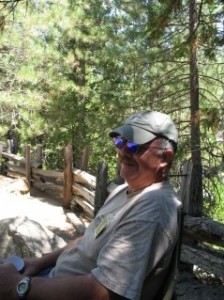 Sharing a laugh with the love of my life after lunch.