I don't remember much about my grandmother.  My Granddad, her husband, passed away when I was four; and my dad's parents were gone long before I was born.  Grandmother, the name she preferred, lived 2,000 miles away on land that she and Uncle Bob owned and he farmed.  Most summers we took a two week vacation that always included three or four days at her home.  She became quite senile when I was still very young, and she passed away when I was just eleven.  Because of her senility, I really don't have a lot of good memories of visiting her.  The only good times I can remember were going out to the hen house with her to collect eggs in the afternoon when I was pretty little.
I am so grateful that my grandbabies live less than half an hour away and that I can see them often.  We may not own a farm, per se, but Grandma and Grandpa's country home still has its charms – picking grapes from the vineyard, throwing scratch to the hens and feeding leaves to the goats.  Today we were able to give them an up close look at a possum, ahem, excuse me, I meant to say Opossum, that we had caught in our live animal trap last night.  I am so very thankful that I am able to spend time with them, see them growing, watch them learning, and listen to all the many things they have to tell me.  Lord willing, I will be spending time with grandbabies for a long, long time.
I was hanging out a load of laundry when they arrived today, and both of my grandsons came out to help me finish up.  One held my box of clothespins and the other one handed the pins to me.  His technique was to clip each clothes pin onto the end of a finger and then dance and jump and say, "owie, owie, owie!"  My job was to quickly remove the pin and say, "Oh, my goodness!"  We had it down to a science!  We read together when we came back in, and today's stories really caught their attention!  The Gingerbread Man
is always a delightful read aloud with its repeating phrases.  I also read the second of my three Obadiah books, Rachel and Obadiah
.  So far, they've enjoyed these lovely stories about little Obadiah Starbuck.  We finished up with a favorite of mine, Stellaluna
.  The story is charming, but I love the illustrations best.  They all chose three books to take home for the week when we were done.
After we read today, I had another load of laundry to hang on the line.  While I was outside, the kids were all getting ready for the pool.  When I came in, Corin had laid the baby down in my bedroom and she was fast asleep, which meant I sat poolside today without my littlest grandbaby!  Harrumph!  My little poolside retreat is just outside of the master bedroom, and the windows were open, so I was able to keep an ear out for her to wake up.  I was tempted, oh I surely was, to just go in and scoop her up; but I resisted.  For a season.  I waited until the kids were out of the pool and inside changing and then I scooped her up and loved on her for a bit before she went home.
The pool was c-c-c-cold today.  The five year old and the two year old were in and right back out again.  The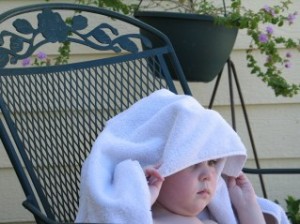 five year old spent the afternoon playing in the gravel on the backyard pathways, stripping willow leaves off of the tree to feed to the goats, and talking to me a mile a minute!  My two year old granddaughter sat in the chair next to mine and pointed out all sorts of things of wonder – the sheep, my decorative windmill turning briskly in the breeze, a bird, and my chickens.  She eventually pulled her towel up over her head and almost fell asleep sitting up!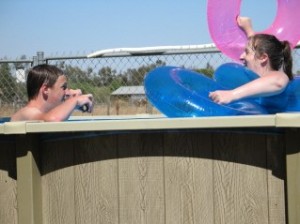 That left the almost four year old floating in his inner tube while my four wild Indians rough housed and splashed and had all sorts of water wars, the girls against the boys.  It was a joy to hear Corin, mother of four little ones, laughing and playing with her siblings!
Our young chickens have begun laying eggs this week.  So far we have five little, bitty brown and green eggs.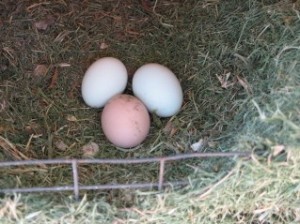 Tiny, tiny things!  We will leave the eggs in the nesting boxes for a couple of weeks so that everyone knows where they are supposed to lay their eggs.  This practice has always worked pretty well for us, and discourages the hens from hiding their eggs.  As soon as we are getting a steady number every day, we will be able to start bringing in fresh eggs daily.  I have missed our fresh eggs these last few weeks – the taste, the thicker whites and those bright yellow yolks!  There really and truly is a difference between fresh, home grown eggs and store bought.  My two year old granddaughter is smitten with my chickens, and I can't wait to take her out to collect eggs with me!
I needed to be sure to get all of the watering done today.  We had cooler weather earlier this week, so I took a bit of a break and did not do all of the watering as scheduled.  Things are looking a bit dry now, and the heat is coming back.  It all must be done for the rest of the week.   It's nice seeing the things I planted earlier this year thriving, and to see all of our trees growing and getting taller and taller.  The time I spend watering seems a small price to pray for the privilege of living in the country and being able to have a small orchard, vineyard, etc.  Time is short and I don't always tend to things as well as I should.  My roses need to be deadheaded and there is fruit in the orchard that should have been thinned, but I am keeping everything watered and irrigated and the Lord is blessing my meager efforts.
I fixed a simple supper of pasta, sliced smoked sausages and zucchini tossed with some garlic, butter and freshly grated Parmesan cheese, served with a green salad.  Quick to fix at the end of a full day, but still delicious, filling and nutritious.  However, this is the third or fourth time in the last week that I wished we had planted Roma tomatoes in our garden this year.  We love slicing those and putting them in the dehydrator for mock sun dried tomatoes.  They would have been most excellent in my pasta toss tonight!
This is the second Thursday of August.  I work during the second week of the month on those monthly,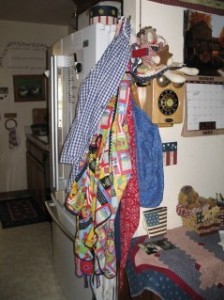 quarterly, etc., tasks in my kitchen, laundry room and back hall.  This was a full day, so there was not a great deal of time to do any of the scheduled tasks for week two.  However, I did make some new arrangements with our aprons that I've had planned for a couple of weeks.  We've always hung all of our aprons on a hook next to the fridge.  When I brought clean aprons in from the line, I had to take all of the aprons down so I could hang the clean ones to the back.  We have several aprons now, and I plan on making several more up in the coming months (no such thing as too many aprons!)  Hanging so many aprons on the hook was beginning to look a bit messy to me.  Homey, but messy.
I had a nice wicker laundry basket empty from when I did the monthly, quarterly, etc. tasks in my school room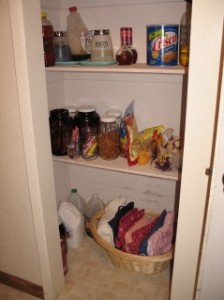 last month and re-organized the boys' school things.  It seemed to me that a lovely wicker laundry basket was the perfect container for our clean, folded aprons.  All of the clean aprons, full and half, are now folded neatly into the basket, which I placed on the floor on one side of my pantry (and yes, the inside of the pantry needs paint!).  Dani and I will each have just one apron hanging up in the kitchen at a time.  Once an apron becomes soiled, it will go into the laundry room hampers and we can choose a fresh, clean apron from the basket in the pantry.  While I was in the pantry, I took a couple of minutes to straighten it up a bit (a monthly scheduled task) and then cross it off of my list!
I want to thank Bren (who comments here as tjsNana) and Elizabeth who have both passed along the Nice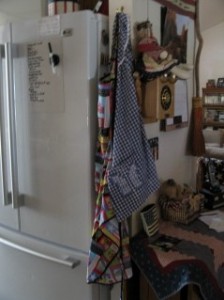 Matters blog honor to me.  Thank you both for your thoughtfulness towards me and for your kind words.  I'd also like to thank those of you who take the time to leave me a comment, send an e-mail or xanga message.  I wish I could express to you the encouragement that your words are to me!  You all are really the best!
I'm trying to catch up on a bit of blog keeping.  I've fallen quite a ways behind in archiving older posts, but I  hope to start catching up on that soon.  I do apologize if you are looking for a recipe or directions for something that are not yet listed in the archives.  I would be happy to help you, just e-mail or xanga message me and I'll let you know where to find whatever you might be looking for.
I have, just today, brought my Reading Basket and our Read-Aloud books up to date in the side bar.  You can check there to see what we're reading together and what I have chair side as well.  I've not finished much lately, but I have several books that I am currently reading and I'm nearing completion on at least a couple.
And, oh, my friends, you have been so patient with me about my promised Heritage Library article.  It is coming, it is…..I would appreciate your prayers for wisdom for my husband and I as we consider how best to bring this to you.  An idea has been simmering for some time now, but we have just been waiting on the Lord's timing to bring it to fruition or not.  Thank you all so much.
God bless you as you look well to the ways of your household!
Proverbs 31:27