Our weekend was great, but it was a bit of a whirlwind.  Dani and I hustled about Saturday morning getting as much of the Saturday cooking, laundry, sheet changing, watering, etc. done by noon as we could.  Aaron and Will did their part, too, by getting out early to do the mowing and animal pen cleaning.  Shortly after lunch, we left to head to Corin's to celebrate my 2nd grandson's 4th birthday!
The party was a delightful family affair.  It was so good to spend time with extended family, especially my son-in-love's parents.  Corin did a fabulous job making the birthday cake, which was an entire train, locomotive, several cars complete with their contents, and a caboose, all laid out on tracks!!  There are pictures of it up on her blog. (You'll have to scroll down a bit to see the cake)  It was so cute!  I'm very proud of her for jumping right in there and tackling a new skill!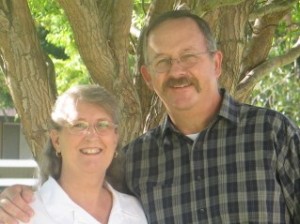 My husband and I celebrated our 29th wedding anniversary yesterday very quietly by spending our Lord's  Day as we always do.  That didn't make it any less special!  Tonight, however, we are going out, just the two of us, for a nice dinner and to see a movie.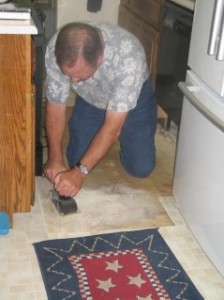 Our sub-floor has dried out quite a bit, and my husband worked hard all morning and into the afternoon  working on the buckle in the floor with a belt sander to level the floor again.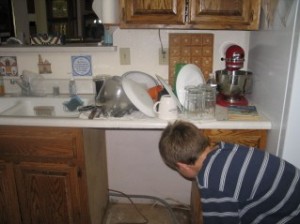 He pulled out the old dishwasher after lunch and hauled it out.  The new dishwasher is to be delivered on Wednesday and he will install it after work Wednesday evening.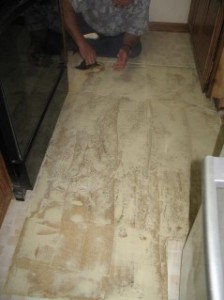 The rest of the afternoon was spent putting the piece of linoleum that was cut out back into place.  We are hopeful that the floor will stay in place and will not need to be replaced anytime soon.  My husband took Will with him to run to town to pick up new supply lines and glue for the floor.  I love seeing the boys off on errands with Dad!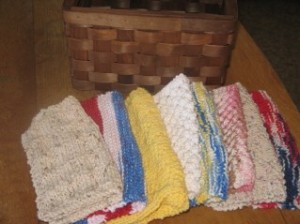 With the dishwasher broken, my dish washing sponge bit the dust sooner than it would have otherwise.  I don't have quite the basket full of knitted cotton dish cloths I'd hoped for yet, but I have eight finished for myself.  They will tide us over for now.  I sat down and wove in all of the ends this afternoon to finish them up and then folded them in half for the basket.  I'll be knitting up all of the cotton yarn that I have, and I think there will then be enough to fill up my little woven basket to keep by the sink.  The basket will keep them handy so that we can grab a clean cloth whenever we need one.
It was great to have the entire day at home again.  The next couple of weeks will be very full.  In fact, Copper and I decided today that we will take a homeschool break for the next two weeks.  We have several things planned that will take us out of our home during that time – doctor's appointments for the boys, a fishing trip, etc.  I am looking forward to having a bit of extra time to finish up the fall school planning, write new chores lists, and to finish up a couple of projects.  The days loom before me so full and it seems that the time is plentiful, but I know just how quickly the two weeks can, and will, pass by.  I'm planning to make the most of every day, committing my plans to the Lord but remaining open to whatever He has for me to do.
I mixed up a new batch of our lavender linen/ironing spray today.  I know many of you use and enjoy the Mrs. Meyer's products, but we have found that we like the scent of our homemade cleaning supplies better.  It is also much less expensive for us to make and scent our own!  We are still learning and making our way slowly in this adventure into switching as many of our household cleaning products over to natural cleaners as we can.  I will be sharing what we learn as we go.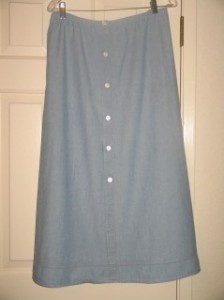 I wanted to wear something especially cute out with my husband this evening.  As you know, a friend has  recently gifted us with quite a few new-to-us clothing items.  This skirt was one of the first things she gave us.  I've worn it a couple of times, but it really was too long for my 5'4" frame.  There are some cute tucks at the bottom, so I had to shorten it at the top.  It really was simple to just cut the old waistband off, using the existing stitching lines as a guide to keep the slight curve for the waist, and then folding over and stitching in a new waistband.  I simply used the button, closest to the measurement for length I wanted, as my new top button.   Shortened, ironed and ready to go!
Our hot weather helped the laundry dry quickly on the line today.  I had to leave a couple of pairs of the boys' pants out there, but everything else was dry and ready to be folded and put away fairly early.  I don't like scurrying around to get things done in a hurry, but I do like going out with my husband!  That makes the rushing and hurrying worthwhile!
God bless you as you look well to the ways of your household!
Proverbs 31:27