Our days of 100°+ heat are behind us for awhile.  We woke up this morning to overcast skies.  In fact, they were downright cloudy!  It was such a nice change from last week's heat, that we opened the whole house up this morning even though it was chilly!!!  The sun finally broke through in the early afternoon, but there's been a strong breeze, and I don't believe the thermometer ever reached 80°.  I know the heat will return, so I am very much enjoying this cool weather!
I want to thank all of you who sent birthday wishes my husband's way over the weekend.  We had a fabulous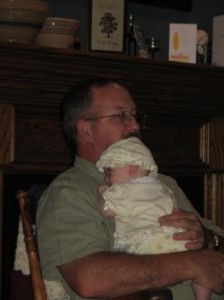 time Saturday evening, just us and Corin and her family.  Copper spent most of his birthday evening holding and loving and talking to his very newest grandbaby.  He only gave her up long enough for a piece of birthday cake!
I had a rough start to my day today, but hang with me through this because I was so greatly encouraged early this afternoon by an old friend that things turned right around!
William had way too much in the way of red and yellow food coloring yesterday.  Way too much!  There was the pink punch at church, followed by an orange soda in the afternoon.  I'm not quite sure where we were while he was having all of this wonderful stuff.
As a result, he's had a tough time today, and I have to admit that I've lost my patience with him more than once.  Even though I love him.  Even though it was my irresponsibility that allowed him to have so much of what he should not.  Even though I'm the Mom and should have worked with him through all the rough spots.
There were a few disappointments today, too.  My husband had said that we'd take in a movie tonight (he's always able to get complimentary tickets), but as the day progressed it turned out that it just wasn't going to work out time-wise.  I was also given a very cute new-to-me dress and a coordinating sweater from a good friend at church (Thanks again, Lis!) that I had planned to wear when I went out with my husband tonight, and we weren't going afterall.  Harrumph!
I went into the back yard this afternoon to water all of my potted plants and I discovered that someone had not only knocked one of the stars off my lovely twinkle lights that Dani bought me, but had also broken off about a third of my pretty geranium.   I suspect someone was careless when dragging the hose from the back yard to the side yard, but whatever the cause it was disheartening and I grumbled right out loud to no one in particular (which is good because no one was there!)
And last, but certainly not least, a tom cat sprayed one of my front porch windows Friday night.  Now, I completely understand that the Lord gave the tom cat that method of protecting his territory for a reason, but EEEUUWW!!  My husband took the screen down, hosed it off, and then put the screen back.  No soap.  No scrubbing.  Just sprayed it with the hose.  I took the screen back down, took it out to the driveway and scrubbed it well with some soap and my soft bristle scrub brush, rinsed it thoroughly and left it in the sun to dry.  When I went out to retrieve it an hour or so later, it needed to be rescrubbed because a bird had flown over.  Great.
As you can see, I was developing quite a sinful attitude.  It's been awhile since I've let so many little things make me grumpy with my family and ugly on the inside.  Good gracious!!  After lunch, as my little pity party continued, I felt the Lord gently calling me to Himself.  I'm so thankful that His parenting skills are so much more loving and gentle than my own!
I went into my parlor and opened up my little drop front desk and pulled out my old Bible.  I loved this particular Bible.  There are notes written in many, many of the margins, and there is highlighting of all sorts throughout.  I've not used this Bible much in the last few years.  I set it aside a few years ago when my husband decided, quite rightly, that our family should read from the same version together; and it also worked out that the church we attended then, as well as the church where we are now members, uses the same translation in the services.  However, this old Bible felt to me like an old friend when I opened it up.  The cover is worn and soft from use.  It's a nice size for holding in my hands or on my lap as I read from it.  The pages turn easily as they have all been turned so many times before.
As I sought the Lord in the pages of His Word this afternoon, a passage, highlighted in blue, caught my eye.  II Corinthians 4:16-18,
"Therefore we do not lose heart, but though our outer man is decaying, yet our inner man is being renewed day by day.  For momentary, light affliction is producing for us an eternal weight of glory far beyond all comparison, while we look not at the things which are seen, but at the things which are not seen; for the things which are seen are temporal, but the things which are not seen are eternal."
Oh, yeah!  Eternal perspective.  Daily renewal.  That's right.  I remember now.
I read on in the pages of my dear, old Bible.  Reading a bit in Psalms.  Reading a bit in Romans.  Finishing up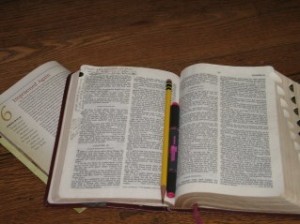 in Genesis.  I still love this old Bible, and caught myself writing a new note in the margins of Genesis 39.  I was filled with hope and encouragement, overwhelmed with His mercy and forgiveness.  It was then that I decided to take my other Bible study/reading tools to the parlor.  Though reading and studying in the school room has been nice for a season, I'm ready to change things up a bit and meet the Lord every day in my parlor.  And I'll be meeting Him with my Dear Old Friend opened in my lap, at least for awhile.
With my eternal perspective spectacles now in place, things looked so much different!
Will was still having a bad day, but I found ways of helping him deal with his day as best I could.  When the opportunity arose for him to take a 5 mile bike ride with Dani and Aaron, I said, "Yes!"  I monitored what he ate for the rest of the day, and prayed that the Lord would quickly wash the residue of all those food colorings right out of his system quickly!
Even though Copper and I weren't going out tonight, I still pressed my new-to-me dress and hung the pretty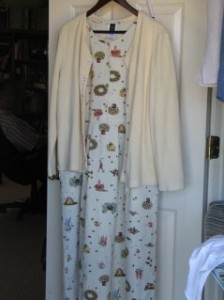 pastel yellow sweater on the hanger over it.  I think they look just lovely together!  I'll have the opportunity to wear it soon, I'm sure.  When the opportunity does present itself, I'll be all ready to go!  I did the rest of today's ironing, and also pulled a few more things out of the ironing back log.  Slow and steady…….I only have a few more things in the ironing backlog and most of those are winter clothes!
This being the first Monday in August, it was still a day for doing the monthly, quarterly, etc., scheduled jobs in the front part of my house, which includes the front porch and entry way.  Well, whaddaya know?  That cat really did me a favor, time-wise!  The screen needed to be washed this month anyway, and both sides of both the entry way windows were due for their monthly washing.  I realized that I really had not been very specific when I asked my husband to clean the screen, and I cannot expect him to read my mind; and he did wash the lower part of the window while he was out there.
I also asked Dani to please deposit her coffee grounds into the potted plant on my front porch in the morning.  This works, by the way.  The smell of the grounds discourages the toms from spraying, but it doesn't keep our female cat away.  The coffee grounds are good for the plant, too!
I worked the rest of the day doing all of the normal, everyday things that need doing, remembering once again why it is that I do what I do, and Who it is that I am serving.  Finishing the laundry, straightening up and picking up as I walked through the various rooms of my home, doing some school planning for next year in my head as I worked.   I made the Taco Pizza for dinner tonight that was carried over from last week's menu, and served it with a nice, green salad.  I enjoyed mixing up the crust, and then the filling.  I even had it ready for the oven a bit too early, and had to wait to pop it into the oven to cook for dinner!
It's such a cool, crisp night tonight.  It's almost cold.  It is what I refer to as "good sleeping weather".  I am very much looking forward to my day tomorrow, redeeming the time I wasted today in sin and self-pity.  I have quite a mental list of "extras" that I'd love to get to, and I will, Lord willing.  Thank you, Lord, for tomorrow!
God bless you as you look well to the ways of your household!
Proverbs 31:27