Dani developed this great Barbecued Chicken Pizza recipe a few years ago. Tangy, hearty and loaded with grilled chicken, bacon, green onions and cheese all on a homemade crust slathered with Barbecue Sauce. It tastes and smells amazing!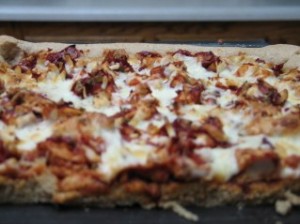 Served with a tossed green salad, it makes for a complete and very kid-friendly meal. I hope it will become a favorite in your home as well. The topping amounts I'm giving are just guidelines so you can adjust to your family's tastes. Want more bacon? You bet! Just add it on.
Barbecued Chicken Pizza
For the crust – Use our favorite pizza crust recipe. (Dani made the crust for our pizza tonight from this recipe using half whole wheat and half white flour. It was scrumptious!)
After the crust has risen on the pan, spread with your favorite BBQ sauce and sprinkle with freshly grated Parmesan cheese.  (We make our own BBQ sauce with tomato paste, honey, liquid smoke, onion salt, pepper, garlic powder and minced onion, all to taste.)
Spread cut up cooked chicken (approx. two chicken breasts), cooked crumbled bacon (a good-sized handful) and sliced green onions (or dried chives in a pinch) over the sauce and Parmesan cheese. Top with mozzarella and/or cheddar cheese (2 – 3 cups or so). Bake at 400° for 20-25 minutes until the cheese is bubbly and golden.