My husband and I had a delightful time out together last night.  I've never had a meal at The Cheesecake Factory before.  Oh, my word, was it good!  It is a bit pricey, so we'll probably save visits there for extra special occasions only.  The food was wonderful.  We both had way more than we could finish on our plates.  I should have taken our small ice chest for the left-overs.  We were definitely too full to have cheesecake!  We thought we'd go back after the movie for a piece, but my husband was still uncomfortably full even then.  Instead we headed to McDonald's for a cold drink for the drive home.   My sweetie bought me a small chocolate shake!  Thank you for all of the lovely anniversary wishes.  I truly am blessed!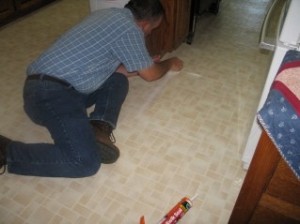 This morning my husband started work filling in the cracks around the area of the linoleum he glued back in yesterday.  He put down a wide bead of caulking and pushed it down into the crack to fill in all of the gaps.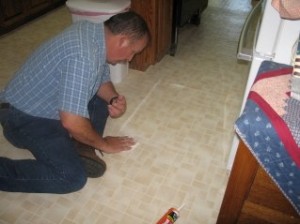 He then went along with a wet cloth and wiped up the residue.  When it was all said and done, the patch really  does not show much.  He did a wonderful job!  You can see in the picture that the caulked filling does not show at all in the area he has finished by his feet.  If the moisture that is still in the sub-floor doesn't loosen the new glue, we should be all set!
I have not minded doing the dishes by hand this last week, but I will be glad to have a dishwasher again.
We ended up with a bit of a log jam in the kitchen this morning.  With my husband working on the floor just in front of the sink, I wasn't able to get in there to wash the breakfast dishes.  By the time he was finished with the floor, it was time for lunch.  Needless to say, we had a lot of dirty dishes by the time lunch was over.  Dani came in and dried the dishes as I washed them, and we had the job quickly done.
Several of you have been waiting, quite patiently I might add, for me to tell you about our Heritage Library.  Hang in here with me for a couple of minutes and I'll have a link to the information for you.
Several months ago, I was telling my husband about some of the requests that I receive for information here on the blog.  Sometimes I'm able to answer a request on the blog, but sometimes that won't work for one reason or another.  I also told him that there are, sometimes, things I'd like to be able to share with you that just doesn't work in the blog format.  We talked then about, perhaps, starting a web site for that sort of information.  I did some checking around and worked out the costs.  We prayerfully considered if this were the right thing to do, when it should be done, etc.  At long last, last week, it was time to move forward.
Dani has worked very hard at web design and figuring out the workings of a web site.  I am so blessed to have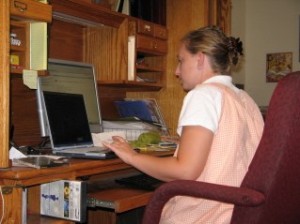 her here to do this for me.  I never would have had the time to work it out on my own.  I am so grateful to her for all of her hard work and help.  As time passes, I will add more pages to the site.  We are starting small, with just a brief introduction on the home page and then the Heritage Library page.  The next page I have planned is a page on general homemaking – tasks, scheduled homemaking tasks, tools, resources, etc.  It may be awhile with the fall homeschool term looming, but I am working on it.
I am happy to say that the web site has been launched and is on-line!!  You may visit my site at
www.copperswife.com
The Heritage Library page is available on the side bar at the site.  It is quite lengthy, but I hope it will give you enough information to begin a home, family or Heritage Library of your own!
Finalizing the article and learning how to publish it to the web site has taken up a lot of my time today.  Tomorrow, Lord willing, will find me busy at work in my home, caring for my family and loving every minute of it!
God bless you as you look well to the ways of your household!
Proverbs 31:27