I am overwhelmed by your heartening words about the new web site.  Thank you so much for your encouragement and support.  I have several things planned to add to the web site as time permits and as the Lord leads.
I woke up early this morning and was able to open up the house to cool it down and air it out a bit before the day got too hot.  I neatened up the covers on my bed, and then pulled them back half way to air a bit.  I spritzed my whole bed and both pillows with my lavender linen spray .  I went back thirty minutes or so later and made the bed up, knowing how fresh and lovely it would be to climb back into tonight.
It's so quiet in the early morning with all of the children still asleep.  I had a load of laundry done and all of my e-mail correspondence done before the first of my children was up.  My William was the first one up.  My husband gave him a very short summer haircut last night.  As soon as I saw Will this morning, I called him over for a hug and then couldn't resist rubbing his head!  After he got dressed he let Aaron put some gel on his hair and spike it just like Aaron does his own. He's awfully cute!
The men delivered the new dishwasher mid-morning and were kind enough to bring it up the back steps and take it out of the box.  My husband is working his Wednesday off again today, but he is hoping to be able to install the dishwasher after work.  He's so good about coming home late (it will be close to 8:00 p.m.) and taking care of things here for us even though I know he is tired.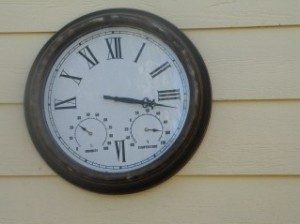 It was good and hot today, but then, it is August!  Aaron did all of my outside watering and changing  of irrigation and sprinklers for me today.  I really do appreciate it.  I only had to be outside long enough to hang laundry on the line and to bring it back again when it was dry.
All of the animals were keeping to the shade.  The sheep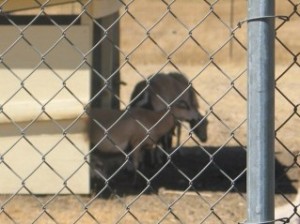 stayed either in their little shelter, or made their way out to the big pasture and then under the trees that front the road.  Not much grazing today until evening, but lots of contented cud chewing in the shade.  The goats stayed in the shade in front of their little barn today, too.  Lazy ol' things!
My new hens are picking up their production.  The little, tiny eggs are getting bigger everyday, and we are now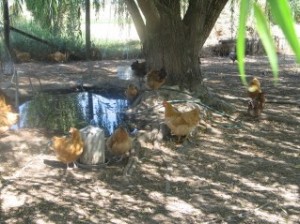 bringing in a half-dozen or so a day.  I already have a broody hen that is hiding her eggs from us somewhere.  I know she does it, I just don't know where she is doing it.  I see her coming back from wherever late every morning.  Sly gal.  My husband will have to clip one of her wings a bit to keep her in the pen where she belongs! All of the chickens were happy to be in the shade of the big willow this afternoon, scratching and pecking at bugs in the tiny pond there.
I used a good portion of the day today to start all of the fall planning that I like to do every year.  I roughed out our daily school schedule.  Now, I use that word "schedule" rather loosely.  You see, we do not use a schedule, per se, for our homeschooling day.  It is really more of a flow chart for our homeschool day.
I like for my boys to get all of their daily chores done before school.  That gives them a lot of good motivation to get their school work done in a timely manner since any time remaining before dinner is free time!  One change I have made for this fall is to have our morning time together right after breakfast.  Because the boys do not always finish their chores at the same time, we didn't always find a good time to settle in together this last year some days until noon.  I hated to interrupt one boy's math lesson, or another boy's Latin lesson to have them join me on the couch for our time together.  Meeting together right after breakfast should work well for us.  Our morning time is when we have our Bible reading together, do our Scripture memory and catechism work, toss in a timed math drill for good measure, and then read a chapter or two from our morning read-aloud book.
I made a note of a few last things to buy for school, but I couldn't decide this afternoon if I wanted to buy them locally or order them and have them arrive late.  Decisions, decisions!
I spent a lot of time at my breakfast bar today!  This is really my desk and command center for my home and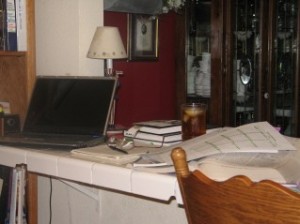 homeschool.  I was surrounded by notebooks, sticky-note pads, books, my lap top and an ever full glass of iced tea!  It's really such a great place to work!  I'm in the school room, but I can see the entire kitchen and living room.  I can see into the parlor and entry way.  I can hear everything!  Oh, and speaking of hearing, Tony the UPS guy delivered Dani's Amazon order today, which included a great Charlie Parker CD. We listened to it a couple of times, and I really like it.  Great music to work to!
The planning work continued throughout the day!  All of it is rather rough planning at this point.  Outlining mostly, building a framework that I will begin to fill in during the coming days.
I like to change some of our chores around in the fall, introducing new things for the boys to learn and master, changing my and Dani's lists to better fit our current school and home routine, etc.  This, by far, is the task that will take the most time.  Before I could start that task, I needed to rough out a new weekly schedule that more accurately reflected our days.  I did that today, adding in our Grandma's Library Day on Thursday afternoons, our all day trip to town for supplies every other Friday, and even the fact that Mondays with my husband home need to be held a little more loosely than our other days.  Having this weekly framework will help me when I begin planning our first homeschooling weeks.
Along about mid-afternoon, I could think and plan no longer, so I went to work on some things that needed doing around my home.  I watered and fed all of my house plants and tended to them by clipping dead leaves and removing spent flowers from the African violets.
My boys had been playing a computer game in their room, and I ordered them out to the pool!  That might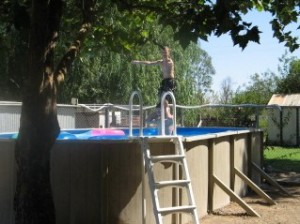 sound funny, but the house was so nice and cool and it was so hot outside; and by late August, the swimming pool loses some of its charm.  However, outside they went…..and they played and swam and floated happily for almost two hours!  I took the camera out to capture some of those, "Hey, Mom! Watch this!" moments, and to applaud their daring feats.
I also watered and fed my outdoor hanging basket plants, and left them on the porch rails to drain just a bit while I did some other things.
Several days ago, while he was doing some watering for me, Aaron knocked over my tea light candle holders in the back yard.  Oh, they were nothing fancy.  Just three different sized canning jars, with a couple of inches of the pea gravel from the back yard pathways in the bottom and a tea light candle on top.  They are actually quite pretty when they are lit.  He knocked a couple of them over while he was moving the hose, one jar broke and, because it was late morning and they were in the full sun, the wax in the tea light candles was melted. We were able to clean up the broken glass, but the melted wax ran over the spilled gravel on the table top and then hardened in the air!  I didn't really have time to tend to it when it happened, so it's been like that ever since.
I decided that this was the afternoon to clean it all up.  The table was in the shade, but the wax was still warm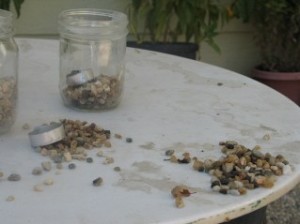 and soft from the morning sun.  I used a couple of paper towels to pick up the gravel and as much of the wax as I could.  I do not like using paper towels because I think they are expensive and wasteful; but they are a wonderful tool to have in certain situations and this was one of those situations!  I had to scrape a bit of the left over wax from the table with my fingernail, but it didn't take much effort since it was still so soft.  The gravel was emptied from the jars, and they were cleaned up and put away for another use.  I used my all purpose cleaner and my favorite cleaning towels and sprayed and wiped the table clean.  While I was out there I sprayed and wiped the two rockers clean, too.  Now, things are all ready pool side for the grandbabies visit tomorrow!
I folded a load of towels that had been dried in the dryer.  I dry most everything on the clothes line, but we don't like cardboard towels so they go into the dryer, as do the jeans and my husband's uniforms.  I checked the laundry on the line and some of it was still just a bit damp so I came back in.
It was then that I noticed that my apron had some mud on it, so I put it into the hamper in the laundry room.  I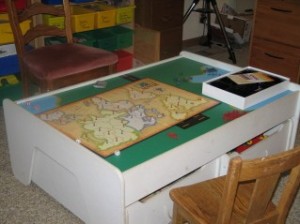 planned on sitting back down to work on my planning so I didn't put on a fresh apron.  Oh why, oh why do I always decide to forgo the fresh apron?!?!?!  I picked up a few things in the school room, and decided to leave the boys' game of Risk just as they'd left it. (I'm glad I did because they came in after their swim to resume play!) I looked out of the school room door at the porch and remembered that all of my hanging potted plants were still on the porch rails.  I picked the first one up to rehang it and it dripped muddy water all over the front of my lavender jumper!
After straightening up my mess at the breakfast bar, I poured yet another glass of iced sun tea and headed to the parlor.  It was late in the afternoon when I sat down for my time of Bible study and reading, but it was a wonderful time of refreshment, body and soul.  A bit of reading in the Psalms and 1 Corinthians. A continued study in Genesis, with a brief diversion to I Kings.  Pondering His Word.  Opening my heart to learn more of Him.
It was Dani's night to make dinner, so I pulled a bit of my planning back out.  I filled out an order form to FAX in my very late in the game school order. (Yep, I decided to save money and order, rather than buy locally and have it on time for the first day of school.)  The laundry was brought in, folded and put away just before dinner. My ironing pile had grown again, but I caught it up just before my husband got home from work (8 men's & boys' shirts, 2 pair of boy's slacks, and two dozen of our everyday napkins).
This evening I think I will read a bit in the parlor while my husband installs the dishwasher.  I'll be nearby for any conversation he might have, or to fetch the odd tool; but I'm tired and it will be nice to sit and put my feet up a bit and think back over the day.
God bless you as you look well to the ways of your household!
Proverbs 31:27