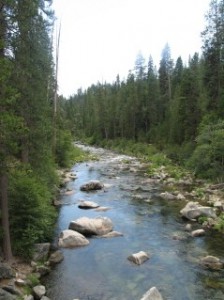 We took our last-of-the-summer fishing trip today!  We had the rare treat of having Corin and her family join  us!!!  We had a very early start, meeting along the road a little after 7:00, and travelling together for a couple of hours up into the hills.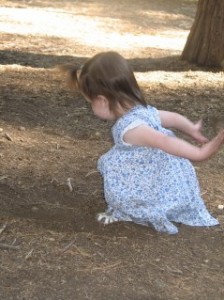 The guys fished all morning, and we gals enjoyed a pleasant morning of chatting and watching my two year old  granddaughter play.  She loved being outside and didn't mind the dirt one little bit!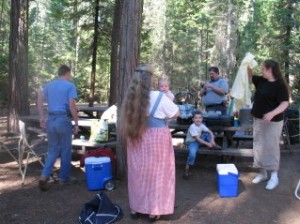 The guys joined us for lunch, and then they all headed back to the  river and fished until after 4:00.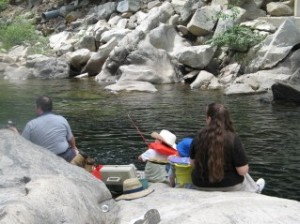 After a bit, Corin and Dani hiked down to the river to take some pictures of the guys fishing, leaving me quite contentedly with two sleeping baby girls.  They enjoyed their walk, I think.  I enjoyed hearing them chatting quietly as they disappeared down the road, and then as they returned.  I am so thankful for the friendship and love that they share for one another.
We packed up and headed back down the hill together, stopping in a little foothill town for a fast food dinner.  We enjoyed our time so much that it was hard to get up to get into the cars to say our last good-byes for the day.  I don't know when I've had so much fun at a Taco Bell!  It's a very small little town that we stopped in, and the "regulars" knew that we didn't quite belong; but we enjoyed watching them try to figure out which children belonged with which adults!  After awhile, though, the precious children won over even the grumpiest looking gentleman's heart and had him smiling!
We did, finally, have to load up to head home, saying good bye to each grandbaby as we saw them off.  They followed us for another 45 minutes, or so, until their highway divided off from ours.  We waved and waved out the van windows!

It was hot, hot, hot here where we live today, but it was several degrees cooler in the mountains.  However, as the afternoon came on, some clouds began moving in.  We noticed the breeze pick up a bit and then we began hearing the gentle booming of distant thunder.  The thunder grew louder and several times the rolls continued on and on.  We saw or felt a few raindrops, but it never did rain on us.  The breeze did get quite cool, though, and made the rest of the afternoon quite pleasant.
The sad news is that the men only caught one fish.  Just one!!  I am so pleased, though, that it was my Aaron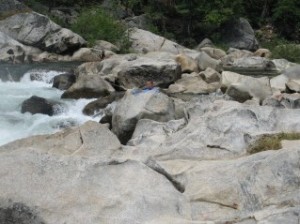 who caught the lone trout.  He was way overdue, having been skunked the last couple of times we've gone fishing.  To top it off, he caught the biggest, meatiest trout that my husband has ever seen!!
I have a load of laundry running, even though it is quite late; and poor Dani is taking care of Will's aquarium.  It seems things have gotten off balance a bit there (I think it might be the heat), and he lost a wee fish today.  She's doing her best to right the situation this evening.  I am grateful for her willingness to do this for William (he's already asleep!), though I know that it is probably her very least favorite job in the whole world!
I am a tired gal!  I'll leave you with a few more pictures of our day today.  I hope you enjoy them.
God bless you as you look well to the ways of your households!
Proverbs 31:27