"Every morning that breaks, there are mercies anew
Every breath that I take, is Your faithfulness proved
And at the end of each day, when my labors are through
I will sing of Your mercies anew.
When I've fallen and strayed, there were mercies anew
For You sought me in love, and my heart You pursued
In the face of my sin, Lord you never withdrew
So I sing of Your mercies anew."
This morning was such a display of the truth of this song!  The sorrows and cares of yesterday were gone, taken away as far as east from west.  Mercies anew.  It seems the Lord heard the prayers of this momma and allowed William's body to flush all of the food dyes out of his system overnight, rather than the 48 hours or so it usually takes.  Tender mercies.  We are still having such glorious, almost fall-like weather.  In our part of the country, we can still expect two more months of very hot, summer weather; but we do enjoy brief respites from the heat.  They are so refreshing when they come!  Mercies anew.  Tender mercies.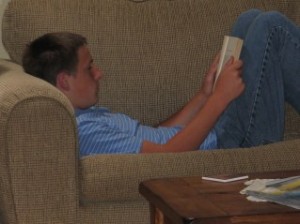 My husband, as most of you know by now, has every other Wednesday as a day off; but he almost always  works that day off as a day of overtime.  I am thrilled to say that he is taking tomorrow off and we are going to our favorite fishing spot in the mountains!  The boys are so excited to be going fishing again!  I'm sure it was hard to concentrate on school today, but they did.  I am looking forward to a lovely day away with my family and spending some time relaxing in the forest, reading, knitting, and doing some fall school planning.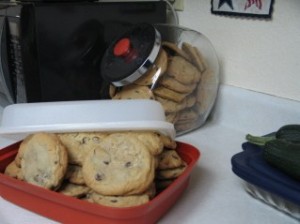 Dani was going to spend some time with her sister this afternoon, so she hustled around this morning and made up a batch of her big chocolate chip cookies.  I finished up the last pan or two for her after she left.  Much to everyone's delight, the big container we always take cookies to a picnic in held almost three dozen, which meant that another three dozen went into our cookie jar.
The non-perishable foods, plates, etc. are all packed up and ready to go.  Our other picnic foods will be packed in the ice chest in the morning.  The worms have been bought and are in the fridge.  Rods, reels, tackle, folding chairs….all have been set aside to put into the van bright and early in the morning.  I've packed up a bag of books, my knitting and even my lap top.  I LOVE our fishing trips, though I never dip a line in the water!
Of course, being gone for a full day tomorrow meant doing a bit of extra work today.  I did all of today's laundry, as well as most of what would normally be done on Wednesday.  I kept the washer humming along, and my clothes line full all day.  Doing double duty on things today really didn't take too long, and I just kept working steadily at it.  It did make for a bit of extra ironing late in the day, but just a few extra pieces.  There were a couple of dozen of our everyday napkins to iron, too; but they are such a treat for me to iron.  I spritz them with our homemade lavender spray, and I enjoy the scent as they are pressed and folded.  I love the feel of the napkins as I iron them. They are fresh and crisp from air drying on the line.  The cool weather we are having saved me from doing any double watering.  Everything should be just fine until Thursday.  I did water all of the potted plants, though, as they tend to dry out so quickly.
I just mentioned our homemade lavender spray…..we are enjoying it so much!  I made up a big batch a few weeks ago.  About a pint went into a very fine, mist spray bottle for us to use to spritz our bed linens with, once when the beds are made up on Saturdays and then again mid-week to freshen and re-scent them.  The rest of the mixture went into a regular spray bottle to use when we iron.  The ironing spray bottle is almost empty!  Dani uses this bottle to spray her own clothing before she irons it.  I use it, of course, when I iron our table linens.  The regular bottle of lavender spray is also great to use as a room freshener (spray lightly over carpets, upholstered furniture, etc.).  We even use it to spritz the dog's bed!  The scent is quite light, but it is so pleasant at the same time.
I was busy a good part of the day just cleaning the kitchen.  We had a big, late Dad's-day-off breakfast of turkey bacon, fried eggs and French toast.  When it was all said and done, there was a lot of clean up; but it was so nice to have a really big breakfast together as a family.  I used to plan the big breakfast for my husband's every other Wednesday off.  It dawned on me today (you know how slow I can be!) that I should change the big breakfast to Tuesdays all of the time.  My husband is always home on Tuesday!!  From now on, Tuesday it is!
Since we'd had our big breakfast rather late, Dani made smoothies for lunch, and pulled a loaf of her banana bread out of the freezer to go along with the smoothies.  I cleaned up the lunch mess and the cookie baking mess at the same time, wiping down counters and cleaning my sink as I went for the second time of the day.  What a delight to have the counters so clean and my kitchen sweet smelling throughout the day.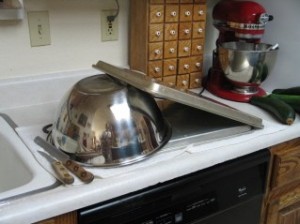 You know, I really do enjoy hand washing dishes.  I'm thankful for my dishwasher, and it's used at least twice  every day; but I enjoy hand washing the other things – my good knives, the cast iron griddle for my stove, the big cookie sheets, the electric skillet, and the few dishes that wouldn't quite fit into the dishwasher racks.  I enjoy using those non-dishwasher safe items.  Perhaps that is why I enjoy washing them up, readying them for the next time they are needed.  I love the too-hot-for-comfort dish water, carefully and thoroughly washing the dishes in sudsy water, and then rinsing them clear with more hot water.  I guess I'm lazy, because I usually don't dry these things.  I just let them air dry on a clean, cotton dish towel and put them away later.
Though we homeschool year round, I do consider the first of September the beginning of a new school year. To that end, I've been doing a bit of mental planning for fall.  I do some of my best thinking while I'm working – hanging clothes out or folding them, washing dishes, dusting, etc.  My boys are finishing up the things I had for them to do this term, and may end up with a week or two of "summer vacation" if they are diligent.  I've put several school related things into my bag to take tomorrow to peruse and pray about using.  I'll have some uninterrupted time to put some of my mental planning onto paper while the guys fish.  I have a couple of things to order for fall, and I really should do that this week so that there is plenty of time for it to arrive.  Although, I don't think Aaron would be too disappointed to wait a week or two longer to start algebra.
Did you notice the zucchini in the two pictures of my kitchen?  There is zucchini everywhere!!!  And we only have one plant!  We'll use a couple of the larger zucchini for Zucchini Pizza later this week, and Dani got a great Zucchini Pancake idea (think potato pancakes) from our pastor's wife that we want to try, too.  No real recipe, but I think we can wing it.
There was no dinner to plan tonight.  It is a family tradition for the birthday boy/girl to choose a restaurant for their birthday dinner.  My husband, of course, worked on his birthday last Saturday.  I asked him if he wanted to go out this week for his birthday, or if he wanted me to make him something special.  He had already thought it out and knew exactly where he wanted to go and what he wanted to have.
This pizza place is run by a very Italian family, and really has the best pizza.  The ambience is not much, but we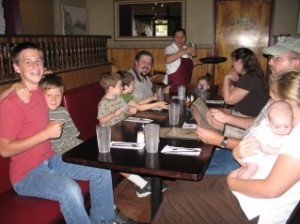 LOVE it and always have.  For some reason it has been several years since we've eaten there.  Their specialty is a White Pizza – crust, olive oil, garlic, lots and lots of garlic, and mozzarella cheese.  That's it.  Oh, man, it is to die for good!  They make wonderful pepperoni and combination pizza, too; but my husband and I love the white pizza.  I guess it's a good thing we both like it so much, considering the garlic breath that we both have afterward!
Copper invited Corin & Rob and the grandbabies to join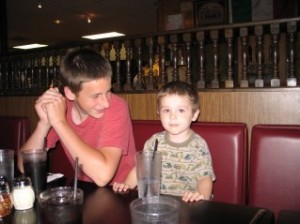 us.  We shared a White Pizza and a Pepperoni Pizza. My grandsons shared a bowl of spaghetti with sausage (one ate the spaghetti and the other ate a bit of the sausage).  Oh, that White Pizza was soooooo good!  I had such a good time watching the grandbabies play and visit with the uncles while we waited for our food and then chatted afterwards.  We played "pass the baby" and all of us had at least a short turn with our very newest baby girl.
After dinner, my son-in-love invited us to Baskin Robbins for ice cream, and we said, "Sure!"  Not that any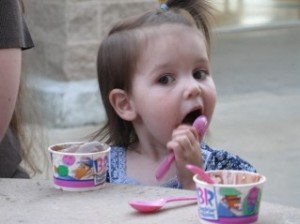 of  us were hungry after our dinner, but ice cream is good anytime, right?  He even treated all of us!  We enjoyed the very cool evening outside, and the grandbabies surely did enjoy their chocolate ice cream!!!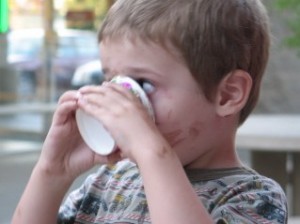 My granddaughter just stole my heart (though they all
steal it quite frequently) as I fed her her ice cream.   She opened her mouth WIDE for every bite!!   She ate it all….every….last…..scrape – the – bottom – of – the – bowl…. drop!
We got home way too late, and Aaron had to feed the animals and water the garden in the dark.  I brought the last of the clothes in from the line just as they were beginning to be damp with dew.  We gals hustled around packing up all of the last minute things for tomorrow.  My wonderful husband helped me put away some laundry and pack some extra clothes for everyone (just in case someone falls into the water).  He even fixed my laundry cart, which lost a wheel as I carried it up the back steps tonight.   The boys were in bed late, especially with the early morning ahead; but we had such a lovely evening out, none of us wanted to rush it!
It has been such a long, long time since my husband has had a full four day weekend.  I know that might seem like a long weekend for most of you, but do remember that he works very long shifts, and most often works 49+ hours a week.  It has been so great having him home for three days already, and now we are going to have a family outing on his fourth day off this week!!  Woo hoo!  I can't wait!  Lord willing, we'll even bring home some lovely trout to have for dinner one evening next week.
God bless you as you look well to the ways of your households!
Proverbs 31:27