We enjoyed two wonderful days of birthday celebration and park play, but today was a day to enjoy home and the work that our home provides for us. Home work!  As wonderful as the last couple of days were, it felt great to be here all day today, working in my home.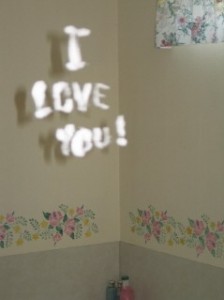 I won't fib to you…..it was tough this morning knowing that all the fun of the last two days was behind me.   I  drug into the bathroom to put on my glasses so that I could see to make our pancakes for breakfast, and found a love note from my husband on the bathroom mirror.  That simple act, done in the very early hours of morning while I slept, caused me to smile, and took away all the furrow from my brow!  (Thank you, my love, I love you, too! )
As I hung out my last load of laundry just after noon, I noticed that the sun was no longer shining.  I looked up, expecting to see some clouds, but instead the sky was filled with thick, brown smoke.  Heavy smoke from a grass fire.  Close.  Dani checked the Internet and found that, as the crow flies, the fire was about three miles due west of us.  The south westerly breeze brought the smoke right over us and then caused it to settle down right on top of us as it hit the foot hills to the east.  That same breeze though, within a few hours, cleared the last remnants of the smoke out of our area.  I left the laundry on the line a bit longer today to allow the breeze to freshen it all back up again and to remove all traces of the smoke.
Grass fires are always a concern for us here, staring about May 1 or so and lasting well into the fall months when we've had sufficient rain to cancel the fire danger.  We keep the grass along the road watered and green in front of our house, and our sheep keep the rest of our property along the road eaten down low.  A couple of years ago a semi truck and trailer drove for seven or eight miles down our country road with a flat tire on the right side of his trailer.  As the very hot rubber flew off of the wheel, the first fires caught.  Then the rim, shooting sparks as he continued on, set dozens of fires all along his route before he was finally flagged down and stopped.  Some of the fires burned until they met green grass and then died out.  Others were just small spot fires.  And yet other fires burned and charred acres and acres of dry grassland.  Our local fire department called for and received immediate help from neighboring departments.  Helicopters dropped huge bucket loads of water from the sky. The fires burned for hours.  The fire fighters did an excellent job of protecting homes, but many outbuildings and crops were lost to that fire.
Today I thanked the Lord for His hand of mercy in protecting us from that fire two summers ago.  The smoke was a good reminder for me, as I trudged out today several times to move water lines, and sprinklers, that keeping our property green is not all about keeping it pretty.   It's also a matter of safety.   A carelessly flung cigarette butt from a car, a truck with a flat, or any manner of things, could quickly turn into a grass fire.  I'm healthy and well and quite able, thank you very much, to do the job of keeping our property watered.  No more complaining about having to move the hose – yet again; or change the irrigation in the vineyard – again; or…….no more complaining! The Lord graciously gave us this home, this little piece of land, nine years ago, and I can express my gratitude to Him not only in the way that I care for it, but also in the attitude I employ while I am caring for it.  Ouch!
Inside today, after carrying out my normal daily tasks, I did a bit of back tracking and did my weekly chores for Wednesday, Thursday as well as for Friday.  It didn't leave a lot of time at the end of the day, but all of the rooms in my home, save the master bedroom and bath which are done on Saturday, have now been straightened, Webstered and dusted for the week.  I'm all caught up on the weekly tasks after two days of too much fun!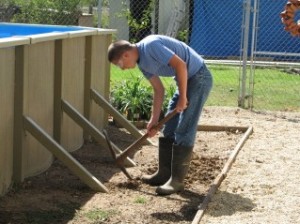 Last week, we soaked the soil all around our pool to prepare it for planting.  Then my hard-working Aaron fell  ill and the project was postponed.  Aaron went out this morning and started digging the soil for me.  Of course, it had dried out again, and he had to put a low running sprinkler on it for awhile.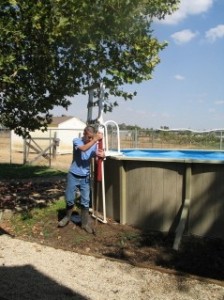 By late this afternoon, though, he had dug the soil deep all around the near side of the pool and turned it all over ready to plant.  He had to use a pry bar to break up some of the very hard compacted areas.  For an hour or so I heard the PLING PLING PLING of the t-bar driver falling down onto the pry bar to drive it down into the hard soil.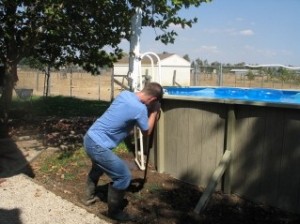 I am so pleased with Aaron's attitude at completing this hard work for me today.  He was frustrated, from  time to time, when the going was difficult and seemed impossible.  By and by, though, he softened and listened to my suggestion as to which tools might help (the pry bar), and then formulated his own plan for making it work (using the t-bar driver to pound the pry bar into the soil).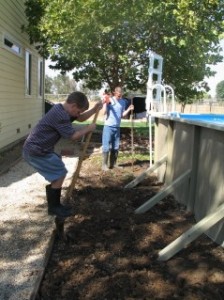 William, of course, wanted to help as well.  His  technique of setting the point of the shovel down just so and then jumping onto the shovel with both feet at once, served him well.  He was able to dig and turn over some of the areas where Aaron had already broken up the soil with the pry bar.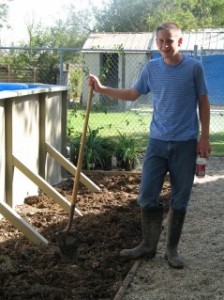 The soil is ready now to be raked level and then planted.  We will have to re-set the pavers under the pool  ladder, and set down the extra pavers I bought to make a nice path to the ladder.  Perhaps Aaron and I will have time to do all of that tomorrow.  I am so blessed to have a son who is now old enough, and big enough, to do the better part of a man's job for me.  Do I tell him that often enough?
The ironing for the day was finished up just before time to start preparing our evening meal.  As our Taco Pizza cooked, I brought the laundry in from the line, folded it all neatly in the laundry room, and then either put it away, or placed it into the boys' baskets for them to put away after dinner.  Putting away their own laundry is a daily after dinner chore.  There was still just a hint of smoke in some of our clothing.  Once again, as I folded t-shirts, and jammies and skirts, I thanked the Lord for His protection of this little home and my family.  Tender mercies.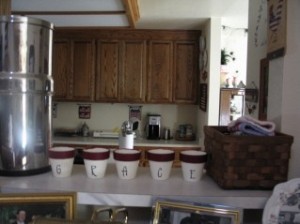 Howie'sgal asked the other day if I'd put the letters to spell out GRACE on the living room side of my pots, too.  Of course!  Ahem,, but I didn't do it until today.
I wanted to be sure that I liked the size of the letters on the pots, which I do; and then I just didn't have a roundtuit to finish them until today.  It took a bit of extra measuring so that I could be sure the letters were centered on both sides of the pots, but it worked!
Just awhile back (on June 24, actually, which would have been my Dad's 100th birthday), one of our church elders itaught on the 5th beatitude and included this definition in his sermon, "Grace is when you receive what you do not deserve.  Mercy is when punishment you deserve is withheld."   I love that definition!!  I have pondered it many times since that Sunday in June.  Grace.  Mercy.  These words are themes that run through my mind countless times throughout my days.  These pots will serve as a visual reminder of that.  Hey!  Maybe I should have put "mercy" on the flip side of the pots!
My children are all outside playing keep away with a plastic bucket lid and our dog.  I think Dixie is winning!!!  I tried to snap a few pictures of them, they are all so silly; but the sun is too low and there just wasn't enough light.  My wonderful husband, after his long twelve hour shift, is standing in a tech support line in town to try to figure out which power supply he needs to purchase to remedy our problems with our family computer.  I love his willingness to do things like that for us!  I am going to head outside and watch my children, and the goofy dog, play and wait for my husband to get home.  I'll be taking my knitting with me, of course!
God bless you as you look well to the ways of your household!
Proverbs 31:27