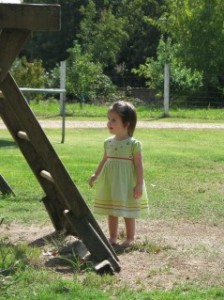 I've been burning the midnight oil the last few nights.  I had a project I was determined to have finished by today, and I did it!  Of course, I went to bed way too late last night; but I finished.
I was working on an embroidery project.  It was a gift, so I cannot show it to you now.  Once it has been received, I'll post a picture for you.  I am fairly pleased with the results.  I will tell you that my package for the napkin exchange, hosted by Rhonda Jean, was taken to the post office and mailed off today.
Yesterday was funny.  The grandbabies came and we had a sweet time reading together on the couch.  The  day was so beautiful that we all headed out front afterwards.   The children should have had a wonderful time playing outside in the sunshine.  And they did, off and on.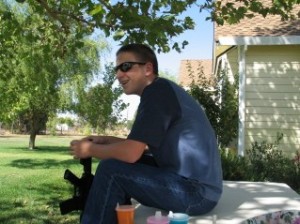 However, all of the kids and grands, excepting my two grown daughters, were cranky and cross.  Not really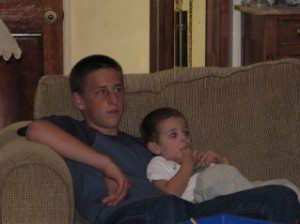 with anything or anyone in particular, but just with life in general.
We mamas corrected.
We disciplined.
We diverted.
We encouraged.
We cajoled.
We brought them in the house and plopped them down to watch a movie!
Dani put on a wonderful, vintage  Disney video – Make Mine Music
– and the children's little countenances went from being sour pusses to sweet and smiling with the rest and music.  Me thinks they all just needed a break.
Late yesterday morning, before Corin and the grands came, I whipped up a Chocolate Crazy Cake to have to serve my treasured ones.  I cut everyone a nice square of that before we started the video.  My girlie-girls and I, along with my tiniest grandbaby, sat in the school room and chatted.  BabyGirl was on her tummy, playing on a blanket on the floor.  At one point in time, Corin, Dani and I were all laughing uproariously about something. Dani glanced down at my tiniest grand and then started pointing for us to look too.  There she was, propped up on her little elbows, laughing right along with us!  Too precious for words, and it made us laugh all the more to see her laughing along with us.
I told my girls yesterday how unsociable I was being….working non-stop on my embroidery project all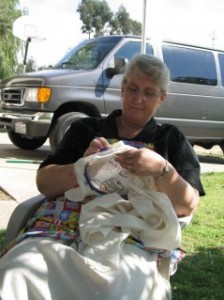 afternoon.  It's hard for me to just sit, though, and do nothing.  I tend to have some sort of hand work going even while we're watching a movie together.  Now, how much I get done while I'm watching a movie is quite varied.  A good action-adventure movie will have my eyes glued to the screen more than they are on my work, while a romantic comedy might allow me to keep my eyes on my work a bit more.  Can I tell you what else this does for me?  It keeps me from snacking so much in the evenings!  I will, generally, have some little something with my husband late in the evening, but not much.  Keeping my hands busy keeps away the munchies.  For those of you who have been around for a bit, I will tell you that the weight is still coming off.  Ever — so– slowly, but it is still heading in the right direction, and for that I am thankful.
Hand work of any kind, be it knitting, crochet, counted cross stitch, embroidery, what-have-you, is a wonderfully relaxing yet productive pursuit.  This sort of work can result in beautiful hand made items for your home, or to wear, or to share with family and friends.  Learn a new skill!  It's one way to relax and yet still be doing something productive.
My William began knitting last winter.  Dani found him some wonderful, chunky Lumberjack-colored yarn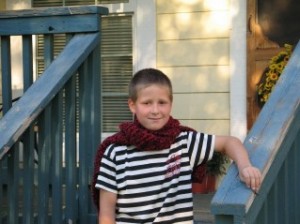 and  some boy-size chunky, boy-size13 needles and he started work on a scarf.  He would work diligently for awhile, lose interest, and then would pick it up again for a season.  Just this last week he began working feverishly on it again, wanting to bless his brother with a knitted scarf for his October birthday.  He finished the knitting yesterday, and today he wove in the loose ends.  It is now folded neatly in a cabinet in my bedroom until it is time to wrap it for Aaron's birthday in a few weeks.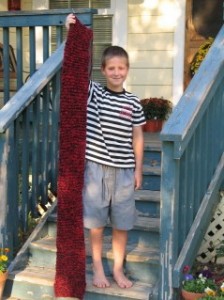 I spent some time yesterday looking at his work and thinking back on the time he spent working so hard on it.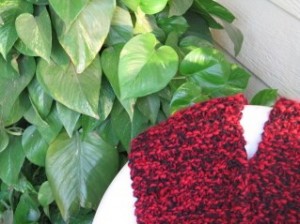 The first few rows are so uneven, and there is evidence of  stitches being dropped and picked up later.  There are a couple of places where the stitches were crossed on his needles before he knitted them.  As his work progressed, his skill improved, and the last half or so of the scarf is near perfect!  I have told him several times today what a great job he did, and how I liked the way he worked so hard on it just this week.  It will keep his brother toasty warm this winter when he goes out to feed animals.
This afternoon, Dani spent an hour or so searching the Internet for a hat pattern that was easy enough for Will to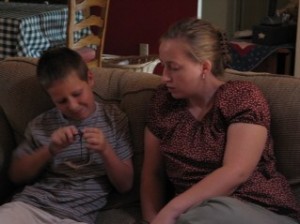 knit and that used some camoflauge worsted weight yarn that Dani bought on clearance last year as a surprise for him.  She sat down with him and very patiently began teaching him to purl as well as getting him started knitting in the round on circular needles.  It will be so fun to watch his hat begin to take shape; and it will be fun, as well, to help him when he gets into trouble with it!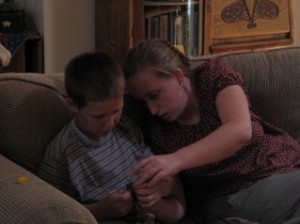 One of our ewes gave us twin lambs yesterday.  Both lambs are rams.  We are always disappointed when the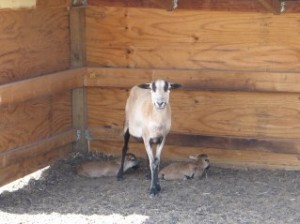 lambs are rams, but I'm not sure why.  We are rebuilding our little flock still (after losing many to a pack of dogs a couple of years ago), but we now have eleven sheep, counting the lambs, with another ewe ready to lamb at any time.  I honestly think that it is a blessing from the Lord that these lambs are males.  The ewes we have will be sufficient to keep our little flock growing.  Oh, but the lambs are cute!  Skinny and all legs and still a bit uncoordinated at a day old; but able to follow their mama around and even to run if they fall behind.
Yesterday's weather was sunny and hot, with our afternoon high over 90° again.  Today was cloudy, cool and very breezy, and our high was a full 20 degrees lower.  We had some intermittent sunshine, but the day has been filled with dark, dark clouds passing by and blocking the sun for the most part.  Not a drop of rain fell.   Though it's cool, I did have a few bits of my house opened up for the cool, but fresh, air to enter.  One window in the entry, one window in each bedroom, and the sliding door to my school room.  All of the wind chimes rang merrily all day, and I do so enjoy that!
I've mentioned before that Creating a SenseSational Home
is one of my favorite decorating books. I try to re-read Mrs. Willits' book about once a year because I always find some new way to enhance the beauty of my home when I do.  Hearing the wind chimes today reminded me of her book as that is where I first realized the importance of decorating for all five of our God given senses.  A pleasant sounding home is as important as a pleasant looking home.  Today, along with the wind chimes, the sounds of Andre Bocelli, Acoustic Alchemy and Beegie Adair filled my home with pleasant, albeit quite eclectic, music throughout the afternoon and into the evening.
I have three jar candle warmers
on in my home, one in the living room, one in the parlor and one in my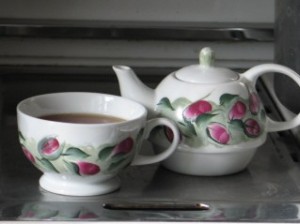 bedroom, filling my home with wonderful aromas.  (The link is for your reference, you can purchase these for about $5 at WalMart.  (Hat Tip to Mrs. C, who comments here as ButterflyMommy, for telling me about these last year!)  Our taste buds were given a mid-afternoon treat with a bit of left-over Crazy Cake, and I treated myself to a late afternoon treat of Orange Spice tea in the wonderful "tea for one" set that Dani painted and gifted me with a couple of years ago.  We will enjoy the feel and soft comfort of our cushy sofas and chairs in the living room this evening, with, perhaps, a cozy afghan to pull over us if the evening becomes too cool.  Look for a copy of Terry Willits' book!   It might even be in your church library.  It's wonderful to think about blessing our families by giving attention to all five of their senses.  I've just pulled it from my own shelf and added it to my reading basket.  (I pulled out Edith Schaeffer's Hidden Art of Homemaking
for a long overdue re-read, too!)
The stove repairman came and gave us some very good news today.  The problem with our stove is strictly mechanical and not in the electronics of it.  Oh, I am SO thankful for that!  It is, truly, an answer to prayer for me! All of our problems stem from the fact that the door latch is broken, causing the stove to "think" that the door is ajar all of the time!  A part has been ordered and we should be good to go in a week or so!  Yee haw!
Homeschooling fills our days and it happens all over the house.  I honestly do not know how they can stay,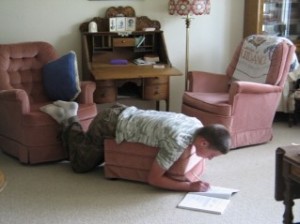 comfortably, in some of the positions they get into, but they do.  I'm not one to quibble with the how or where it gets done; but I do, frequently, take their picture while they are working like this to preserve the memory. Shortly after I took this picture today, Aaron came to the laundry room where I was folding clothes.  He sat on the floor, with his back against the pantry doors and I helped him further along with memorizing his list of prepositions while I folded clothes ….around, at, atop, behind, below, beyond……… We've made it through the "b's" in just a couple of days.  Working together.  Will brought me his math for some assistance while I washing up the breakfast dishes this morning. "Is less than a subtraction, addition or multiplication problem?"  "Well, Bud, let's think it through. Tell me a problem with "less than" in it."  I washed dishes, and he made up a word problem. Working together, we got it done.
It's not always been so, and it is not always so now.  In the past, their interruptions would have angered me. "Don't you see that I have work to do?".  How selfish is that?  My children are not interruptions to be tolerated, or worse, sent away so I can attend to my agenda.  They ARE my agenda!
Seeking the Lord, daily.  Falling on my face before Him when I blow it – daily.  Asking Him to give me the eyes to see His will for my life and the wisdom and strength to do His will.  Daily!  I still blow it.  Daily.  He's still working on me, this dirty lump of clay in the Potter's hands.  I am thankful for His never ending patience with me, and ask Him, by His grace, to give me more.
I normally do the weekly cleaning in my living room on Thursdays, but I skipped it yesterday.  On purpose.
My Dani-girl and Aaron have been reminding me that it is time to do the fall decorating in our home.  I don't think I knew how much they enjoyed having the scenery in our home change with the season.  I do now! Tomorrow, though Saturdays are full to overflowing, I will have Aaron get the tubs of fall things down from the loft in the storage barn and bring them in.  I will clean the living room tomorrow as I begin putting out our fall things, dusting, cleaning and polishing the bare surfaces as the everyday things make way for the autumn things.  I don't know that I'll get it all done tomorrow, but I will set my sites on completing the living room at least, before we settle in for our Lord's Day on Sunday.
God bless you as you look well to the ways of your households!
Proverbs 31:27