You asked for it, so here it is! There are many varieties of this great recipe floating around, but this is the one we use and really like. This recipe can be made by the children themselves, and it's healthy! No refined sugar, yet sweetened with honey & raisins, with a healthy dose of protein to boot. Kids love 'em, but most adults enjoy them, too.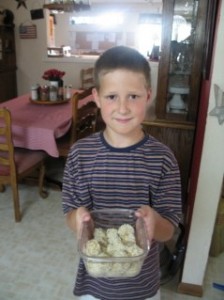 WILLIAM'S PEANUT BUTTER BALLS
Mix together in a bowl:
1 cup peanut butter (creamy or chunky)
5 Tablespoons nonfat dry milk
4 Tablespoons honey
4 Tablespoons raisins
1/2 cup unsweetened flaked coconut
Roll mixture into balls. Roll balls in sesame seeds to coat.
Refrigerate until firm.  Keep refrigerated.  Makes about 16 peanut butter balls.