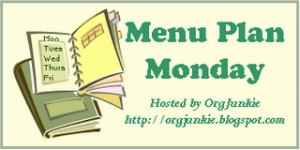 It looks like Mexican Fiesta week at our house!  That's okay, we all really do enjoy Mexican style food.  I had most of the menu worked out and then asked Dani what she might like for dinner for her birthday on Wednesday.  She chose tacos.  What's a mama to do?
Add tacos to the already heavily Mexican themed menu, of course!!
It's a tradition that the birthday person chooses a restaurant for their birthday dinner.  Since Copper is working on her birthday, we'll take her out Tuesday night.  She gets a double whammy because she was able to choose what we were having on Wednesday, too.  Some might say she was spoiled (I'm hearing Corin whining already), but I say Danielle deserves it!
As always, recipes marked with an * will be shared later in the week, usually late in the day that they are prepared.  Be sure to check back if anything looks good!  I've added basic directions for a couple of things right here on the menu plan.  I've had gals ask what all we put on a meal-time salad, or on our tostadas, etc., so I'm just sharing that right here.  Sometimes seeing things like that written down helps to remind you of things you can do quickly and easily for lunches and quick dinners.
Check out the rest of the wonderful menus being served in homes all over the world at this week's Menu Plan Monday.
MONDAY
Breakfast – Waffles
Lunch – Tostadas (topped with black beans, corn, fresh diced tomatoes and mozzarella cheese, popped into the oven until the cheese melts)
Dinner – *Mexican Cornbread, green salad
TUESDAY
Breakfast – Link Sausages, German Pancake with homemade buttermilk syrup
Lunch – Chef's Salads, (julienne sliced lunch meats, feta cheese, tomatoes, crumbled bacon, etc. over greens)
Dinner – Out for dinner to celebrate Dani's birthday a day early
WEDNESDAY
Breakfast – Cold cereal (the birthday girl's favorite breakfast – go figure)
Lunch – Meat Sandwiches and chips
Dinner – Tacos, fruit
THURSDAY
Breakfast – Hot Rolled 5 Grain cereal, with raisins and brown sugar
Lunch – PBJ or meat sandwiches, chips
Dinner – Baked potatoes (topped with bacon, grated cheese, butter, sour cream, etc.), green salad
FRIDAY
Breakfast – Pancakes
Lunch – Burgers, oven fries, green salad
Dinner – Taco Pizza, fruit
SATURDAY
Breakfast – Cold Cereal
Lunch – Left over Taco Pizza
Dinner – Spaghetti, green salad
SUNDAY
Breakfast – *Sour Cream Coffee Cake
Lunch – Annual church picnic following worship
Dinner – Wild Dinner!  (Will's term for our typical Sunday evening fare – popcorn, leftovers, whatever!)
God bless you as you look well to the ways of your household!
Proverbs 31:27