We had a wonderful Lord's Day yesterday.  I hope you all did as well.  It's such a delight for me, personally, to be in a family integrated worship service.  I love hearing the babies "talking" sweetly.  I like hearing the little ones whispering "Mommy" and asking a question loud enough to be heard a couple of rows away.  Don't you love the way little ones whisper?  I don't even mind, not one little bit, if a wee one fusses a bit.  Our Lord told his disciples to let the little children come to Him.  I am so glad that they are welcome in our church services.
Aaron came down with a bit of a bug late Saturday.  He ran a low grade fever, but was fine Sunday morning.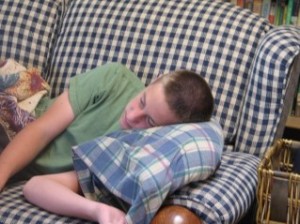 I kept a careful eye on him during church because he just did not look like he felt well.  He said he did, but I just wasn't so sure.  He enjoyed church, ate a good lunch at our fellowship meal afterwards, and even spent some time running with his buds after church.  By Sunday evening, though, the fever had returned and he just did not feel well.  That has been the case for most of the day today.  He feels crummy and has a fever, but no other symtoms.  He's been taking it easy all day, and we'll just let this bug runs its course.
My husband had intended to spend the day today picking up and bringing home about three cords of firewood.  With Aaron sick, that plan was postponed.  He and I decided to do some birthday shopping for Dani instead, and ran a few necessary errands at the same time.  We were out for the better part of the afternoon.  He bought me a big ol' McDonald's coke and a Snickers while we were out!
He takes such good care of me!!
In fact, he takes such wonderful care of me that he got up this morning, ever so quietly, closed the bedroom door behind him, and let me sleep in while he started the Monday waffles and fed the boys.  I didn't hear a thing until he came in to wake me up!   What a treat!!!
I spent the morning taking care of the usual things – the morning kitchen cleaning routine, laundry, watering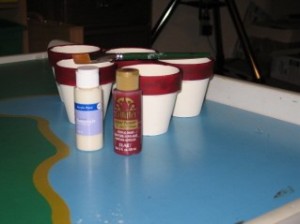 outside, etc.  I got started on a little project for my kitchen window.  I saw this wonderful idea at Manuela's Feathered Nest, and knew it would be just the thing to fill the center of my kitchen window.  I had a few little terra cotta pots left over from the wreath I made to hang on my back gate.  I bought some inexpensive craft paints at Jo-Ann's on Friday, and this morning I applied two coats of  "vanilla" paint to the insides of the pots and the lower part of the outside.  I wasn't sure that two coats would do the job, but once the paint dried they looked great. This evening, after dinner, I applied a coat of dark red to the wide lip of the pot.  It has dried a bit unevenly, so I'll do a second coat, maybe later tonight.  I'll show you the finished product, hopefully tomorrow!!
My planning for what to do with my kitchen window has ended.  I'd thought about a potted plant, or perhaps a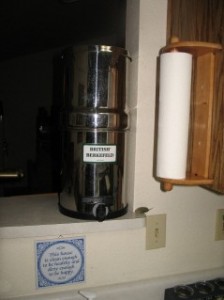 small hanging one, to add to what I already have planned for there.  However, function and economy always come before froo-froo.  Fortunatetly, the necessary is, in my opinion, still lovely.  We have brought out our British Berkefeld water filter again.  I have been buying bottled water for a couple of years now, but economics and health concerns have caused me to discontinue that practice.  We are not water snobs, not be any stretch of the imagination!  In fact, our well water, fresh from the tap, is cold and fresh and quite good tasting!  However, our well water is also full of minerals, and my husband is quite prone to kidney stones.  We are taking all sorts of precautions, of course, to keep him from forming any more stones; but the well water is a primary culprit for causing them in our home.  Some of you may remember that my poor husband sufferred terribly with them last December just before Christmas, and then required two surgeries to be rid of them.  Lord willing, we hope to not go that route again!
We've had the Big Berkey for about ten years, but we'd stored it away a few years ago.  I don't even remember why now.  In realizing that we needed to make some changes and get away from buying the bottled water, I went out and checked our Berkey.  I jumped for joy when I realized that the filters that we'd had when we stored it away were still good!  We should try to replace them soon, but we will get several weeks of use out of the old ones.  My husband used up the last of his bottled water this morning, so I brought the Berkey in, washed it all up, prepped the filters and set her up in the kitchen window!  I'll try to take a better picture in the day time since this one is so dark.  The stainless steel container is actually quite attractive, and the water spigot is easy to reach.
I also cut out a few small napkins to make up for my family.  There will be about a dozen of these.  They will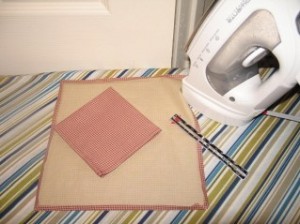 be a lovely size to use for evening snacks, or for us to use for our afternoon tea time.  Several of you have asked me to give instructions on how I am making the napkins.  I'm such a goose!!  I had in my mind how I was going to whip these up, but have spent quite a bit of time today trying to teach myself how to make mitered corners on a very narrow rolled hem instead!  Mitering corners on a wide rolled hem is fairly easy, but the narrow hem on the napkins is a challenge!!!  In all honesty, the mitered corners do make for a much nicer corner than my original method.  Once I get this project tackled, I'll post pictures on the napkin making, including some tips for assembly line sewing that will allow you to maximize your sewing time.
It was a lovely, quiet and restful day today.  I got a nice start on a couple of projects, took care of my home, and spent some time alone with my husband.  Oh, yes, I did take my knitting along in the car, too.  My shawl is coming right along!
God bless you as you look well to the ways of your households!
Proverbs 31:27