Blessed with work.  Good hard work!  We've enjoyed so much of this lately, and it will continue; and for that,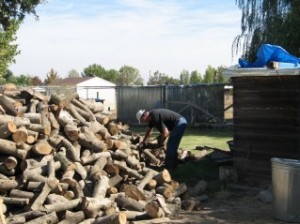 I am thankful!
My husband and sons worked very hard today.  That mountain of firewood loomed large this morning!
By  shortly after noon, they had the existing lean to wood shed full.  It was stacked full bottom to top, side to side and two stacks deep.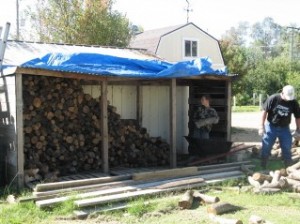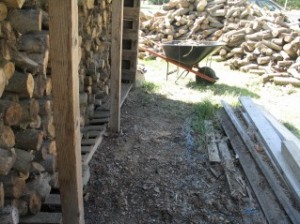 The guys then cleaned out the area just in front of the lean to, to make way for more wood.
Where our schoolroom now stands, there once stood an enclosed porch.  To save construction costs when the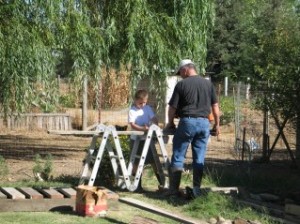 schoolroom was built, my husband demolished the porch himself and saved all of the long 2 x 6 x 16' boards. Those sturdy pieces of wood have been such a blessing to have for projects here and there in the subsequent years.  Today several of them were measured, cut and then used to construct a framework to hold more firewood up off the ground.  Will worked hard for his Dad all day, loading wood into the wheel barrow, stacking wood, measuring and holding boards to be cut, etc.  By late afternoon, that bit of construction was completed and the guys were back to stacking more firewood.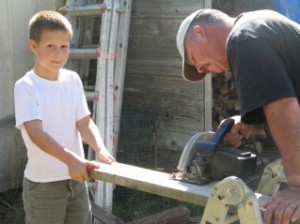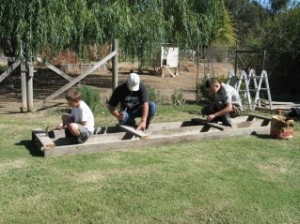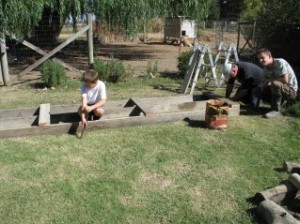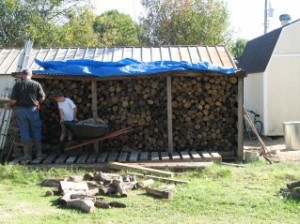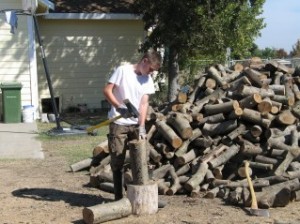 Aaron worked hard all day, too.  His main firewood job was pulling out the pieces that were too stout for our  woodstove and splitting them.  He also split some pieces for kindling as well.  I stand in wonder, sometimes, watching Aaron.  My little boy is now a young man, capable of doing the better part of a man's work. Most days the work is done with a good attitude, other days his youth and immaturity (and his sinful nature) prevent that.  I am thankful that we are able to provide lots of hard, laborious work for our sons.  They thrive with it, and they learn so much.  Not just the wonderful skills involved, but also the lessons of life concerning the value of a day's work, that nothing good comes freely or easily, etc . And those lessons are learned under the oversight and direction of the people who love them best, and who hope only the best for their future.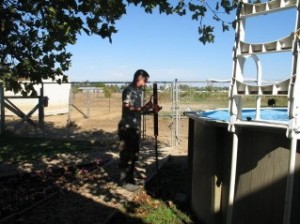 Mid-afternoon I had Aaron check to see if his dad could spare him for awhile.  He could, so I put him to work digging up the little patch of ground still to be planted around the pool.  There is just a small section, on the opposite side of the pool ladder from where we planted last week, that runs just a yard or so to the side.  We would, eventually, like to build a very small deck on the back side of the pool.  The area I had him dig up today will be just at the front of the future deck area.  As before, he had to use the t-post driver and a pry bar to break the dirt up.  It was too wet to plant, though, as I had watered an adjacent area earlier.  Maybe we can get it finished up in a day or two.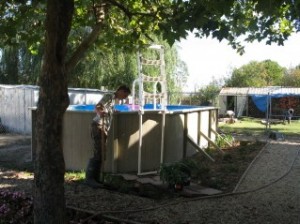 I spent the morning indoors doing the regular Monday morning tasks.  I was gone so much last week, it certainly was nice being home today taking care of my home and doing the things I love to do – my morning kitchen routine, starting the laundry, picking up and straightening up a bit as I moved around my home.  Dani worked inside on her tasks as well – cleaning her bathroom, vacuuming the house, making lunch.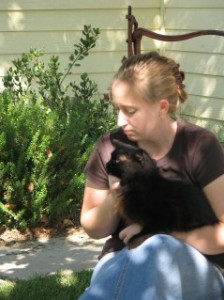 We did go out and visit with the guys for a bit while they were taking a break.  Our cat is not really a pet, but  we do claim her as our own.  She is our resident mouser (though I'm sad to tell you that she also raids the birds' nests, too), and she holds her own in defending her territory against raccoons, skunk and opossum.  We try to give her a little attention from time to time, and she was quite thrilled that she was allowed to visit with us outside this morning as we took a break together from our work.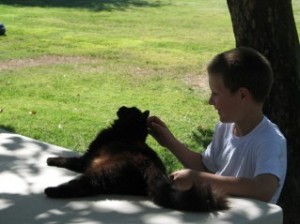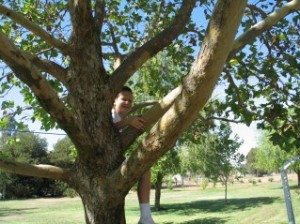 Even while he is resting my Will is always on the go.  He spent this break climbing the tree!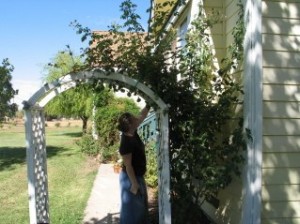 This afternoon Dani worked on trimming the roses that line our front walkway.  My husband is planning, Lord  willing, to start demolition of our front porch tomorrow, and the roses will need to be moved.  It's not a good time of year to be transplanting roses, but it is necessary.  Having them trimmed will make it easier for them to be moved.  The climbing rose on the arbor, however, stays!
I did quite a bit of hand watering early this afternoon in the back yard and front.  I also needed to hand water all of the plants in the side yard as that is where the guys were working on the firewood.  I don't think they would have been too pleased if I had set a sprinkler to run on them out there.
It felt so good to be out working in the sun shine this afternoon.  It was quite warm out, but not hot, and there was a good breeze all day.  Several times this afternoon I was reminded that just a very few weeks ago, being outdoors in the afternoon was not at all pleasant.  This autumn weather is glorious!
The days are getting shorter, and the temperatures are getting lower, but I'm still hanging things out on the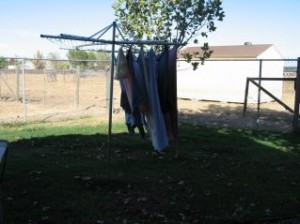 clothesline.  The changing season does mean that I'm hanging them differently now.  This morning I hung the laundry out with two empty lines between each row of hung clothing so that the air could flow better between them.  The breeze was able to gently blow the entire wash load that way and they were dry before dinner time. These days if I do not have all of the wash hung by noon, it will need to be dried in the dryer.  I like that our work changes with the passing seasons.
The afternoon was so pretty, I was glad that there were plenty of things outside needing my attention.  I went out to pot the flowers I bought last week only to discover that there was not quite enough potting soil for all of them.  Still, I was able to make do with what I had on hand.  I pulled the wheel barrow around to the front where I like to work sitting in a chair.  I carefully pulled all of the spent flowers from my pots, removing only the soil that was attached to the root balls.  I then carefully scraped another inch or so of soil from each pot.  The spent flowers and the spent soil that had surrounded them were taken out to the compost pile, which will nourish our garden and flower beds next year.  Next, I used my hands to pull out the rest of the soil from the pots and put it into the wheel barrow, being careful not to pull out any of the pea gravel that is in the bottom of the pots for drainage.  I dumped what was left of the bag of new potting soil into the wheel barrow and mixed the new with the old.  Dani reminded me that I had a bag of vermiculite in the shop that I use when I pot my African violets, so I asked her to sprinkle a few cups of that into my soil mixture, too.  Then I used my trowel to mix up everything really well.
The resulting mixture looked rich and smelled good.  When it was all said and done, I actually had enough of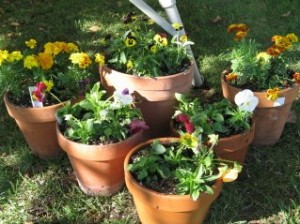 my homemade potting mix to fill another couple of pots!!!  What a blessing!  Instead of carrying the pots around to the porch steps, though, I am leaving them in the front yard.  Since the porch is coming down, starting tomorrow, I will have to find another place to display the fall color.  In the meantime, all of my annuals are now in fresh potting soil with plenty of room for their roots to grow.
William went on a reading binge late last week and read a giant stack of books!!!  I do record book titles and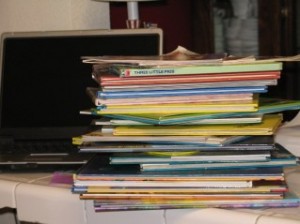 numbers of pages read, so I spent some time this afternoon doing that for Will and then re-shelving the books.  The boys are rewarded for extra reading with a new book for their personal libraries.  School reading doesn't count toward this, only reading done during their free time.  Currently, William needs to read 1,000 pages to earn a new book.  He only has about 100 more pages to go!
I love my bread machine!  It's such a faithful servant!  Late this afternoon, I loaded the machine with the ingredients for whole wheat cinnamon raisin bread and walked away.  Just now I took a delicious smelling loaf of bread out of the machine!  We'll have it toasted with our bacon and eggs in the morning.  I try to keep plenty of whole wheat flour and whole wheat pastry flour ground and stored in the freezer.  I needed three cups of whole wheat flour for the bread this afternoon, but there was less than a cup left in the freezer after our weekend baking. I ground a hopper full of wheat berries, measured out what I needed, and the rest is now waiting in the freezer to be used tomorrow.  I've been using gallon size Ziplocks to store my ground flour in the freezer, but today I decided to look through my stash of unused Tupperware for something better.
What I found in my garage cupboard were two large cereal containers.  These will fit neatly into the large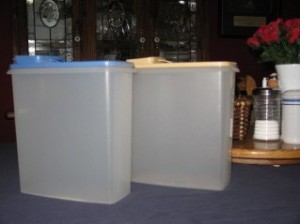 freezer drawer in my kitchen, and they will hold almost twice the flour that the bags do.  I have been re-using my plastic freezer bags, just refilling them with flour as they were emptied; but they did need to be replaced every now and then as they'd wear out or become torn.  These cereal containers will last indefinitely.  One tip, though – frozen Tupperware can become quite brittle, so do handle it carefully when you are using it in the freezer.  Now I will be able to grind two hoppers full of wheat berries to fill each container.  As I keep my grain mill on a top shelf, which I cannot reach unassisted, this will be a huge help.  I put my flour in the freezer immediately after grinding to keep it as fresh as possible.  Having the wheat already ground makes using whole wheat flour as convenient as all purpose white.
I have learned that cooking from scratch, as well as cooking and baking with healthier ingredients (like whole wheat flours, etc.), is just as easy as making from mixes and less healthy alternatives.  However, as with most things worth having or doing, there is a trade off.  For me this means taking the time every few days to pull out the grain mill and grind the wheat berries and the pastry berries into flour to have ready and waiting in the freezer.  I only have to clean the grain mill once every few days that way, and then it can be put back on the shelf again. Having the flour in the freezer, right next to my baking center, enables us to use the whole wheat flours as readily as we could use the all purpose white.
HisHomemaker asked the other day about the price of the Buttermilk Powder
I linked to through Amazon.com.  The Amazon price for this product is actually significantly cheaper than I can buy the same brand for at my deep discount grocer.  As with all things, though, you really do need to check your prices before buying. You also need to take into consideration such things as if there is a charge for shipping the product to you, and how much of the product that you would need to buy to get the lower price.  We do use quite a bit of Buttermilk Powder, so buying three, 16 oz. containers is reasonable for us.  Most of the Amazon grocery products qualify for free shipping with a minimum purchase of $25, so I would be sure to order only when I had enough to earn the free shipping.  Discovering the savings on the Buttermilk Powder, though, means that I need to try to find some time soon to check the prices on other non-perishables that we frequently purchase.
This little blog has been given another "You Make Me Smile" award from sweet Kathy at Protecting the Seeds.  Thank you, Kathy, for thinking so kindly of me!
It's been a day full of good, hard work and I am pleased to look back on all that has been accomplished.  The boys worked hard all day alongside their Dad, and will do so again tomorrow.  Dani and I worked together in our home and out, and we worked separately as well, with plenty of fruit to show for our labors, too.  I enjoy that I have relaxing work yet ahead of me this evening as I enjoy the evening with my husband and Dani.  Knitting, embroidery, cross-stitching….these are all relaxing pursuits, and yet they also produce items for my family, or my home, or even for a blogging buddg!
I'm tired, of course, but that's a good thing!  A tired body falls quickly to sleep at night, without tossing and lying awake fretful about things.   I am so thankful for the work that the Lord has given me to do, and I'm looking forward to what He will bring me tomorrow, as well.  Oh!  And the grandbabies will be staying here for a bit tomorrow, too!  Joy, joy, joy!!!
God bless you as you look well to the ways of your households!
Proverbs 31:27