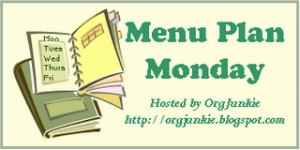 No big trips planned for this week.  In fact, we will be trying to get back into our normal, homeschool weekly routine.  It will be nice to just be at home for most of the week!
We're using up some things from the freezer (the trout, for example), and we're using quite a few eggs, too.  Our new layers are not giving us quite enough to sell, nor are they quite large enough for sale; but we're getting enough that planning some extra egg dishes during the week seemed like a good idea.  As always, recipes with a * will be shared later this week, probably late on the day that they are to be prepared.
Be sure to head over to Laura's blog for the rest of the menus on this week's Menu Plan Monday.
MONDAY
Breakfast – Waffles
Lunch – Tostadas (topped with black beans, corn, diced tomatoes and mozzarella cheese)
Dinner – Oven Fried Trout, herb roasted potatoes, steamed broccoli
TUESDAY
Breakfast – Bacon, eggs, toast
Lunch – Tuna sandwiches, chips
Dinner – Cheese Enchiladas, refried beans, salad
WEDNESDAY
Breakfast – Cinnamon Streusel Coffee Cake (made last week and frozen)
Lunch – Left over enchiladas, or PBJ sandwiches & chips
Dinner – Aztec Quiche (from the cookbook Once-a-Month Cooking by Mimi Wilson)
, salad, *soft breadsticks
THURSDAY
Breakfast – French Toast
Lunch – Cheese Quesadillas, fruit
Dinner – Burgers, fried potatoes, green salad
FRIDAY
Breakfast – Pancakes
Lunch – In Town Shopping Today
Dinner – Sub Sandwiches
SATURDAY
Breakfast – cereal
Lunch – Meat sandwiches, chips
Dinner – Nachos
SUNDAY
Breakfast – *Apple Raisin Coffee Cake
Lunch – Fellowship Meal at Church (we'll take baked chicken, baked beans and Cinnamon Crackle Cookies
Dinner – Wild Dinner (left overs, pop corn, whatever!)
God bless you as you look well to the ways of your households!
Proverbs 31:27