What a busy week it has been!  We took two incredible day trips, and I have finished all of my planning.  I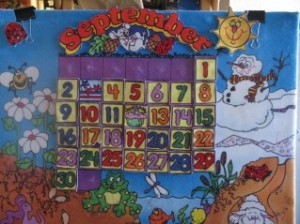 spent most of the day today organizing and straightening up our schoolroom.  I finished it all up just as the oven timer signaled that dinner was done.  With just a few odds and ends yet to take care of,  I will really be able to enjoy our three day weekend with no worries over getting last minute things done.  What a treat!
Our heat wave has continued here, but it is cooling down.  I believe we only reached 100° today.  After being gone for two days earlier in the week, I really had to be diligent yesterday and today to get the watering and irrigating caught back up.  Some of my potted plants look a  little sad, but I'm hoping to nurse them along with extra water as needed.  I'm sure that they'll spring right back into their full splendor as soon as the temperatures drop a bit.  I looked at my poor Cosmos today, drooping in the heat; and I thought to myself, "I probably look just like that right about now!". 
However, it is now dusk, and I just came in from watering the plants in my little poolside retreat area and it has really gotten cooler.  There is a lovely breeze blowing in.   Lord willing, we'll be able to open the house up in an hour or so and enjoy the fresh air for a bit before bedtime.
I am certainly enjoying looking about my school room this evening and seeing everything so neat and tidy.  If
I'd straightened up the mess here on the computer desk, it would be perfect!  I had a nice, big basket already on hand that was just the right size to hold all of our read-aloud books, the couple of teacher's manuals that I use, etc.  It stands at the ready, with everything in order for our daily school use.  The basket sits on top of my grandmother's old metal trunk.  The trunk is where I keep the stash of books in my reading queue.  I put a coaster on the trunk for my cup of tea to keep my throat from getting too dry during our read aloud times, and I re-filled the cup of pens and pencils.  There is also a second cup filled with new pencils on the table near where the boys' book baskets are kept.  Everything, including the basket and the trunk, was wiped down well with a damp cloth as it was set down.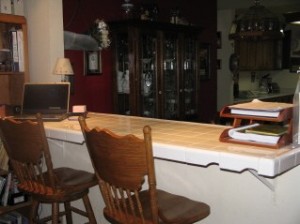 It took awhile, but I dug out my breakfast bar/command central area, too!
I try to keep the two shelves just to the left of this area free to hold my bucket of markers, little drawers with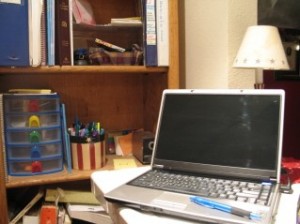 paper clips, book marks, etc., the stapler, flash cards in current use…..that sort of thing.   After cleaning off those shelves today, I have a bit more room in case I need it as time progresses.  Ideally, I like for the breakfast bar area to look just as it does now at the end of every day.  It doesn't always happen, of course, but that is the ideal.
It's so nice to sit down in the morning to a neat work area that has been straightened up, and cleaned just the evening before.
This week has been a mixed- bag, really.  Many things have not quite gone as I'd hoped, and still the Lord reminds me daily of His care for me and my family.  Let me share a couple of examples.
The wonderful Rowenta iron that I inherited from my mother-in-love a couple of years ago took a terrible spill the other day.  Our silly dog, Dixie, was in the backyard with me and got into one of those silly running tears that dogs do.  She's enormous, but she still does this thing.  Unfortunatley, the sliding door was not latched.  She tossed the door open with her snout as she continued her running tear through the door and snagged the iron's cord on her way by.   The iron had been left to cool on the board just inside the door.  The floor in the mud room/sewing nook is tile, and the iron didn't stand a chance.  However, Dani had a great 40% off coupon from Jo-Ann and I was able to use that to buy a new Rowenta, with the same features as the one that broke, for the price of a cheap iron.
When we were fishing the other day, we stopped on our way out of the state park to use the "real" bathrooms.  I took my glasses off so that I could brush out my hair.  The shelf was not as deep as I thought it was, I guess, because my glasses immediately fell to the floor.  Sure enough, my brand new lenses are scratched.  I was so bummed, and had myself quite the little pity party Tuesday night and into Wednesday morning.  Then, on our way to the fair, we stopped for burgers.  There was an older man in the booth behind us reading the newspaper.  When I walked by his table I realized that his poor man was reading the paper through a hand help magnifying glass, and still had to have his eyes just an inch or two from the paper to read it.  Reading for him was laborius an required moving his head constantly as he read from one word to the next.  And I was whining because of a couple of scratches?  Oh, my!   I also remembered a sweet friend from church who is slowly losing her sight, and have now thought to add her to my daily prayer list.  I can honestly say that I am thanking God for allowing my glasses to be scratched so as to turn my heart from being such a lover of self!
And remember all of that planning that I did?  Fortunately, the kids' chore lists are all stored separately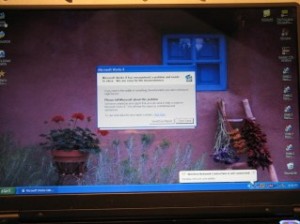 from the calendar on my lap top that serves as my planner because, as of this morning, I cannot open the calendar on my lap top.
My first reaction was despair, but perhaps God has something better in store.  As I'm typing this to you on our family computer (the only one with Internet access), my husband is seeing what he can do to restore my planner.  I have prayed, of course, that the Lord would grant my husband the wisdom necessary to fix my laptop, but I am also ready to let go of all of that work if it's necessary.
Are you laughing with me?  Oh, I hope so!  Guess what I'm off to do now?  I'm off to wipe up the dead ants that my husband sprayed earlier that were swarming the floor between the stove and the dishwasher!!
God bless you as you look well to the ways of your households? (even when things break or there are ants!)
Proverbs 31:27