Go to the ant, thou sluggard; consider her ways, and be wise:

Which having no guide, overseer, or ruler,
Provideth her meat in the summer, and gathereth her food in the harvest
Proverbs 6: 6-8
We've had plenty of opportunity to consider the ant in
the last twenty four hours.  I'm not sure if it's the relentless heat, or if they are, indeed, preparing for the winter by finding new housing.  Whatever the situation, they just are not welcome in my kitchen!  Fortuantely, they don't seem to be looking for food, though they did wander into our baking center.  And the utensil drawer.  And the cupboard where the food processor is stored.  And under the sink.  And…….I think you get the idea.
My husband is, even as I type, working on my lap top.  I made two long trips into the near by city today.  One to Best Buy to seek help from the "Geek Squad".  The young lady who helped me was very kind and helpful, but said that my software was corrupted (me thinks I do not like that term) and that the program needed to be reinstalled.   The problem with that, of course, is that my husband was never able to find the installations disks that came with my laptop.  He is usually so very, very careful with that sort of thing, and we are both just amazed that they have vanished.
My second trip into town was to find and purchase a new copy of Microsoft Works.  It took a couple of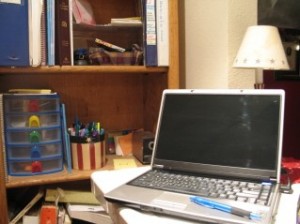 stops, and then a lot of calling around and then checking in with my husband at work, before a copy of the new version was found.  I backed up all of my documents before my husband got home, but the calendar/planner files cannot be accessed outside of the calendar program.  Since I cannot open the calendar, I cannot back up those files.
It is not looking good right now.  It appears, though it is still a bit early in the game, that the calendar program still will not run.  Fortunately, I do have hard copies of all of the kids' chore lists as well as everything we need for the first week of school.  What is missing, of course, is all of my household stuff, all of my daily plans, birthdays, anniversaries, etc.  I told Dani today, "Hey!  I don't have a chore list!  Woo hoo!!"  She giggled with me!   Phone calls have been received from my son-in-love offering suggestions, and he has now hung up to do some more research.  I'm not without hope!
Having been gone so much this week, my ironing has piled up a bit.  That's okay, too!  My plan for dealing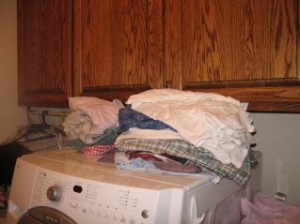 with the back log is always fairly simple.  I just iron ten items a day until it is all caught up again.  From the looks of things, I should pick through the stack a bit and pull out my husband's everyday shirts to start with on Monday! My stack got so tall today, I had to start a new stack or block the door to the cupboard in the laundry room!  I haven't even used my new iron yet!
Most of our Lord's Day preparation is done.  The chicken was baked this morning for tomorrow's fellowship meal, and it has been in the fridge in the crock pot all day ready to load into the car in the morning.  Dani has our coffee cake for breakfast made, and a huge tray of yummy melt-in-your-mouth cookies ready to go.  Just to be on the safe side, the cookies will overnight in the fridge, too, just to be sure the ants don't find them.  I will fill a big bowl with sliced peaches in the morning, and we'll be good to go.  Everyone's clothes are ironed for church tomorrow.  I still need to pack our church basket, and to remind the boys to pack play clothes for after church.  I always grab my knitting basket as we head out the door on Sunday morning.
Preparing on Saturday for Sunday morning gives us a more peaceful, restful start to our Lord's Day.  We do have an hour drive to make before worship, too; so it's always nice to have everything ready to go on Saturday evening.  We missed church last week, and I am so looking forward to being in the service tomorrow.  You all have a blessed Lord's Day, too.
God bless you as you look well to the ways of your households!
Proverbs 31:27