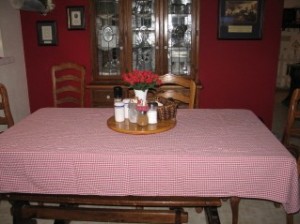 I have been using a nice, cotton table cloth on my kitchen table every day for every meal for at least the last  two years or so.  There are oodles of reasons for this.  I like the look of a pretty cloth spread over the table all of the time.  The table cloth makes even an everyday meal seem a bit more special.  The cloth feels nicer to the touch than the bare wood of the table.  I want my family to know they are important to me, and that I care about making things nice for them and not just for company.  My kitchen table is badly in need of refinishing.  Liquid spills are easier to clean up (the table cloth absorbs everything) and can be tossed right from the table into the washer.  The list could continue, but you get the general idea.
We have five table cloths that we cycle through during the week.  Two red & white checked, one blue and white checked and two dark blue solid.  They are all 100% cotton.  I have a pretty pink and a pretty green & white check, too, that I am using for casual company meals still.   All but one of our every day cloths was purchased at either a thrift store or a deep discounter (like Big Lots).  One of our five everyday table cloths is always on the table.  We might be able to eat two or even three meals off the same cloth before it is laundered, or we might go through two in a single meal!  It just all depends!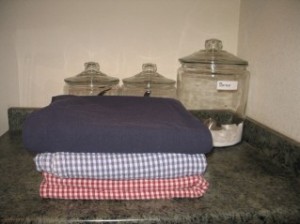 As our meals end, the table cloth is looked over.  Frequently, we can just take it up and shake the crumbs off  outside and then put it back down.  If there are any wet spills, though, it is removed and taken to the laundry room and replaced with a clean cloth.  Generally speaking, the table cloth is changed at least once a day.  The tablecloths are laundered with my regular laundry based on color and even the checked ones really are not showing signs of stains.  I do not iron our every day table cloths, but I do fold them promptly when they come off the clothes line or out of the dryer.  I like them best off the clothes line, though, because they are crisper!  The five seem to be a good number for our family as there is always at least one still folded and clean in the drawer of the sideboard.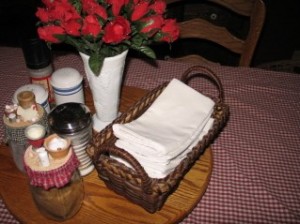 We have not used cloth napkins for quite as long, but we have been using them for all of our meals, every day, for over a year now.  I bought some sturdy cotton napkins in a basic off-white.  I think I bought 30, but three dozen would have been a better number for my small family.  Because they are off-white, I have been able to bleach out stubborn stains (like pizza and spaghetti sauces), and most other food stains bleach out in the sun on the clothes line.  The napkins are washed, just like the table cloths, with our normal laundry.  I do try to iron the napkins, because they just look and feel nicer that way; but when time is short they are simply folded and placed in the basket on the Lazy Susan in the middle of the kitchen table.  When I do iron them, which is 90% of the time, I spray them with my lavender linen spray as the are pressed.  The basket holds about ten napkins and any other clean, folded and/or pressed napkins are stored in a drawer in the side board.
Buying and using the cotton napkins was done for two reasons – economy and to avoid the endless dumping of paper napkins into the landfill.  We were going through a couple of dozen paper napkins a day, and one day I decided that I was not buying anymore of the things.  Now, I am not an "environmentalist" by any stretch of the imagination, and yet I do take very seriously the matter of being good stewards of all that the Lord has given us .  I will tell you, however, that I have become more aware of environmental issues since we moved to the country.  In fact, folks just a bit "upstream" from us, as underground water supplies are concerned, are experiencing contamination problems from the local land fill leeching into the underground water supply.  My husband mentioned recently having our well water tested.  All things considered, that would probably be a good idea.
Now that I've experimented a bit with napkin making, I think I would like to make some more napkins for our every day use; but this time with some color.  I'd love to, eventually, have some nice napkins made up for everyday reflecting the various seasons, holidays, etc.  All in good time, though, all in good time.  The napkins that I experimented with are small in size, and more of a dessert or tea size.  They are 10″ square.  When I make up more napkins for our family for the napkin basket, I will make them a larger 15″ – 16″ square.  The smaller size is fun, though, and I think we'll enjoy having them for treats and things.  (The directions for the larger size will be in parenthesis).
Here is how I made my 10″ napkins.  It's certainly, by no means, the only way to do it, and it might not even be the easiest or nicest way.  It worked for me, though!
1.  Pre-wash and dry your fabric to remove any excess dyes, sizing and to be sure the fabric is pre-shrunk.
2.  I used a t-square and a pencil to square off the cut edges so that my napkins would be easier to cut on the grain.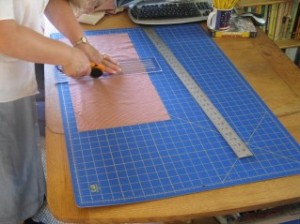 3.  For 10″ napkins, I cut the fabric into 11″ squares.  (For 16″ napkins, cut 18″ squares)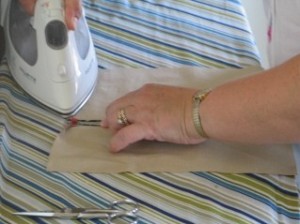 4.  Press up 1/4″ on all four sides of the napkin.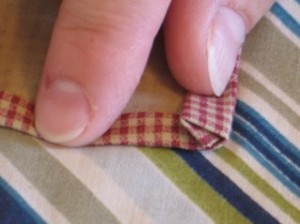 Then press up another 1/4″ on all four sides, forming a narrow, rolled hem.  (For larger napkins, press up 1/2″ on all four sides, and then 1/2″ on all sides again forming a rolled hem.)
5.  To miter the corners nicely, follow these wonderful pictorial instructions, which are the easiest to follow that I have been able to find.  (These instructions can be followed for any width rolled hem.)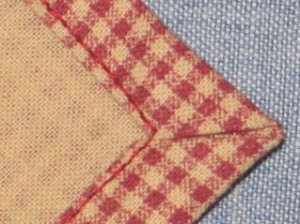 6.  Stitch close to folded edge all the way around with matching or contrasting thread color.  Be sure to catch  both corner edges in your stitching when you turn the corners.  (Tip – leave your needle in the down position when you reach a corner, lift the presser foot, turn the napkin, put down the presser foot, and continue stitching.)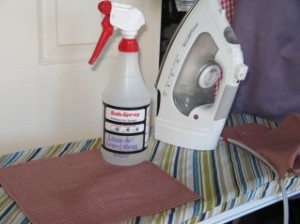 7.  Press, fold and enjoy!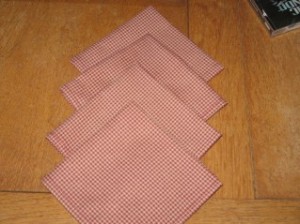 You should be able to cut a dozen 10″ napkins from a single yard of 44″ wide fabric.  I purchased this cute country check for $2.99/yard on sale at Jo-Ann's, and I already had the thread on hand.  These cute napkins cost just a quarter apiece!  I'm all set, now that I've practiced on a few of my own, to make up the napkins for the napkin exchange at Rhonda Jean's blog, Down to Earth.  After that, I think I'll keep my eyes open for a good sale on some fall fabric to make up some larger napkins for our everyday use during the fall months.  One further plus – If you are sure to buy only 100% cotton fabric, when the napkins are worn out, and no longer even usuable for cleaning cloths, you can cut them up and compost them!
Aaron finished raking the ground next to the pool this morning.  Late this afternoon, the boys and I headed out and planted it.  Working together it took us just about an hour to complete the whole deal.  Our first job was to lay the pavers leading from the gravel pathway to the pool.  Aaron and I tried to lay the new and old pavers in a way that was as pleasing as possible.  In a year or two they'll have all faded to the same color anyway.  One of the pavers needs to be trimmed a bit to fit, and my husband said he would take care of that for us.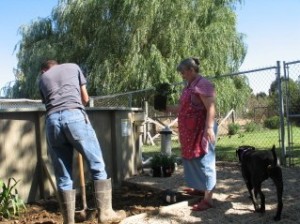 Aaron dug the holes for the plants, I gently removed the plants from the pots and put them into the ground and  pulled the soil back in around the roots.  Will came along behind gently tamping the soil around the newly planted shrubs and gathering up the empty pots for recycling.  I watered them all in well.  They don't look like much now, but they will have all autumn to put down roots and establish themselves well.  Next spring they will begin growing and filling in.  Hopefully the Hawthorne will bloom in the spring, and I'm sure that both the standard Agapanthus next to the pool as well as the dwarf Agapanthus along the pathways, will bloom all summer long.  In two or three years time, this bed will have filled in and I will be rewarded with mature landscaping.
All that is left to be done is to lay the drip irrigation.  Aaron was pretty sure he could handle that for me, since he has helped his Dad do it so many times; but we ran out of time.  My husband says that he will probably have Aaron do the job while he looks on just in case a bit of advice is needed.  I'd love to get a trailer load of bark yet this year to mulch this area as well as my front flower beds.  We'll see.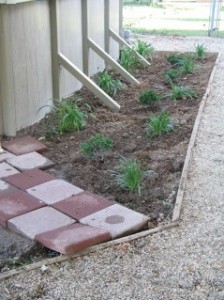 One further bonus, I have plans for more Agapanthus along our drive way.  As the standard Agapanthus around the pool multiply, I will be able to dig some out from the pool area to use out by the drive way!  Having those "free" plants might enable me to get the driveway landscaping done just that much sooner.
I had a message this afternoon from Bren (who comments here as TJSNana).  She has graciously awarded me, as well as both of my daughters, with a very nice "You Make Me Smile Award".  Thank you, so much, Bren.  Your words are so encouraging!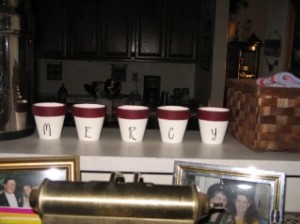 I also peeled off the letters from one side of my window sill pots today and replaced the letters with "mercy".  For now, the "grace" side faces the kitchen sink, and the "mercy" side faces the living room.  I will, I'm sure, change them around from time to time!  You all are so sweet to let me think out loud on my blog to you, and then to leave such encouraging comments.  I'm glad that I hadn't rubbed the letter stickers on too firmly!
Oh!  I don't want to forget!  Niki asked what "Webstering" is.  I say it like everyone should know, don't I?  I'm so sorry.  Webstering is just the term I use to refer to brushing or vacuuming down the cob webs in my home.  We haven't owned an official Webster
tool for years, but the term has stuck in my homemaking vocabuarly.  Thanks for asking, Niki; I'm sure other people wondered what I was talking about, too!
Quite late this afternoon, as our large garage door was open and just the screen door closed into the house, there was a very LOUD repeated honking in our drive way.  It sounded like a truck!!  We looked at one another, and then I knew at once what it was!  Oh!!!  Such wonderful fun and good news!!  I have some great pictures, too!  But it's really not my news to share.  I will tell you, though, that I got to see my daughter, son-in-love, and all four grandbabies very briefly and to ooooohhh and aaaahhhhhh over their new-to-them purchase.  I'll just let  Corin tell you about it herself!.
Outside of that, it was a normal, simple Saturday; and it was just delightful!  Laundry, ironing, changing the bed linens, preparing lesson plans for the coming week, preparing next week's menu plan, preparing for the Lord's Day, etc.  I am always good and tired on Saturday nights, so it's a doubly nice treat to have the cool, crisp clean sheets on the bed, scented, of course, liberally with lavender spray.  It makes for a very good night's sleep.  I'm also happy, happy, happy to say that the ironing pile that I've been working on has finally been conquered.  The last of it was finished up today!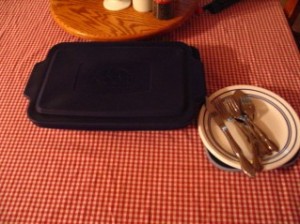 The days are growing ever shorter.  All of my chores for the day are done, though I've a bit of preparation for  Sunday yet to do.  My boys' church clothes are hanging in their door way – shirts and slacks pressed, ties draped over the shirts.  My dress for tomorrow is hanging in the door way to my closet so that it will be freshly aired for the morning.  The church basket is yet to be packed (Bibles, notebooks, etc.), and placed by the back door.  I still need to pack Will's play clothes for after church.  All of our food for tomorrow's fellowship lunch is prepared and ready to take to the car in the morning.  The coffee cake for tomorrow morning's breakfast has also been prepared by Dani and is ready to serve in the morning.  (Be sure to scroll down to the next post for the recipe.)  She generally places the coffee cake on the kitchen table Saturday night, with plates, forks and a serving utensil.  These are just small, simple tasks that we routinely do on Saturday evenings that make our Lord's Day mornings peaceful and smooth.  Well worth the effort!  You all have a blessed Lord's Day tomorrow.
God bless you as you look well to the ways of your household!
Proverbs 31:27