These moist, delicious muffins are filled with whole grain flour, applesauce, nuts, carrots and Craisins (or raisins), which means that they are super healthy, too!
I love having home made baked goods in the freezer.  They can easily be incorporated into the menu plan for even the busiest of weeks.  It's quick and easy to whip up a batch of muffins, bake them and pop them into the freezer. You can pull one or two from the freezer in the morning, pop them into the microwave, and they'll be warm and taste fresh from the oven. This recipe doubles well.
I use my old (almost vintage) Tupperware pie keepers for muffins.  They are the perfect size to hold about a dozen to a dozen and a half muffins.  Or, do as I did today, and turn all of the muffins slightly onto their sides in the pie keeper, and a full two dozen will fit nicely!
(If you click on the links below, and then make a purchase, some of them may put a few pennies into my pocket. Of course, there is no additional cost to you. I am always grateful to those of you who choose to bless me this way.)You can read about how I spend those pennies, and more about how I earn them, in my disclosure policy.)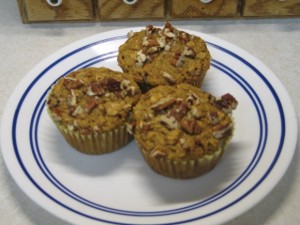 COPPERSWIFE'S HEALTH NUT MUFFINS
2 1/2 cups whole wheat pastry flour
1 1/2 cups oats
1/2 cup packed brown sugar
1/2 cup sucanat
1/2 cup oat bran
2 Tablespoons baking powder
1 teaspoon cinnamon
1 teaspoon ground allspice
1/2 teaspoon salt
1/2 cup Craisins®
 (raisins would be good, too)
1 cup grated carrot, lightly packed
1 cup milk
1 cup unsweetened applesauce
1 cup chopped pecans, divided
Scant 1/2 cup vegetable oil
2 eggs, slightly beaten
Pre-heat oven to 350°.  Line two dozen muffin cups with paper liners.  Stir all dry ingredients,  through the salt, together in a large bowl.  Add all remaining ingredients, reserving 1/2 cup pecans.  Stir just until moistened.  Spoon batter into paper lined muffin tins, filling each almost to the top.  Sprinkle the reserved 1/2 cup chopped pecans over the tops.  Bake for 20 – 25 minutes.  Makes 2 dozen muffins.
Please note: All original written material, photographs, recipes and tutorials on this blog are the sole property of the author and may not be copied, in whole or in part, or re-printed elsewhere, without the express written permission of the author.  Recipes, of course, may be copied for your own personal in-home use!