Here are the Whole Wheat Apple Cinnamon Rolls that we're having for breakfast in the morning! The rolls start off as a healthy, whole wheat dough (sweetened with honey),  and are then topped with wholesome ingredients like apples, creamy butter and succanat. Delicious! Because the rolls themselves are so healthy, we're not even going to talk about the frosting! If you'd like them sweet, but want to skip the sugary frosting, drizzle a little honey over the baked rolls.  This is a recipe that Dani developed. Her baking knowledge floors me, sometimes.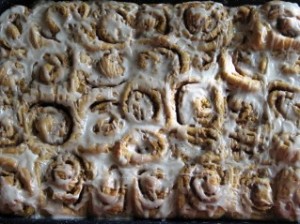 DANI'S WHOLE WHEAT APPLE CINNAMON ROLLS
Whole Wheat Sweet Roll Dough:
1 package active dry yeast
1/2 teaspoon honey
1/4 cup warm water
1 cup hot water (really hot from the tap is fine)
1/4 cup honey
2 Tablespoons melted butter
1 egg
1 1/4 teaspoons salt
2 – 3  cups whole wheat pastry flour, divided
Allow 1 package of active, dry yeast and 1/2 teaspoon honey, to dissolve in 1/4 cup warm water. Let stand until bubbly (5 minutes, or so).
In a mixing bowl combine, the 1 cup hot water, 1/4 cup honey, melted butter, egg, salt, and two cups of whole wheat flour. Mix well with electric mixer. Add the yeast mixture and stir in. Add the remaining whole wheat flour until the dough clears the sides of your mixing bowl (if you're using an electric mixer and dough hook), or until the dough can be hand kneaded without sticking. Knead dough until smooth and elastic.
Place dough in a bowl greased with olive oil, turn dough over so that the top of the dough is oiled, covered with a towel and let rise, in a  warm spot, until doubled.
To Make Whole Wheat Apple Cinnamon Rolls:
1 batch Whole Wheat Sweet Roll Dough (see above), allowed to rise once
3/4 cup, softened butter
2 1/2 – 3 tsp. cinnamon
1 – 1 1/2 cups succanat
1 grated granny smith apple
3/4 cup raisins (optional)
Icing: (Or just drizzle baked rolls with honey)
1 cup powdered sugar
1-2 Tblsp. milk
1/2 tsp. vanilla
After the dough has risen, punch down and roll out on a floured board to 14″x20″.  Spread with softened butter and sprinkle the cinnamon over the butter,  followed by the succanat.  Sprinkle the grated apple over it last.  Roll up and pinch the seam to seal.  Slice the roll into 16 rolls, place uncut side up in a greased 9×13 pan and let rise a second time.  Bake at 325 for 25-30 minutes.  Mix icing ingredients adding milk until thin, drizzle over the hot rolls.
This recipe doubles well, but bake the doubled batch in a 10″ x 15″ pan, baking for 35 – 40 minutes.