My husband is a man of most excellent timing!  He is!  He bought our new dryer Wednesday afternoon, and took the first available delivery date which was today.  Today it rained!  It didn't rain buckets, but we had a light rain that fell for several hours, and the day was definitely not suitable for using the clothes line.  I was so thrilled when the big delivery truck began backing down my long driveway a bit past 8:00 a.m.!!  The dryer was installed and the first load of wash running well before 9:00.  This new HE dryer
is HUGE!  Dani says it's cavernous inside, and she said something about needing to crawl all the way in after a lone sock.
My husband will have to re-balance the washer this evening.  As I mentioned yesterday, it had to be moved over to the old dryer's position so that the doors of the machines would open away from one another.  The dryer door is reversible, but the door of the front loading washer is not.  It's taking a bit of getting used to, having the machines reversed; but I am so thankful for these nice, big, new, high efficiency machines that I really do not mind a bit.  Before long, it will be second nature to have the washer on the left and the dryer on the right.
I spent some time late this morning re-arranging things in my laundry room.  I am not a tall woman.  Because of my bad back, my husband graciously bought the drawer pedestals to mount the machines on so that I would not need to do a lot of bending with loads of wet laundry in my arms.  However, the pedestal bases make the machines too tall for me to reach over to access the cabinets over the machines!
It didn't take too long to figure out a good fix.  I can still easily access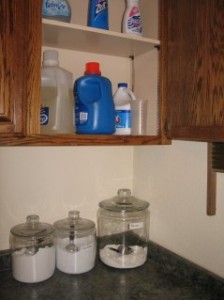 the cabinet over the counter in the  laundry room, so that seemed like the ideal place to store the laundry detergent and other related products.  I pulled down our stack of lint free cleaning cloths, as well as all of my favorite cleaning towels and placed them in the drawer under the dryer.  There is a handy, movable divider in the drawer that allowed me to customize the drawer space to handle two large stacks of the towels, and a narrower space for the lint free cloths.  The terry and micro fiber covers for our mop were in two baskets on the second shelf of that cabinet.  I put the basket with our half dozen terry mop covers in the drawer under the washer, and used the drawer divider to make a nice spot for our couple of dozen micro fiber mop covers.  I just took them from the basket and put them in their new home.  Perfect!  And I freed up a small plastic basket in the process, which will, I'm sure, find a new purpose in the very near future.  Dani climbed up on the counter for me and re-adjusted the cabinet shelves and the detergent and other laundry products were put away.
I did have a towel bar mounted under the cabinets over my old dryer.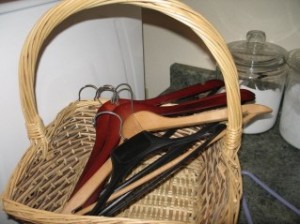 It was the perfect spot to hang empty hangers which I used to hang things up on as I took them out of the dryer.  The new dryer, of course, is too tall to allow for this.  I pulled down a couple of baskets from the top of the entertainment unit and fiddled around with the hangers in those until I knew which one I liked best.  The baskets on the entertainment center look nice up there, but the display changes frequently as baskets are brought down to be used and different baskets who find themselves empty are put up.  The top of my washer now holds the vintage mop bucket that Dani painted for me (which holds the orphaned socks awaiting their mates, and our ostrich feather dusters), and the basket of hangers.
When Copper balances the washer tonight, I'll also ask him to move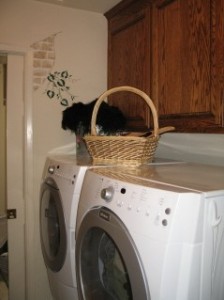 the machines together (the delivery guys placed them with an ugly few inches between them) and then I'll have enough space again between the washer and the wall to fold up and slide my little laundry cart into that space.  The laundry room will then be completely back in order and ready for the new week on Monday.
We're keeping our usual busy pace today in the kitchen and around our home. Today our kitchen has produced breakfast, lunch and dinner, two dozen or so baked chicken thighs, four pans of Peanut Butter Bars , a big pan of Whole Wheat Apple Cinnamon Rolls, and two dozen muffins for the freezer.  Dani and I tag-teamed the oven all day. "I'm out, Dani, what temperature do you need?". "Done with the oven, Mom.  What do you need the oven set for?"
The kids and I had a full day in town yesterday with our every other Friday shopping trip.  Aaron needed some new everyday shirts and jeans, I wanted to pick up some plants for fall color for the front porch and a couple plants to finish up the bed around the side of the pool.   We also needed to do a lot of re-stocking of meat in our freezer, along with the normal purchases for the next two weeks.
I had been a bit anxious about the diminishing meat supply in our freezer.  I should know better.  It dawned on me, mid-panic, to do what I should have done all along – to give our needs over to the Lord, who knows them all far better than I do, and to ask Him for wisdom in planning our meals for the next couple of weeks.  A couple of days later, as I looked through my recipe box and at some new recipes to try in the coming two weeks,  I compared my recipes to the sales flyers that had come in the mail.  God is so good!  Of all the recipes that I'd jotted down to make for the next couple of weeks, only one needed to be crossed off.  All of the meats that I needed were either still in my freezer or on sale! They weren't on sale at our normal stores, but we could easily change our route just a bit to pass by the store that had the great meat sale.
We were able to get in and out of that extra store pretty quickly, though we did have to wait a few minutes for the butcher to package up some boneless pork sirloin roasts for us ($1.99/lb.!) as they'd run out.  While we were waiting, I checked for a nice tri-tip, which was on sale for $3.99/lb.  That's pricey meat for us, but we all do enjoy a good tri-tip from time to time, and I'd worked it into the plan.  Much to my delight, there were a few tri-tips in the counter that were marked to half price!  A couple of those were looking just a bit dark to me, and since they would have to spend the rest of the day in an ice chest in my car, I had to leave them behind. There was one lovely one there, though, for just $3.00 (half price).  I purchased one at the sale price, too; and now have an extra in the freezer.
Those purchases, along with our normal shopping list, has the meat portion of my freezer looking much better! I have several new recipes on the agenda for the next couple of weeks.  I'll be sure and let you know if there are any "keepers" in the bunch.
I spent some time this morning repackaging the bulk meat purchases for our freezer.  The pork roasts were on sale in a "value pack" only, so I needed to open those and repackage each 1 ½ lb. – 1 ¾ lb. roast separately. Likewise the five pound chub of ground turkey.  We do keep in mind the cost of repackaging sale meats when we buy.  There is, of course, the cost of the re-packaging materials themselves.  My choice for freezing meats are the freezer grade Zip Lock bags.  Of course, repackaging does mean that not only does the original packaging go into the garbage, but so will the new packaging when it is used.  There is also our time spent in repackaging the meats that needs to be accounted for.  For that reason, repackaging the bulk turkey meat is something I will do, as the monetary savings are almost $1.00/lb. over smaller size packages; but the bulk ground beef does not save me enough monetarily to off set the other costs (there is only about a nickel/lb. difference in price).
Today's rain meant that I was not able to do much with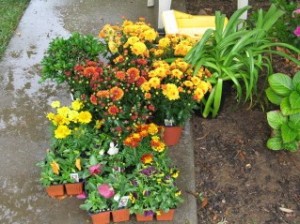 the plants I bought yesterday.  The six packs of annuals will replace the spent summer annuals in pots at the base of my front porch steps.  Bright marigolds and violas, and more muted pansies will flower and brighten our front entrance for the next several months.   I plan to cluster the mums I bought (there are three each of two different varieties) on either side of my front door.  I think they'll look pretty with my fall door wreath.   I needed just one more Hawthorne, and one more regular size Agapanthus, to plant  in the small patch of dirt on the other side of the pool ladder from where we worked last week.  The rain will make the dirt in that area easy to work, and I'll have Aaron do that for me early next week.
When I went out (in the rain) to snap a picture of my pretty flowers, I heard quite a bit of ruckus out near our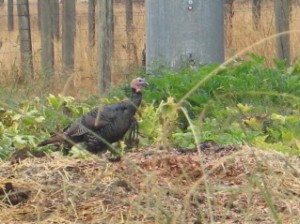 garden. This guy, one of three young tom turkeys that have been hanging around, was finding his breakfast in one of our compost piles.  For some reason, the wild turkeys have been content to forage for bugs and such and have left our plants and garden alone.  I am happy that is the case, because I do enjoy having them wandering around.
Dani and I pooled our funds a bit yesterday and bought three big bags of flower bulbs.  Dani bought one bag of a mixed variety of tulips, and one bag of Ranunculus.  I bought a bag of a different variety of tulip.  We are hoping to have my husband or Aaron rototill us a nice patch to plant these once we are sure that the weather will be cool enough.  I have longed for years to have a cutting garden somewhere on our property.  My girly-girl and I are hoping that these bulbs will give us a nice start to a respectable cutting garden.
I also splurged just a bit and bought a couple of "mini Martha" magazines yesterday.  Dani and I have really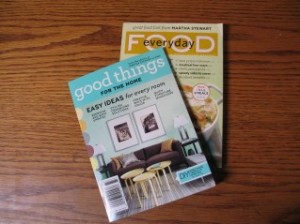 been enjoying using the recipes from Everyday Food, and this little Good Things magazine is chock full of nifty, inexpensive ideas for the home.  A bit of non-caloric eye "candy"!
Dani was sweet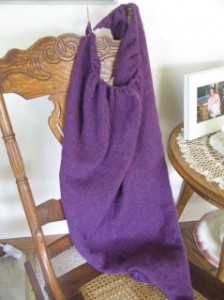 and took this picture of the shawl I'm  working on.  I know that a lot of you have been working on shawls, too.  Be sure and let me know if you post pictures on your blogs when you are done.  Mine is coming right along, but I do have a bit more work to do on it as I want it nice and big.
My day was full of the ordinary Saturday stuff – lots of laundry, changing the bed linens, dusting, straightening and cleaning the master bedroom and bath.  Lots of ironing after a full day of laundry!  Toward day's end I gathered our Bibles, notebooks, etc., and began packing our church basket by the back door.  Everyone's church clothes are hung up to air overnight and to be easily reached in the morning.  Dani worked a bit on another blouse today and finished it up to wear to church tomorrow.  The boys' after church play clothes are packed and are waiting at the back door next to our church basket.  Before putting the ironing board away for the day, I ironed on an embroidery transfer for a project to work on in the car tomorrow.
Ah, fall!  It is officially here, is it not?  I enjoyed the rain we had today, and I also enjoyed the bright sunshine that broke through late in the day.  Aaron was determined to start a fire in the wood stove this morning.  It was cool and he was so determined that I told him to go ahead.  Of course, with the oven on most of the day and the sun breaking through the clouds by mid-afternoon, we were soon throwing the windows and doors open to cool the house down a bit!  Oh, that clean, fresh, rain-scented air smelled so good.  I have had the candle warmers on under a couple of my jar candles today, and those scents, along with the fragrance of our baking, all mixed with the fresh outside air, made my house smell glorious!  It's time for tea light candles in the evenings, too!  Our temperatures are expected to be in the upper 80's again this coming week, and that is quite normal for our neck of the woods.  We still have plenty of work to do out of doors, so I welcome those warmer, dryer days, too.
Things have been busy here for the last week.  I'm glad that we will have this next week moving at a more normal pace.  I am yearning to get back to my full homemaking routine, rather than just taking care of the basics. The Lord gives us, each of us, 24 hours in our days.  He gives us loving direction for how to use that time, too.  If you are struggling with not having enough hours in your day, I encourage you to step back and take a look at things.  My household routine has been disrupted this last week or two with needful things, but they are not the ordinary.  We all have circumstances that come up, from time to time, that take us away from our normal tasks. However, that should never been the norm.  Lord willing, this week will find us not only re-establishing my home making routines, but also the boys' normal routines for home schooling, chores, etc.  I'm ready . I think we all are. Have a blessed Lord's Day tomorrow!
God bless you as you look well to the ways of your households!
Proverbs 31:27