If you spin your wheels long enough, you will eventually catch enough traction to get moving.  The important thing is to keep your foot on the gas so that when that moment of traction comes, you're ready to go.  No, I didn't have problems driving today, but I certainly had a slow start to my day!!
I had all of my normal Saturday tasks ahead of me, and I really did want to do some fall decorating in my home today, too.  The lawn mower shop called, though, and the mower was ready to be picked up.  My back yard had not been mowed for three weeks, so it was important to get it done today.  Please keep in mind, a quick trip to town to pick up the mower is a good hour's round trip or more!  The mower shop reduced our bill considerably.  It had been in the shop in July for repairs, but the current problem was completely different from what had been serviced before.  Even so, they sold us the necessary parts at their cost and reduced their labor bill as well.   What a huge blessing that was!  I was very happy to relay that news to my husband at work this afternoon.
The mower was picked up and loaded into the van, and I ran by the feed store to pick up some feed for our chickens, too.  I haven't been to the feed store for quite awhile.  My husband usually makes our feed store runs.  It was nice to go in today, despite the Saturday crowd, and visit a bit with one of the employees that I haven't seen for a long time.  Still, the crowd at the loading dock and the difficulty getting back out again makes me thankful that my husband usually takes care of this chore for us.   Home again, and Aaron mowed the back yard.  It looks pretty good out there now!
Dani is so good to me!  She kept my laundry running while I was gone.  She even put the clean sheets back on our bed and made it!  (I think she was really, really looking forward to having the fall decorating done!)  As soon as I came home I had a bit of late lunch, and was finally able to get to work.  Aaron went out to the storage barn and brought in my tubs of fall things.  I quickly dusted and webbed the master bedroom and bathroom, and then started the deep, weekly cleaning in my bathroom.  By 2:30 or so, I was finishing up the mopping  in the bathroom and was ready to start going through my tubs of fall things.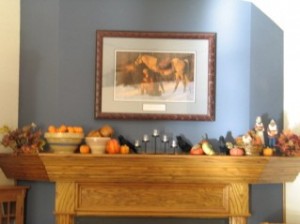 At Dani's direction, Will had already unpacked all of the tubs.  The linens were stacked neatly on the kitchen table.  The decorating items were sorted on the bench to the table.  He's so sweet!   I started with the mantle, and worked right up until almost dinner time placing things here and there in my living room and entry way.  I have a few last things to do next week, but I'm pleased with today's accomplishments.
It was a good week.  A busy week.  A productive week.  It sure passed by quickly.  Since I worked on the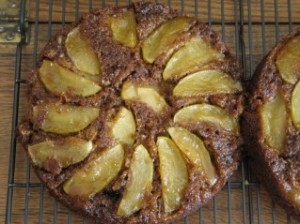 fall decorating all afternoon, I had (have!) a few things left to finish this evening to prepare for Sunday.  The chicken for tomorrow's potluck was cooked this morning first thing, and has been in the fridge in the crock pot since.  I still need to get the baked beans ready and into another crock pot.  Dani has her cookies all baked and arranged on a tray for tomorrow.  Tomorrow morning's coffee cake is on the kitchen table, along with the plates, forks and a serving spatula.  Just after dinner I ironed Aaron's dress slacks, and then hung up Will's clothes for tomorrow in his doorway.  I still need to pack Will's after church play clothes and check with Aaron to see if all of his things are ready to go.  My skirt and blouse are hung in the door way to my closet.  I have yet to pack our church basket for tomorrow with our Bibles and notebooks.  I need to tidy the computer desk a bit, and make a quick check for other areas that need a bit of tidying, too.  My husband is giving the boys haircuts as I'm typing this.
However, the tea light candles are lit on my mantle and in my kitchen window, and they are so pretty .  My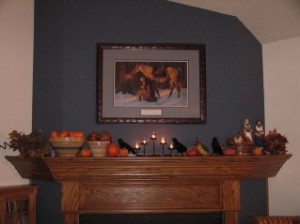 husband is home from work and I am so happy to know that he is off the next few days.  Though I still have work to do, it is all in preparation for tomorrow, and I will be able to sit and relax and enjoy the fruit of today's labors with him yet this evening.
Sunday is the Lord's Day.  It is so much easier to do that extra bit of work on Saturday to make Sunday morning more restful.  We want to arrive for worship with cheerful hearts, ready to praise the Lord!  We want to walk out the door knowing that everything that was necessary for the day was put together the day before.  No last minute "I forgot….".  For the most part, we succeed; but if we did not take the extra steps on Saturday, I can tell you for certain that we would not!    Come Sunday morning, my home is in order.  All of the day's food is prepared.  There are no chores to be done, save the feeding of animals.  Corin's dear mother-in-love and I used to liken this to the children of Israel gathering the extra manna for the Sabbath on the day before.  It's a good comparison.  Have a blessed Lord's Day tomorrow!
God bless you as you look well to the ways of your households!
Proverbs 31:27