We have coffeecake for breakfast almost every Lord's day morning.  It's been a Sunday tradition in our home for almost 15 years!!  It's a great way to have an easy, yummy Sunday morning breakfast all prepared the evening before.  Light, not too sweet, and topped with beautiful, sliced apples, sprinkled with cinnamon and sugar, this is a wonderful coffee cake for the fall.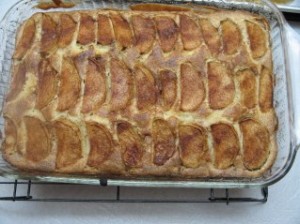 APPLE RAISIN COFFEE CAKE
1/2 cup shortening
1 1/2 cups sugar
1 egg
3 cups flour
2 t. baking powder
1/2 teaspoon salt
1 cup milk
1 cup raisins
2 baking apples, peeled & sliced
2 Tablespoons sugar
1 teaspoon cinnamon
In mixing bowl, cream shortening and 1 1/2 cups sugar.  Add egg and beat well.  Combine the flour, baking powder and salt; add to creamed mixture alternately with milk, beating well after each addition.  Stir in raisins.  Spread batter into a greased 9 x 13 baking pan.  Top with sliced apples.  Sprinkle with cinnamon and sugar.  Bake at 375° for 40-45 minutes.