Just the girls went out to take care of our big shopping trip today.  The boys talked me into letting them stay home, which I did….but I left them with a bit of a chore list.  They quickly took care of all of the items on the list, and Aaron even accomplished a couple of things I offered to pay him to do for me.  Hmmm…..funny thing….I came home to a sink full of dishes.  We'll have to work a bit on the "home alone" etiquette and what is expected from those that remain comfortably at home!
Dani and I got a late start today, not leaving home until noonish.  We made a few stops – the post office, the veterinarian for the dog's meds, the bank.  Then we were on to Trader Joe's.
I have to tell you, there are three or four great ladies that I have "met" through my blog that live in my area.  In getting to know these ladies through their blogs, I have found that a couple of them frequent some of the same places I frequent.  There was even a very close encounter with E.G. Susan a few weeks ago at our local Jo-Ann's.  I'm just sure now, every time that I go into Jo-Ann's, that I will meet Susan.  It still hasn't happend, even though I was in there today!
Just as surely as I know that, I also knew that I'd meet lovely Sherry one day at Trader Joe's!  I'm not sure why I was so absolutely certain it would be so, but I was.  Guess what?!?!?!?   I was right!!  Dani and I were almost done at TJ's.  We'd stopped to look at a bag of tortilla chips with poppy seeds that sounded yummy.  Just as those chips went into the cart, I heard a friendly voice ask, "Cheryl?"  Having only seen Sherry's picture behind BIG sunglasses on her blog, I wasn't quite sure; but then I saw her lovely daughter, El, and knew it was her.
I know that men don't get it, but you gals will.  We hugged, the two of us, like we were dear, old friends.  The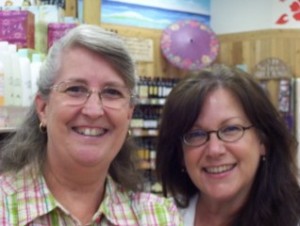 funny thing is, I feel that way about Sherry, and some of the rest of you, too.  We share so much with one another through our blogs and through the comments, that long-distance friendships do form.  We pray with one another.  We all laugh together and cry together.  Somehow not meeting in person doesn't seem to hamper any of that.  In fact, Sherry and I commented on just how dear so many of you are to us.
Back to Sherry and El, though.  Sherry is a beautiful, delightful, very fun lady!   Meeting her was such a joy!  Her daughter, El, is a very pretty girl, and such a sweet-spirited young woman.  Dani and I liked them both so much right from the start.  We stood there, the four of us, the moms doing the majority of the talking (I know that surprises you
), for quite some time, chatting about everything, including the Lord.  We moved our carts forward or back, occasionally, to allow other shoppers to reach things on the shevles, but we talked on!
All things, of course, must come to an end.  Dani and I still had a few hours of shopping and errands to run; and Sherry and El, of course, had obligations as well.  We hugged good-bye, and now we will be able to keep an educated eye out for one another in the future.  If you don't know Sherry and her blog, Lula's Hardt, be sure to pop on over there and check it out!  You won't be disappointed!
I wondered, a couple of times today, why it was that Dani and I were taking so much longer to do the shopping without the boys than we normally do with them.  No, we didn't chat with Sherry and El THAT long!
I finally figured it out on the drive home, when, for the first time all day, the car was quiet.  I think that Dani and I talk to one another more when it's just the two of us.  And we talk about bigger and deeper things than we do when the boys are with us.  I think that's a good thing.  I know I certainly enjoyed my daughter's company today.
There was today, at long last, enough money saved up in our garden account, to buy a few plants to put around the outside of the pool.  I bought teeny-tiny little one gallon plants, but they will grow!  I didn't get any pictures before dark, but I'll be sure to show you the project when it has begun.
We did browse for just a little bit at Jo-Ann's today.  I needed some fabric for napkins for our home, as well as for a napkin exchange I'm taking part in.  We also found a lovely black on white print for Dani to make another peasant top from, this one to go with a favorite black linen skirt.  I love the pattern she's been using.  It's very retro, and reminds me a lot of a bright orange with white polka dot top I wore when I was about 12 or 13.  I love seeing her sew, too!  She has really learned to tackle new skills head-on.
Thank you all so much for the comments and suggestions you have left for me recently.  I have come up with a partial plan for my kitchen window, thanks in great part to something I saw on one of your blogs this morning!  I'll be sharing that once I get to it, along with the wonderful link where it was found!  I've also thought about a rug for the kitchen, to cover the area where the flooring has gone so wonky on us.  In fact, I have a beautiful blue, braided runner that might just fit there.  It belonged to my mother-in-love.  I am just hesitant to put a rug down there, though, as the area is in front of the stove and food preparation areas.  I end up wiping up that area of the floor several times every day from spills!  I must be a messy cook!
That's okay, I love getting in there and making the mess, so I must not mind wiping the floor up much either!
It will all resolve, I'm not too worried about it.  I no longer make apologies for my home's imperfections because, honestly, most of them don't bother me like they used to.  We live in this house.  Most of us are home all day, every day.  My house looks well-lived in, and that's just fine with me!!  With all of its imperfections and things that are in need of repair, we can still look back nine years ago and see the Lord's hand in giving us this house.  His timing was so perfect, and we have heard from others the wondrous way that He kept this house just for us.  It's hard to find fault with so great a gift!
I am quite tired this evening, but I am very much looking forward to Saturday and all that it holds.  So much to do tomorrow, and yet so much to be thankful for in the doing – A family I love, a home in the country to keep me busy, a wonderful husband, who works so hard, to spend time with when he comes home in the evening.
God bless you as you look well to the ways of your households!
Proverbs 31:27