Late summer Saturday……the afternoon was still quite warm, hot really, but there was a breeze; and that breeze carried the scent and feel of autumn.  There are wildland fires burning in our state and the smoke from the fires have settled into our valley, making even the afternoon sunshine hazy and dull.  And that same sun is setting very noticeably earlier in the evening.   I'm not one to rush the end of summer.  Like many of you, I do consider autumn my favorite season.  It will come, by and by.  Until then, I will enjoy these last days of summer.
The breeze today kept the laundry on the line fluttering gently all day.  Why do I love that so much?  The scent is heavenly, but the sight of it is also so appealing.  I take care in hanging my things on the line.  Neat rows of napkins hung side by side, overlapping at the corners with just one pin between.  White socks hung in pairs by the toe.  Undergarments hung first, and on the inside lines, so they are hidden from view.  Why?  No reason, other than my love for my family and doing all things as unto the Lord.
I thought that, perhaps, Aaron could start working up the soil around the pool for me to prepare it for  planting.  He wetted it all down well this morning, but when he tried to work the earth this afternoon, it was hard as a rock!  He spent about 20 minutes really soaking the area, flooding it in fact, and now we'll allow that moisture to soak in and down a bit.  I may soak it all again tomorrow.  Hopefully, we'll be able to get that area prepared and planted this next week.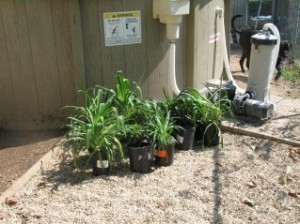 My plants are waiting patiently nearby, and Aaron gave them a good, long drink of water, too.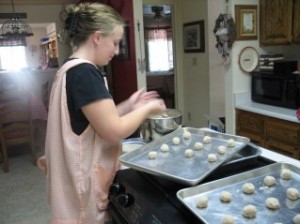 Dani made some great Cinnamon Crackle cookies to share at tomorrow's fellowship lunch at church.  She  also made us a big pan of nachos for dinner tonight.  My daughter blesses me greatly by working so hard in the kitchen every Saturday.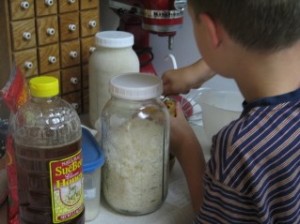 While she worked today, she supervised as William made up a double batch of peanut butter balls for snacks.  These are a great, healthy snack, especially for Will, and he certainly enjoyed making them.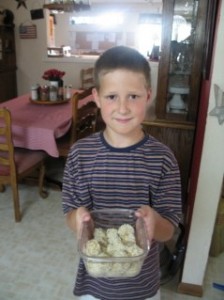 He offered me the first one!  Yummmmmmy!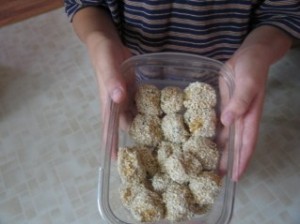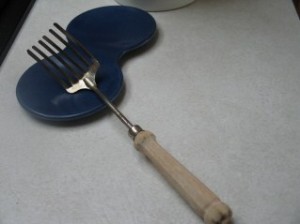 Do any of you have any idea what this vintage kitchen tool might originally have been intended for?  I brought this home from an elderly friend's house when he had to give up his home, and we've used it for lots of things.  It's a great pasta server.  I've used it to turn meats in a skillet.  Dani found out today that it's a wonderful tool to use to mix dry baking ingredients.  She said it almost sifted them as she stirried with it.  I love having these old things that have given others so many years of faithful service and that now faithfully serve us in our kitchen.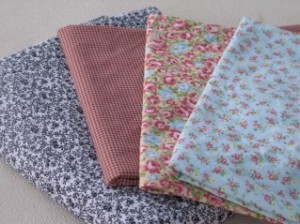 I washed up all of the fabric we bought yesterday, dried it in the dryer and folded it up, ready to be cut out and sewn.
I did, at long last, start my knitted wool shawl.  I was inspired, as I've said before, by the lovely wool shawls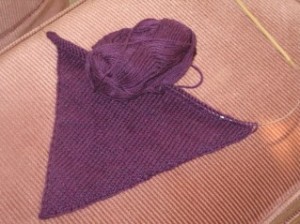 that Jewels and her daughters have made.  I've changed the pattern for mine, though; but not because there was anything wrong with Jewel's pattern.  Quite the contrary!  Her pattern, knit by experienced hands, turns out a beautiful shawl!
However, I am not an expert knitter, but more of a "hack" knitter.
I just could not get my edges to look right.   Still, I was determined to knit a wool shawl before the fall weather arrives.   I practiced quite a bit with some yarn scraps while I waited for my wool to arrive, and here is what I decided to do:  Cast on three.  First row (right side) Knit into the front and back of first stitch, knit two.
Second row (wrong side) Purl into the front and back of first stitch, purl three.
Continuing in stockinette stitch, knitting and purling alternating rows, knit (or purl) into the front and back of the first stitch of each row, and then knit (or purl) remaining stitches of the row.
I have sixteen, 50 gram skeins of this lovely purple wool and I plan to just keep working the shawl, increasing a stitch on each row, until it is the length and width I want.  I'm hoping that I will have enough to make a nice, large shawl to wrap myself in when I head outside to take care of outdoor chores this fall and winter.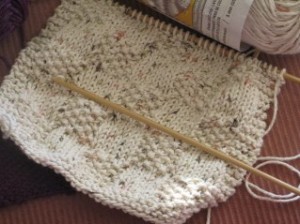 I'm still finishing up all of my cotton yarn, too, as dish cloths.  This checkerboard pattern is one I improvised from one of the others I've been working.  Something different, and kind of fun!
There is a rather large Sycamore tree just outside of our schoolroom.  It shades the entire room all summer long.  Sparrows have been nesting in the tree since spring, but my, oh my, are they settling in now for fall!  There were dozens of them out there this afternoon.  Every time I would head out the back door with a load of laundry for the line, or to move a water line, there was a thundering of dozens of little wings as they all flew higher up into the tree.  And the chattering that has gone on out there all day!!!  It's absolutely amazing to hear, but so pleasant to listen to!
Saturdays are days for my doing so many things, yet nothing major.  Laundry.  Preparing our food for the Lord's Day.  Cleaning the master bedroom and bathroom.  Watering.  Menu planning for the next week.  Lesson plans for the next week.  A bit of sewing.  A bit of knitting in the evening.  Rubbing a boy on the back when he's lent me a hand in the kitchen.  Ironing.  Correction and training for another son.  Enjoying the new use of a vintage kitchen tool with my daughter.  Instant messaging for a bit in the morning with a daughter who is enjoying a Saturday in her own home with her own children.  Packing our church basket and the boys' play clothes for after church tomorrow.   A sweet, relaxed time in the Word late in the day.  Many things, yet nothing major.  A full day, a busy day, a good day.
Have a blessed Lord's Day tomorrow my friends!
God bless you as you look well to the ways of your households!
Proverbs 31:27