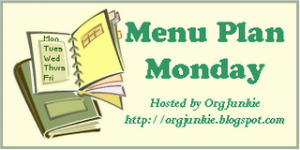 I'm not terribly thrilled with our menu plan for this week.  I think I was just tired when I worked on it Saturday evening and finished it up Sunday evening.  Maybe it's the subtle change in the weather, but I have some very ambitious plans for menus in the coming weeks.  In fact, I've already made some notes for next week's menu, and I've already pencilled in a couple of new recipes.
Ah, but that's NEXT week!  This week, Dani is bringing back a fall favorite for our Sunday morning breakfast, Whole Wheat Apple Cinnamon Rolls.  Yummmmmy!  The rest of the week is just some of our standard fare….like I said, I'm looking forward next week to changing things up a bit!  As always, any recipes with a * will be shared later this week, usually late in the day it is prepared.  There are several links to recipes I've posted before, and a couple of recipe ideas right here on the menu plan as well.  There may also be a couple of extra recipes and/or recipe ideas posted later this week, too.  Like I said, I'm feeling ambitious!
Head on over to Laura's blog to perk up your menu planning and see all of the great posts in this week's Menu Plan Monday.
THIS WEEK'S MENU!
MONDAY
Breakfast – Waffles
Lunch – Wraps, chips
Dinner – Out for dinner with extended family
TUESDAY
Breakfast – Sausage patties, fried eggs, toast
Lunch – Chef's Salads (julienne sliced lunch meat, cheese, diced eggs and tomatoes on a bed of greens), served with multi-grain crackers
Dinner – Salisbury Steak, Mashed Potatoes, Steamed Broccoli
WEDNESDAY
Breakfast – French Toast
Lunch – Panini, Chips
Dinner – Spaghetti, tossed green salad, garlic bread (made from my *homemade french bread)
THURSDAY
Breakfast – Rolled 5 Grain Cereal (hot), with brown sugar and raisins
Lunch – Cheese Quesadillas, applesauce
Dinner – Grilled Teriyaki Chicken Breasts, Cheryl's Chicken Rice, mixed vegetables
FRIDAY
Breakfast – Pancakes
Lunch – Out while shopping
Dinner – Homemade Sub Sandwiches, chips (homemade french bread sliced in half lengthwise, sprinkled with olive oil, seasoned with oregano and basil, layered with salami, sliced cheese, fresh garden tomatoes and sliced red onion)
SATURDAY
Breakfast – Cold Cereal
Lunch – Baked Potatoes (with butter, bacon, grated cheese, sour cream, etc.)
Dinner – Barbecued Chicken Pizza, green salad
SUNDAY
Breakfast – *Whole Wheat Apple Cinnamon Rolls
Lunch – Fellowship Potluck Meal after church (we'll take a couple dozen baked chicken thighs, a big bowl of sliced peaches, and Peanut Butter Bars)
Dinner – Wild Dinner!  (So named by my son, William! ~ left overs, popcorn, cereal, every man for himself!)
God bless you as you look well to the ways of your household!
Proverbs 31:27