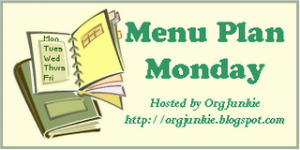 I'm excited about this week's menu!  I'm looking forward to trying some new recipes.  Some of the new dishes are recipes from magazines, and some are dishes that I'm creating on my own after being inspired by a recipe I've seen that needed some changes to suit my family.  It's fun to try new things!!!  If a recipe is a new one that I've not tried, I will mark it with "(NEW)".  I'll be sure to let you know afterwards if it was a hit or a miss.  If the recipe is mine, it's marked with an * and I'll be sure to share it with you as soon as I can, usually late in the day that it was prepared.
I would encourage you to introduce some new items into your family's menu this week.  Pick up back issues of Taste of Home, or Everyday Food at the library for some new ideas.  Try to find back issues for the current month or season as those would feature recipes that use the season's best produce or dishes that are more appealing to us during this time of the year.  Don't over-do, it though.  Though I am trying several new recipes this week, I've been careful to keep a couple of things in mind.  First, we are really only trying one new ingredient (bocconcini).  All other recipes include ingredients that I know my family has liked in other forms.  Second, I've broken up the new dishes over several days and they are not all main dishes – some are sides, some are salads, one is a breakfast/dessert.   Naturally, the fancier, heartier meals are featured on Monday and Tuesday when my husband is here with us for all three of his meals, and the rest of the week (through Saturday) feature more kid-friendly dishes for all three meals since he will not be here at the table with us.
I also make it a habit to post the week's menu on the fridge for everyone to see.  I have a really old copy of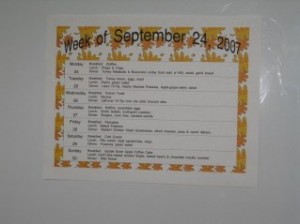 Print Shop Deluxe, but it does the job for me simply and yet attractively.  Another cute idea might be to have a small chalkboard on an easle in your kitchen where you could write in each day's menu.
My kids understand that we do, occasionally, need to make an emergency change to the menu, but having it posted lets them know what I plan on serving them for the week.  They really do look forward to certain dishes, and know that no whining is allowed when things appear that they don't necessarily like.  Since Dani does a good deal of the meal prep here (lunches Monday – Saturday, dinner Monday and Saturday and Sunday's breakfast & church cookies), the meal plan lets her know what I have planned for those meals, too.  I do check with her and ask for her input for some of the menu planning, too.
If you need some inspiration, be sure to hop on over to Laura's blog for this week's Menu Plan Monday.  There are dozens and dozens of links to menu plans from women all over the world for you to check out.
THIS WEEK'S MENU AT COPPER'S HOUSE
MONDAY:
Breakfast:  Waffles
Lunch:  Wraps & Chips
Dinner:  Pasta with Turkey Meatballs and Bocconcini (this was a hit with my family), tossed green salad, garlic bread
TUESDAY:
Breakfast:  Turkey bacon, fried eggs & toast
Lunch:  Panini, green salad
Dinner:  Lisa's Tri-Tip, Hearty Mashed Potatoes, Late Summer Waldorf Salad,
WEDNESDAY:
Breakfast:  French Toast
Lunch:  Nachos
Dinner:  Left-over Tri-Tip & sauce, served over rice pilaf, broccoli slaw
THURSDAY:
Breakfast:  Chocolate Zucchini & Health Nut Muffins (from the freezer stash) & scrambled eggs
Lunch:  Chef's Salads, multi-grain crackers (or left-over muffins)
Dinner:  Burgers, oven fries, candied carrots
FRIDAY:
Breakfast:  Pancakes
Lunch:  Baked Potatoes (with bacon, cheese, etc.)
Dinner:  *Waldorf Chicken Salad Sandwiches (NEW), sliced cheeses, Peas & carrot ribbons (NEW, see Everyday Food, September, 2007)
SATURDAY:
Breakfast:  Cold Cereal
Lunch:  PBJ and/or Meat Sandwiches, chips
Dinner:  Focaccia, green salad
SUNDAY:
Breakfast:  *Upside Down Apple Coffee Cake
Lunch:  Fellowship Lunch at church (we'll take a couple dozen baked chicken thighs, baked beans & chocolate crackle cookies)
Dinner:  Wild Dinner – Will's term for our Sunday evening meal (Left overs, popcorn, cereal, whatever!)
God bless you as you look well to the ways of your households!
Proverbs 31:27