I recently saw a dessert recipe for an upside down apple cake, and it sparked my creativity.  I'm always looking for a new coffee cake to put into our Sunday morning rotation, and I thought that I'd try my hand at creating a healthy version of the recipe to try as a coffee cake.  It worked, and my family loved it!  This makes two round, 9″ pans, and can easily be halved for a smaller family.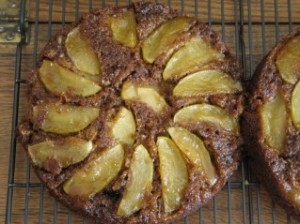 APPLE UPSIDE DOWN COFFEE CAKE
1 1/2 cups oats
1 1/2 cups warm apple juice
4 Tablespoons oil
3 eggs
4 teaspoons vanilla
2 Tablespoons butter, melted, divided
1/2 cup brown sugar, divided
1 1/2 cups Sucanat
2 large granny smith apples, peeled and thinly sliced
2 1/2 cups whole wheat Pastry flour
2 teaspoons baking soda
2 teaspoons cinnamon
1/2 teaspoon nutmeg
Pre-heat oven to 350°.  Grease 2 – 9″ round cake pans.  Combine oats, juice and oil in a small bowl.  Let stand while preparing rest of coffee cake.  Pour 1 Tablespoon melted butter into each greased cake pan.  Sprinkle 1/4 cup brown sugar over butter.  Arrange apple slices attractively in the pans over the brown sugar, set aside.  Combine remaining dry ingredients in a large bowl, mixing well.  Add oat mixture, eggs and vanilla, and stir until just moistened.  Pour half of batter into each cake pan.  Bake at 350° for 35 – 40 minutes, or until cakes tests done.  Invert each cake onto a plate.  Slice into wedges to serve.
Please note: All original written material, photographs, recipes and tutorials on this blog are the sole property of the author and may not be copied, in whole or in part, or re-printed elsewhere, without the express written permission of the author.  Recipes, of course, may be copied for your own personal in-home use!