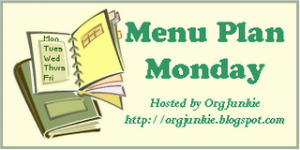 October!  How did that happen??
I am excited and blessed that my husband will be home Monday, Tuesday and Wednesday this week.  He said he has just too much to do at home to work an overtime shift this Wednesday.  While I do appreciate the long hours he works for us, I must admit that I LOVE having him home.  I had my menu plan all worked up before I thought to ask….he almost always works his Wednesday off, so I don't usually ask in advance.  I'm glad that the Lord prompted me to do so tonight!  It didn't take but a minute to make the necessary changes!
My Taste of Home magazine came this week, and we have three recipes to try from this issue.  I do post links to the Taste of Home site when I can, but all three of these recipes are in their protected area so I cannot link them for you this time around.
Take some time this week to do some menu planning for your family.  It makes a wonderful difference in the quality and variety of food you feed your family, and it can certainly help keep the food budget in check, too!  For more ideas, be sure to check out this week's Menu Plan Monday.
ON OUR TABLE THIS WEEK
MONDAY
Breakfast – Waffles
Lunch – Tostadas (with black beans, corn, tomatoes and cheese)
Dinner – Apple-Raisin Pork Chops (Taste of Home Magazine Oct/Nov 2007), Butttered Poppy Seed Noodles (Taste of Home Magazine Oct/Nov 2007),  Steamed Broccoli
TUESDAY
Breakfast – Breakfast Panini (ham, cheese, scrambled eggs, on sourdough and grilled in the press)
Lunch – Homemade Tomato Soup, multi-grain crackers
Dinner – Chicken Breasts stuffed with couscous, green beans & bacon, broccoli slaw
WEDNESDAY
Breakfast – Sausage, Eggs & Toast
Lunch – Baked Potatoes (with bacon, cheese, butter, sour cream, etc.)
Dinner – Mediterranean Meat Pie, left over broccoli slaw, soft breadsticks
THURSDAY
Breakfast – Muffins, fruit
Lunch – Left over tomato soup, crackers
Dinner – Tacos, salad
FRIDAY
Breakfast – Pancakes
Lunch – We'll eat out in town while we're doing the mega-shop
Dinner – Homemade sub sandwiches, chips
SATURDAY
Breakfast – Cereal
Lunch – PBJ and/or meat sandwiches, chips
Dinner – Nachos
SUNDAY
Breakfast – Chocolate Swirl Coffee Cake
Lunch – Fellowship Lunch at church (we'll take Teriyaki Chicken Wings, green beans & bacon, and Iced Pumpkin Cookies (Taste of Home Magazine, Oct/Nov 2007)
Dinner – Wild Dinner!  Our Will's term for our Sunday evening free-for-all!  Left overs, pop corn, whatever!
God bless you as you look well to the ways of your households!
Proverbs 31:27