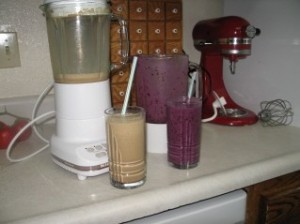 Birthdays are funny things, especially once you reach the adult years.  Life still has responsibilities, and we  cannot celebrate our special days completely carefree.  I still tried to make the day as birthday-ish for Dani as I could, though.  We had her favoritist-ever breakfast (cold cereal), and I made tacos for dinner (also her request). Sandwiches were on the menu for lunch today, but her brothers talked her into making smoothies instead.  She's such a good big sister!  There weren't quite enough bananas left to make smoothies for four, so I sacrificed and made myself a frappucino instead
It pays to keep the old blender canister when the old blender dies…..two blender canisters…Bliss!
I had fully intended to break out my favorite cookbooks this morning to choose and bake Dani's birthday cake from scratch.  Somewhere that wonderful idea ran headlong into my day today, and I ended up baking a cake from a mix.  I am so glad that we buy a nice assortment of cake mixes from time to time when they are on sale to keep in our freezer.  Truthfully, baking a cake from scratch is almost as fast as making one from a mix, but there's the whole choosing which one to bake time element that I just didn't have the time for today.  So, a boxed yellow cake mix was prepared, lovingly, by my own two hands, and frosted later in the day with a homemade chocolate butter cream frosting.  Not the superior butter cream that Dani is known for, but butter cream frosting made like my mom made it – A cube of softened butter, a teaspoon of vanilla, 2 Tablespoons of milk, a few grains of salt, and enough powdered sugar and cocoa to reach the desired consistency and chocolatiness.  I added 3 heaping Tablespoons of cocoa today.  Dani's job was to lick the beater from the mixer!
I mentioned a week or so back that Aaron had his MMR vaccine.  We are delayed and selective immunizers here.  That's the way the Lord has led us in this matter.  As I mentioned then, I was proud of my son for looking at the consequences of his contracting mumps as a young man, now or in the future, and the consequences of possibly exposing his future wife to Rubella.  I love that even though he is years from having a family of his own, he is still mindful of his responsibility toward them.  In any event, the boy developed a fairly typical reaction to the vaccine.  Remember that fever over the weekend?  I'm telling you, I can be so thick sometimes!  A fever, with no other symptoms, was the beginning of a vaccine reaction.  I figured it out finally (another light bulb/DUH moment) last night when the rash appeared.  Fortunately, even though his immune system responded appropriately to the vaccine, he is not now, nor has he ever been, contagious.
The rash began to itch, though, and was causing him quite a bit of discomfort.  I usually go with my own experience in matters like this, but today I decided to call the advice nurse available through our health plan.  I should have just given him the Benadryl to begin with, because that's what she suggested.  I'm sure there are other, better, natural alternatives to the Benadryl, but since I'm still learning in that area we went with the tried and true.  His itching was relieved, so we were both happy campers.
Dani is house sitting for one of our neighbors for a few days.  She walked down the road to fetch the neighbor's mail this morning, and walked along the edge of the ditch rather than on the road.  She thought that she'd walked through glass because she was getting stuck through the bottoms of her shoes as she walked.  When she came home she discovered that the soles of her shoes were full of cow head stickers (spur weed)!  Within about 10 minutes, she began having a tingling sensation around her mouth and face, similar to what she experiences with a wasp sting.  She ended up taking an antihistamine, too; and within about half an hour was symptom free.  I certainly am thankful that we had the necessary antihistamines on hand for both of the kids today.
And through it all today, Will, my precious, precious boy, has been dealing with the side effects of having two BIG sports drinks while he worked loading firewood with his dad yesterday.  Oh, did I mention they were RED sports drinks?  Sugar.  Red food coloring.  Oh, yeah, it just doesn't get any better than that for all of the little alphabet soup conditions that plague my boy!
My choices today were pretty simple.  Insist on a full day of home school and chores, or relax a bit, allowing my boys to recover from what ails them.  Guess which I chose?  I'm sad to say that only recently I would have marched on, insisting that MY schedule be kept, the work be done, and the discipline kept.  There would have been many tears, much grief and a huge feeling of despair at the end of the day.  And that would have just been MY end of it!
Please do not get me wrong.  Chores were done today, just not exactly at the right times, nor were they all done.  Everything necessary for the running of our home was done from the boys' lists, but nothing extra.  We did not open a single book for school, and yet everyone spent some time reading.  Discipline was maintained, but there was an extra measure of grace extended at the same time.  My own daily chores were, mostly, done by day's end; but I barely touched my list of Wednesday chores.  My home remained peaceful and pleasant, save for a few rough patches here and there, and we are all cheerful at day's end.
The weather today was almost ideal!  Warm enough early in the morning to open the house up wide, but cool and breezy into the afternoon keeping the temperatures inside and out comfortably cool.  The laundry I hung on the line today did not dry as rapidly as it would have in last week's heat, but the breeze kept the clothes fluttering and kept them from becoming too stiff.  Sweaters are necessary for being outside this evening.  We may need to pull up the second blanket on the bed tonight.
I spent some time this afternoon sewing.  I worked a bit on the little dessert/snack napkins I'm making for our home.  I plan, Lord willing, to get the instructions posted for those of you who have asked by this weekend.  I've almost finished the second skein of yarn on my shawl, too.  The simple pattern makes it easy to work while driving or while watching a movie. Ummmmmmm……make that "easy to work while RIDING in the car", I don't ordinarily knit while driving!
The shawl has grown to about 125 stitches on the needles, and the rows are taking increasingly longer to knit, as the shawl grows wider with each row.  I'm curious to see how many stitches wide my finished shawl will be.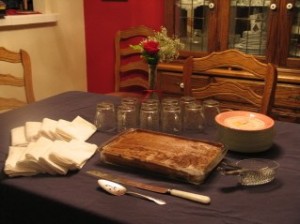 Corin, Rob and the grandbabies all came out this evening to celebrate Dani's birthday with us.  My husband  hurried home from work, too.  It's always such a treat for all of us to spend time with the grandbabies, and Aunt Dani is no exception to that rule.  She is a devoted and loving auntie!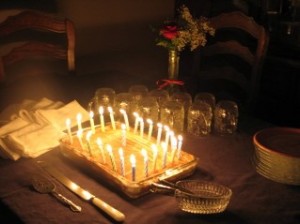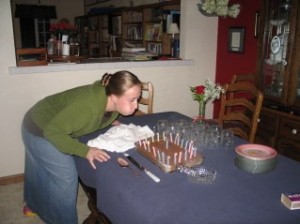 We enjoyed cake and sodas (the children had milk, of course).  The children played and played; and, as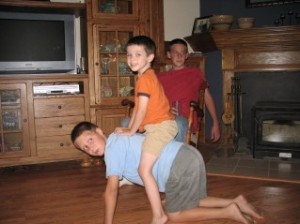 usually happens at Grandma's house, the grandbabies soon had books out to be read by whomever was available.  There were horsey rides on backs and legs and great fun all around.  Rob spent some time researching a new replacement van on the Internet.  Dani's new little stereo was hooked up in her room and we all gathered in there and danced to the first track of Les Mis!
The evening ended much too soon, but the hour had gotten quite late.  At 9:30, after hugs and kisses goodbye for the ones that were leaving, I popped my apron back on and put all of the party dishes into the dishwasher.  The new dishwasher is so big and spacious!  There was ample room for all of tonight's dinner dishes, including the skillet, as well as the party plates, cups and all of the silverware.  Love the new dishwasher!  My birthday girl helped me finish cleaning up the kitchen.  As we finished up, I headed to the back porch to shake the crumbs from the dirty table cloth, while she spread a fresh, clean one for the morning.
My boys are already bed…another late night for them.  Another late night for me, as well; and I'm headed for my soft, comfy bed as well.
The day ended sweetly, though I admit to being not-so-sweet earlier in the day when things weren't going quite my way.  In fact, I whined…yes, yes, I did…I whined while I was instant messaging with Corin about my "wasted" day.  I'm so glad that the Lord got a hold of my heart before we were too far down the road of our day today.  Here's what I would have missed: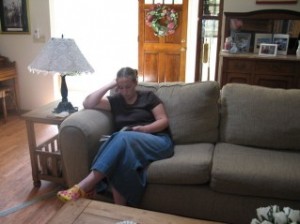 Aaron offering to do the vacuuming for his sister.  And then doing it so that she had more free time on her  special day.  Happy Birthday, Dani!
Aaron taking a long nap, curled up in his Daddy's chair, late in the afternoon.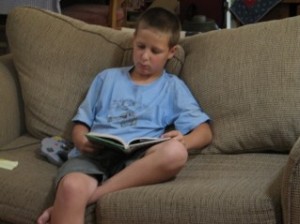 William's joy at finishing the book, Stuart Little
, this afternoon. 
Chatting with Dani a bit after each of the phone calls she received from family and friends today.
Allowing Will to come down off of his sugar/red food dye "high" naturally and gently, rather than forcibly.  He and I are both better for the choice!
It was a lovely day.  A day spent celebrating Danielle's birthday with those nearest and dearest to me.  A day spent peacefully, happily and quietly in our home.  Bliss?  Almost!  I'll post a few more birthday party pictures at the end.
God bless you as you look well to the ways of your households!
Proverbs 31:27