When I was a little girl, the public library BookMobile made a visit to our school about once a year.  We were allowed, as a class, to board the BookMobile and check out a book or two.   Of course, if we did not have a public library card, we were allowed to sign up for one right then and there.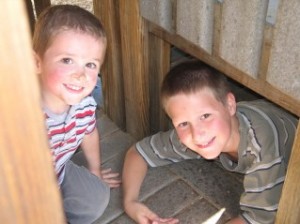 Thursdays, of course, are Library Day at Grandma's house.  However, the weather today was absolutely perfect!  Cool enough to play in the sun, almost too cool to sit in the shade when the breeze blew.  Sunny, with patchy dark clouds floating by from time to time.  It was glorious!  I instant messaged Corin this morning and asked her how a park day sounded instead.  I told her I would bring some books to read to the children there, just like the BookMobile!   Guess what her answer was? 
( I LOVE this picture of my three year old grandson and Will.  Both with sweaty heads, dirty faces, pink cheeks and all smiles playing together in our favorite park!)
Dani and I hurried about the house late this morning, taking care of the morning chores as quickly as we could.  We didn't tell the boys where we were going, or even that we were going anywhere, until it was absolutely necessary.  However, telling William to put his socks and shoes on pretty much gave the whole deal away!  Aaron loaded folding chairs into the car for us.  Dani quickly made some wraps for lunch.  There was a quick stop at a store for "goodies" to take with us, since the ice cream treats in the freezer couldn't go along.
We set up camp under a shady tree, and the children ran off to play right away.  Aaron helped keep an eye on the littlest ones so that Corin did not need to spend her entire day on her feet watching.  He was a huge blessing to us today.  You know what?  I don't know how I didn't get a real picture of it, but the pictures in my memory of Aaron leading my two year old granddaughter around by the hand today, or carrying her to "save" her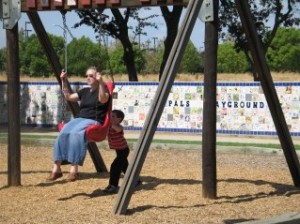 from the squirrels, is priceless!
The children played the afternoon away.  Aunt Dani pushed my five year old grandson on the swing, only to have him very graciously reciprocate and then push her on the same swing!  I think he enjoyed the pushing as much as the riding.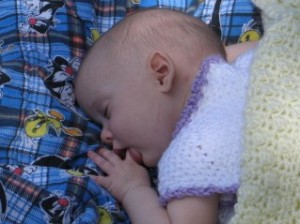 Cookies were eaten .  Fruit leathers munched.  Lemonade drank by the glass.  My little sweet tiny granddaughter slept away most of her afternoon, so content to have a shady spot, a warm blanket and her tiny little fingers in her mouth, and wearing the lovely crocheted outfit her Aunt Dani had made for her awhile back.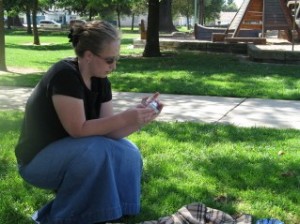 Dani had some fun experimenting with settings on her camera.  She's been hoping to teach herself to create some nice special effects with it.  Today was a good practice time.  I'm looking forward to seeing what she might have captured on her camera.
I think the kids had a great time.  We gals chatted and laughed, chatted and laughed.  And laughed.  And LAUGHED!  I enjoy my daughters' company so very much!  They truly are my two closest and dearest girl friends.
The children played.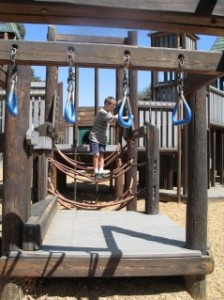 And they played.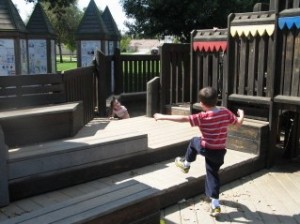 And they played some more!  In fact, by 4:00 when it was time to pack up and head for the cars, I realized that I had not read one single book to my grandbabies today!  I'm not much of a BookMobile Grandma, I guess.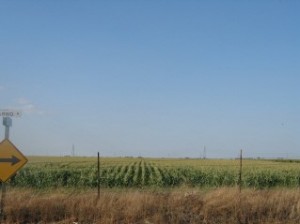 We ran an errand or two on our way home this afternoon, but we were glad to be headed back home.  Our  afternoon had been so wonderfully enjoyable, but we were all tired.  We've been noticing that the feed corn along our country roads was looking ready for harvest, and wondering when they would start cutting it.  It's such a fun time every year.  This feed corn is harvested into silage, which is then fed to the cows in the many dairies we pass on our way to and from home.  Today, as we passed by one of the many corn fields, Dani saw that they were harvesting!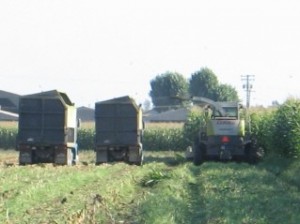 The harvesting equipment cuts the corn stalk off right at the ground, leaving only stubble behind.  The corn is cut, chopped and then shot out and into the truck that travels along side.  That corn that took all summer to grow, is very quickly harvested.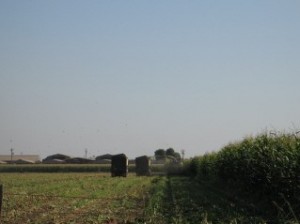 The trucks then quickly take the freshly chopped corn to the dairy, where it is piled into HUGE piles, which are then covered with plastic and allowed to ferment just a bit into silage which will feed the cows all winter long.  It is pretty pungent smelling stuff later on, when it has fermented.  Most folks hold their noses and make a face,  but we always know we're close to home when we smell the silage at the dairy as we pass by!
It's a fun time of year for us to see and hear the various types of harvesting equipment rumbling down the road.  The silage trucks litter the roads with bits and pieces of chopped corn as they travel from field to dairy and back again.  We've been hearing the grape harvesting equipment working away all night in the vineyards that surround us as well, shaking the grapes from the vines and then dropping them into the waiting bins.  I just love it!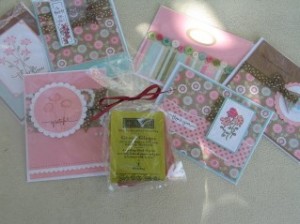 I had a delightful surprise arrive in the mail yesterday!  In all of the excitement of Dani's birthday, we didn't  retrieve our mail until after my husband came home from work last night.  I was so excited to see a box addressed to me from dear Denise.  A few weeks ago, when I was sharing my knitted dish cloths with you all, she proposed an  informal exchange between the two of us, which I quickly accepted.
I opened the box to find six beautiful note cards, all in such beautiful colors of aqua, chocolate and pretty, pretty pink.  Included was the sweetest note, hand written by Denise, along with a lovely assortment of yummy teas (which I cannot wait to try!)   I am overwhelmed by Denise's beautiful work and her very generous nature.  Please be sure to visit her blog Sentiments by Denise, to see more of her amazing hand made cards and to get to know this sweet lady.  Denise, my friend, thank you again and again for this sweet gift.
My husband is home now from work, and I'm off to spend some time with him.  He works so hard, and such long hours, for his family.  I do so appreciate him.  Tomorrow will be a busy day here, catching up a bit after two days of more play than work; but they've been wonderful days full of laughter and sweet times with family.  I wouldn't have wanted to spend them any differently!
God bless you as you look well to the ways of your households!
Proverbs 31:27