This is a very dark, moist and delicious gingerbread cake. It's not at all like the light, sugary versions you would buy in a mix; but it's a heartier, even spicier cake. The grandbabies gobbled it right up with a cup of cold milk, and some of the adults (I'm not naming names) had seconds! I had my piece with a cup of hot black tea and it was perfect!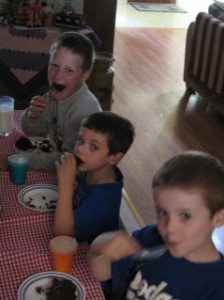 I whipped this up just before noon today. Corin and the grandbabies were coming for Grandma's Library  Day, and I wanted a delicious mid-afternoon snack to serve.  Having this come out of the oven just before they arrived made the house smell yummy!  The weather has taken a decidedly fallish turn, with cooler temperatures, lots of clouds and even a sprinkle or two.  This was the perfect snack for a cool, rainy day!
(If you click on the links below, and then make a purchase, some of them may put a few pennies into my pocket. Of course, there is no additional cost to you. I am always grateful to those of you who choose to bless me this way.)You can read about how I spend those pennies, and more about how I earn them, in my disclosure policy.)
GRANDMA'S GINGERBREAD CAKE
1 cup brown sugar
1/2 cup shortening
2 eggs
3/4 cup molasses
2 3/4 cup sifted flour (sifted BEFORE measuring)  (Today I used half whole wheat pastry flour, and half all purpose white flour with great results)
2 teaspoons soda
2 teaspoons ginger
1 teaspoon cinnamon
1/2 teaspoon salt
1 cup buttermilk **
Blend sugar, shortening and eggs together in mixing bowl.  Stir in molasses.  Combine dry ingredients and add with buttermilk.  Beat well.  Pour into a well greased and floured 9 x 13 x 2 pan.  Bake at 350° for 30 – 35 minutes.
Serve plain, or whip some heavy cream, sweeten lightly, and place a dollop on each piece before serving.
**TIP – I use Buttermilk Powder
 for most recipes that call for Buttermilk.  It is very easy to use, and the results and taste are the same as using liquid buttermilk in baked goods.  I wouldn't be without it!  You simply mix the buttermilk powder with your dry ingredients, and then add  the same amount of water as buttermilk called for in the recipe.  Easy!  Yummy!  Store the buttermilk powder in the fridge for maximum freshness.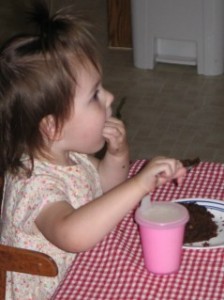 Please note: All original written material, photographs, recipes and tutorials on this blog are the sole property of the author and may not be copied, in whole or in part, or re-printed elsewhere, without the express written permission of the author.  Recipes, of course, may be copied for your own personal in-home use!