You all have encouraged me so much in the last few days!  You really have!  I was able to pop in, now and again, and the comments that you have left me have encouraged me so much.  Thank you, each and every one of you, for your sweet words, for the private messages and e-mails, and for your continued prayers.  You all are just the best!
I am still busy, but things are returning to a more normal pace.  Oh, and blessed!  We have been so blessed this week!  I'm not sure that I can fit everything in to just one post, but I will give you the highlights.
I told you that we were buying some firewood through friends at church.  There never really was a set price for the firewood, but it was more of a gentleman's agreement between my husband and our friend.  We planned on three cords, and my husband planned on paying approximately the going rate for three cords of seasoned walnut firewood.  Sunday evening we received a call saying that the amount we were paying was "too much".  After some bit of discussion, it was decided that the amount we had paid would remain firm, but that the amount of wood purchased had changed.  My husband and sons were to retrieve all of last year's trimmings and bring them home to make way at the walnut ranch for this year's trimmings.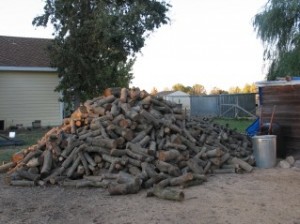 What we ended up with was about six cords of great looking, well-seasoned firewood.  Talk about being  blessed!!!  We are blessed to overflowing!  Every year we buy about three cords, and most years, late in the winter, we are starting to ration our firewood a bit.  This year we will be able to keep the house toasty warm right on into spring, and we will still have a nice supply of firewood to build from next year.  This was a huge blessing to us!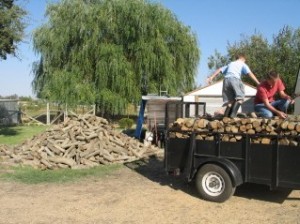 Of course, this also blessed my husband and sons with a lot of good, hard work, too.  They made a couple of trips last week, and then four round trips this week, one hour in each direction, and filling our trailer to capacity each time.  The mountain of firewood just grew and grew!  They will be working together again on my husband's days off this next week, stacking the wood in our little lean-to wood shed, and finding a place to stack the overflow as well.  Lots of hard work, with my husband and sons working side-by-side.
Monday evening we met my husband's dad and step-mom, along with my husband's brother and his wife and youngest son, at a restaurant for a meal together.  We had a wonderful time, eating and chatting and visiting and catching up a bit.  After dinner, my father-in-law, who is overseeing the settling of his late mother's estate, blessed my husband and his brother with an unexpectedly generous inheritance from their grandmother.  (I know I am using the word "blessed" a lot tonight, but that's just the best word for it all!).
This financial blessing came for us at a very good time.  As you know, we have in the last couple of months needed to replace our broken washing machine, as well as our broken dishwasher.  Then there is the damage to the kitchen floor that the dishwasher caused.  And some of the unrelenting dry rot damage that our home develops every year.  My list could go on, but you get the idea.  The financial blessing came at a very good time for us.
However, my husband's list of needful uses for the inheritance was more than the amount of the inheritance.  We spent many hours this week going over the various options and prioritizing them.  As the week progressed, several things were just deleted from the list entirely.  Yesterday, my husband and I spent the day driving to and around a couple of near-by cities, gathering prices and information on the items still remaining on his list.  By the end of the day, my husband had settled on a plan for the inheritance.  I am so glad that I was able to spend the time talking with him about the various options, and travelling with him to gather the information he needed to make his decision.  I'll not discuss the entirety of his plans here this evening, but there are some immediate needs that he will be taking care of and some others that will soon be met as well.
Me?  I'm just praising the Lord for Grandma and the gift that she left her oldest grandson.  It burdens my heart, at times, to watch my husband working some of his days off every month.  It's comforting to me to know that he will be able to take care of the cost of the washing machine and dish washer now without having to work the overtime.  Oh, I know my husband, and I know that he'll still put in for those overtime shifts.  He does it to give us a bit of extra income to do extra things with (day trips, fixing up our home, a meal out now and then, etc.), and I appreciate him so much for that.  I feel so much better about it, though, when he is doing it for those reasons rather than because we have a pressing need.
The first thing my husband decided on, though, was buying me a new dryer.  When we bought the high efficientcy, huge capacity front loader, we could not swing a dryer at the same time.  Our dryer is only just a bit over a year old, having been bought to replace our worn out dryer.  However, the front loader holds so much laundry, a full load from the washer will not fit into our dryer.  This hasn't been much of a problem as I do most of my drying on the clothes line.  The only items I've been using the dryer for our towels and blue jeans.   When I wash towels, I only wash the number that will fit in my dryer.
With the change of the seasons, though, my husband felt that we should have the larger, high-efficiency dryer.  I will still use the clothes line whenever I can, but it will be so nice to have the dryer on rainy days, and for those weeks every winter that we are fog bound for days and even weeks at a time.  We bought the companion dryer, a Maytag Epic dryer
, late yesterday and it will be delivered and installed on Saturday.
As with the firewood, though, this blessing is also blessing us with more work.  My laundry room is thrashed!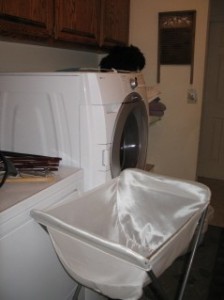 You see, as with many of the things in my home, the original owners built this house to suit their specific needs.  Problem is, most of the ways they did things are not in keeping with normal construction.  My husband had to take down the bar that I kept my hangers on so that the washer can scoot over and fit where the dryer sits now.  You see, the doors of the Maytag Epic machines open in only one direction, and they are meant to open away from the other machine, giving the operator clear access from the front of the washer to the front of the dryer.  In my laundry room, however, the hookups for the washer and dryer are switched from the normal position!  My husband will move the washer over Friday evening and then he'll need to install a longer dryer vent hose to the back of the dryer to reach to the vent in the wall.  I will tell you, though, I am excited to know that I can now take full advantage of the large capacity washer all through the year!  In the meantime, I'll be thinking about what I need to do in my laundry room to keep it functioning efficiently for us with the addition of the new, larger dryer.
I mentioned earlier about dry rot damage to our home.  This has been a yearly problem for us.  My husband jokes that he will, eventually, reside our entire house because of it.  Apparently, the original contractor did not install the wood siding correctly, which leads to moisture forming under the siding, resulting in dry rot.  We are usually able to take care of the dry rot before it spreads, but on a few occasions, my husband has had to rip into the framing of the house and rebuild from there out.  I am so thankful that not only is my husband willing to tackle these huge, home maintenance jobs, but that he has also developed skills to take care of some pretty big jobs!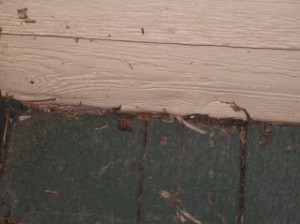 Our most recent occurrence of dry rot has happened low on the wall of our front porch.  Our front porch has never been able to keep a coat of paint.  We assume that the original owners put some sort of coating on the bare wood that keeps the paint from sticking.  Our porch, though it's been sanded and painted several times, is always in a state of peeling paint.  I'm telling you this now because, in order to repair the siding on the walls of the porch, the porch needs to be removed!  We were not quite sure how we were going to swing this, but thanks to Grandma's gift, we are now planning on replacing the porch entirely, rather than just re-building it with the original materials!  This is another huge blessing, and yet another instance of the Lord blessing us with work, too!  Aaron mentioned today how excited he is thinking about working with his dad on this big project.  I'm not at all sure when this will get started, but it's so fun knowing it's coming!
We have so many more plans simmering now, including replacing our damaged kitchen floor, repairing my oven, etc.  I have enjoyed making some extended plans with my husband for our home and for our family.  Driving along in the car, just the two of us, has made for some wonderful planning and talk time.  It's been great!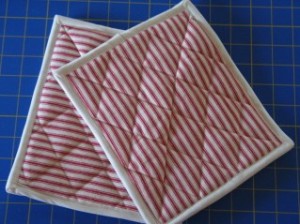 I am, slowly but surely, finishing up some long overdue projects.  I was able to take Meg, my husband's step  mother, the quilted pot holders I have owed her since Christmas.  Yeah, yeah I know….it's almost Christmas again.  I'm not sure what I was thinking when I took on so many sewing projects last year, but I am getting them finished up at long last.  I am so thankful for the understanding and extreme patience shown me by our extended family!
I also finished the napkins for the napkin exchange I signed up for, and I'm hoping to have the time to finish up a little something extra to send along with the napkins.  I need to get moving along on that, though!
My knitted shawl is growing and growing.  I've knitted up five, 50 gram skeins.  It looks like the sixteen skeins I ordered will be enough to make two!  I have, actually, thought about ripping the shawl out and starting over, but have decided that I will not.  If (when!) I make another, I will increase a bit more aggressively.  I have done most of the shawl with one increased stitch at the beginning of each row, but I am working the upper rows now by increasing one at the beginning and end of each row.  This will make the shawl grow wider more quickly.  I am short, but quite heavy.  If I continue on as I have been, the shawl will be dragging the ground by the time it is wide enough to wrap snuggly around me.  I think I'm on track for a nice-sized finished product now.  I am still loving the heathered purple wool!
Dani and I made a quick trip to Jo-Ann's on Monday while the guys were on a run for fire wood.  I needed a  spool of thread and some embroidery needles, and Dani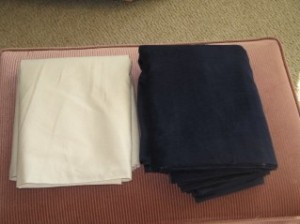 wanted to buy some fabric for a skirt and top for the cooler weather.  She chose some beautiful fabrics and I'm anxious to see how her outfit turns out.
While we were there, I purchased some navy blue corduroy to make a simple, everyday skirt for myself, which I desperately need for the cooler weather ahead.  The corduroy was on sale for $3.99/yard, which made for a nice surprise.  I also bought five yards of unbleached muslin, which I will cut into one yard lengths for embroidered dish cloths.  Having the muslin pre-washed and cut means that it will be ready to go when I have a chance to work on another embroidery project.
Corin and the grandbabies came today for our Grandma's Library Day.  We had fun, as always.  I read several books to the kids, while Dani and Corin chatted.  The grandbabies each chose three books to borrow from our Heritage Library for the week.  I took my two year old granddaughter out with me to collect eggs, but she has, sometime in the last two weeks, gone from loving my chickens to being terrified of them!  By and by, all of the children went outside to play together and we gals chatted and talked together for an hour or so.  The children came back in and we enjoyed an afternoon snack of Grandma's Gingerbread (the recipe is posted below), and had a bit more time together before they had to leave.  Thursday afternoons pass by much too quickly.
I have several things yet to accomplish this evening, including some advance menu planning for the next week or two and preparing our lengthy shopping and errands list for tomorrow.  I'd like to spend some time on an embroidery project this evening, too.  I've much to do, but I am blessed by the work.  Blessed and busy!!
God bless you as you look well to the ways of your households!
Proverbs 31:27