There is a beautiful hum in the rhythm of my home and its routines.  Oh, it might not be audible to everyone, but I can hear it.  Lately, it's sounded more like clackity-clackity-bang than a beautiful hum!  After taking two weeks off from the normal routine to do some planning, and then having a slough of catastrophes, both major and minor, ever since, I was longing for the hum to return.  I am happy to say that the hum returned today!   We still had a few clackity-clackity-bangs this morning, but by early afternoon the hum was there.  I love that hum……the sound of children working and playing quietly, or happily, or both; the sound of the washer swishing our laundry clean; the sound of the sewing machine stitching a new top; the sound of the steam hissing from the iron as cotton shirts are pressed.  It's a lovely sound to me, the sound of my home running well.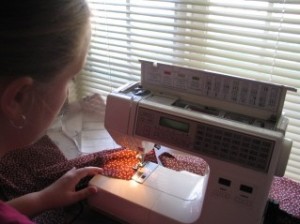 Dani's back is better with each passing day!  I'm praising the Lord for that tender mercy!  In fact, she felt up to doing all of her normal chores today and then cut out and started sewing another top for herself.  Ambitious girl!  She started around 3:00, and had it almost finished before dinnertime.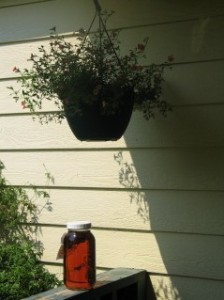 I've begun setting a half-gallon jar of sun tea out on the porch rail first thing in the morning.  By noon, it's  brewed and ready to be brought in and popped into the fridge.  I have been enjoying iced sun tea in the afternoons while this heat persists.  It's so refreshing!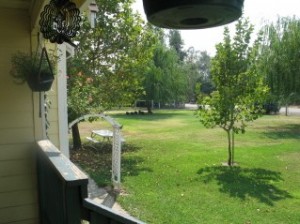 Today when I went out to bring in the tea, I heard some rustling across the yard, followed by a chortling,  almost cooing, sound.  It was not a familiar sound, but I knew it sounded like a bird.
Aha!  This particular flock of wild turkey takes great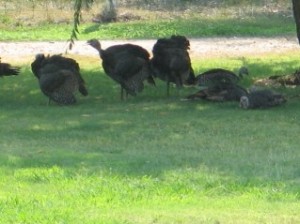 delight in pawing through my front flower beds every morning, strewing the bark mulch all over the walkways!  However, they do me a service by eating bugs, keeping the top soil scratched up loose, and depositing a bit of fertilizer for me as they forage.  I guess that sweeping the bark back into the beds is really a small price to pay for such wonderful help!  It was nice to see them hanging around all afternoon in the shade, preening and resting, and scractching for bugs in the grass.
I have a stack of school materials on my living room
coffee table that I spent some time going over last night.  I was late ordering a few things, but knew we'd be okay waiting until the second or third week of school to start them.  No rush, plenty of time.   Fortunately, I called the company I'd ordered from to see if they had a FedEx tracking number for me so that I could watch for the delivery.  I found out that they had never received the order I faxed to them in August!  I was so disappointed!  Consequently, my husband and I ended up driving yesterday to a small city about an hour away to purchase what we needed from a home school supplier there.  The stack looks huge, doesn't it?  It really isn't as bad as it looks!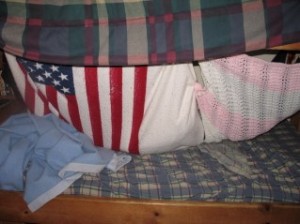 My boys have certainly been enjoying themselves with various tents, hammocks and cocoons the last couple of days!  Every spare blanket, afghan and throw from our linen closet has been put to use.  Last night, William built a sort of combination hammock/cocoon to sleep in on his bed.  This is what it looked like with him in it from the outside.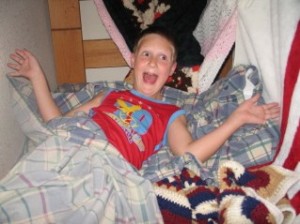 But this is what it looked like when we took a peek inside!!!!!!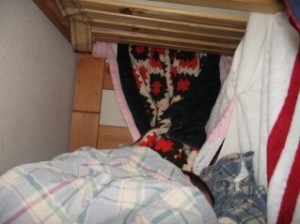 He did finally settle in and go to sleep, though I think his little cocoon was a bit worse for the wear!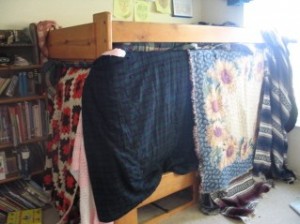 Today, Aaron completely enclosed the bottom bunk.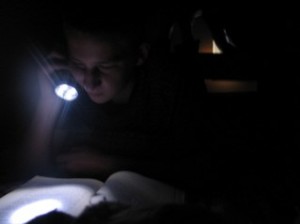 I went to see where he'd gone, and I found him reading in there.
In the dark.
In the middle of the afternoon.
I think this is the perfect way to read Richard Halliburton's Complete Book of Marvels
, though!
It adds an air of exploration and adventure!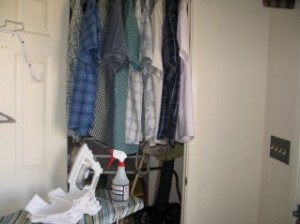 I tackled quite a chunk of that back log of ironing today.  It doesn't take long to fall behind with ironing in my home if I don't work on it every day that I wash; but fortunately it doesn't take long to catch up again either.  I pulled all of my husband's short sleeve shirts from the pile and ironed them.  There were ten!   I also ironed about a dozen of our everyday napkins.  My normal catch-up plan is to iron ten items each day until the ironing is all caught up again.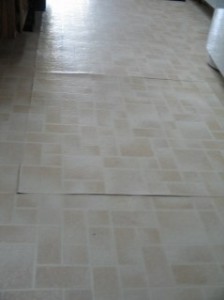 We are contemplating what to do about our kitchen floor.  Though my husband did an excellent job of  replacing the pieces that had to be removed so that the sub-floor could dry, it has not remained as he left it.  I think that, perhaps, the sub-flooring might still have been damp.  In any event, all of the edges are lifting up, and there are some bumps that have developed as well.  It's really not in the budget to replace the floor in this area, so we are just patiently waiting and thinking about what should be done.  There is no real rush.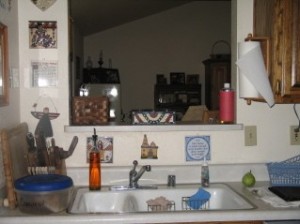 As I cleaned my kitchen counters and sink this morning, I spent some time pondering my kitchen window.  It's  not really a window, but rather more of an opening into my living room.  For years I struggled with what to do with this area.  If I fixed it up to look cute on the kitchen side, then the living room side didn't look very nice; and vice versa.  Of course, it would be wonderful to have a real kitchen window that overlooked a lovely garden area outdoors; but that's not what I have in my much-loved home.
A couple of weeks ago, I finally decided to treat this window just as I would if it did look outside.  I do like my kitchen to be pretty, but a kitchen must be functional as well.  The fun is when function and beauty can work together.  I've not done anything to change the window yet.  In the window now are a basket of knitted dish cloths, a tea light candle holder and our bottle of Dr. Bronner's soap
.  I'll keep my eyes open tomorrow when we do the shopping to see if I can find a couple of ways to fix things up a bit nicer, without spending more than a few dollars.  I spend a lot of time in front of this "window", so I want it to be lovely to look at.  I have a few ideas, so we'll see what happens.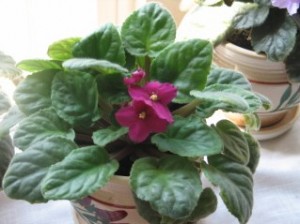 Despite the rather sporadic care that they have received for the last few weeks, almost all of my African violets  are blooming again.  The one with the prettiest, most abundant blooms is always placed on the chest in my entry way, and the others remain on the table in the parlor window.  I love having these flowers in my home all year. They are such rewarding little plants!  Humming along for me, despite all of our clackity-clackity-banging these last couple of weeks!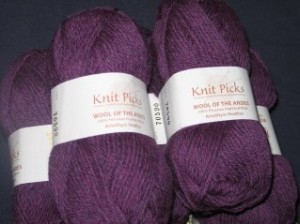 Our yarn order arrived today.  The Amethyst Heather wool is even more beautiful in person than it looked on  line or in the catalogue.  I am so pleased with it!!!  It's just beautiful!  Though the afternoon temperatures still remind me daily that it is still summer, I've noticed that the days are growing shorter.  It won't be long before I will want to have the shawl ready to wrap around my shoulders in the evenings or first thing in the morning. I  believe I will go get started on it.
God bless you as you look well to the ways of the households!
Proverbs 31:27