The firewood is finally stacked and housed!  Yeeehaaawww!  Looking at it makes me smile!  We generally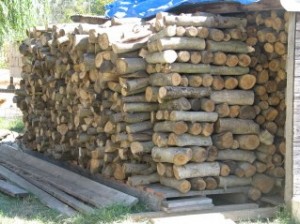 have to start rationing the firewood come late February and early March, but this year we should be able to keep the house nice and toasty right on until the warm weather arrives.  We are so blessed!  My husband and sons got a relatively late start to the job today because we had our weekly big breakfast together – turkey bacon, fried eggs and cinnamon raisin toast.  I enjoy making this big breakfast every Tuesday morning for my family.
A lot of what I do during my week, has a direct correlation to my husband's work schedule – our activities, our recreational pursuits, even our meals.  It is one way that I can honor my husband as the head of our household.
Copper works twelve hour shifts.  He works every Thursday, Friday & Saturday, as well as every other Wednesday.  Most of you know by now that he chooses, most commonly, to work an overtime shift on his every other Wednesday off.  That means that we have him with us on Sundays for church and rest, as well as Mondays and Tuesdays.
Because of this schedule, our day for doing the sorts of things that most families do on Saturdays, is Monday. Sometimes things spill over to Tuesday as well.  Yes, we do home school.  Yes, our children's education is important to us, and I do not consider myself an unschooler.  However, there are times, and these last couple of weeks are good examples, when we choose to take a few vacation days from school.  We do home school year round and this is one of the reasons why that is the best alternative for us.  I love the flexibility that homeschooling affords us with my husband's work schedule!  The days that the boys have worked with their dad have benefited them, as well as our entire family.  We also take our day trips, go fishing, and have an occasional meal out together on Mondays or Tuesdays.  We more than make up for our "vacation" days during the rest of the year.
The days that my husband works, he eats all of his meals at work.  His job does not allow for actual breaks for meals, as he is required to be available for emergencies even when he is in the chow hall, but food is provided for him.  Keep in mind, he works at our county's main jail facility so we're not talking any sort of gourmet or great-shakes cuisine here.   In fact, dinner, each and every single day at work, is sandwiches.  Can you imagine, having a plain ol' sandwich every night for supper?
Because of this, we try very hard to not have sandwiches for lunch on my husband's days off.   We had Panini
for lunch today, but that is not your typical sandwich!  When I make my menu plan each week, I plan main dish salads, tostadas, nachos or Panini for lunch for the days my husband will be home.  Good hearty soups are often served in the colder weather months.  That is also why we have our one big, fancy breakfast every week on Tuesdays….he is home every Tuesday.  I generally plan nicer dinners for the days he is home, too; though he is honestly happy with tacos and burgers, too!
One other thing that I do is to not schedule any of my weekly, monthly or other homemaking tasks for Mondays.  I do the normal daily stuff, as well as a couple of loads of laundry, but I don't do any real house cleaning on those days.  That way I am free to make an errand run to town with my husband, or accompany him to an appointment, etc.
How do you honor your husband with your scheduling and meal planning?  What more can you do to let him know how much you appreciate him?  Think about it!!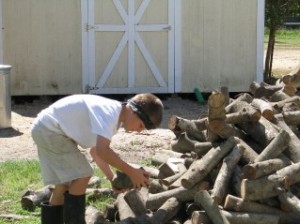 The guys did, eventually, get out to start working on the firewood late this morning.  It was good and warm  here today, with a high in the upper 80's.  Shortly after noon they had the wood shed, as well as the extension that they built for it, full.  Our good neighbor, Jay, loaned them his big wheelbarrow and they began stacking the rest of the wood behind one of our little barns, near where we park our utility trailer.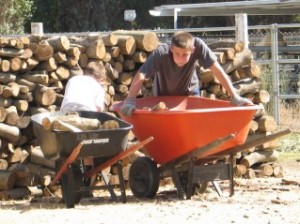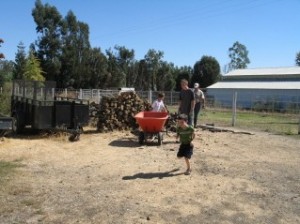 Corin arrived with all four grandbabies, and the two little boys jumped right in and started helping Grandpa and  the uncles.  Precious loves!  They worked hard, too.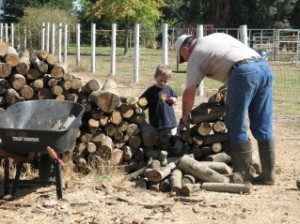 The three year old stacked and stacked, though Grandpa had to restack each piece.  He was helping, and that was important!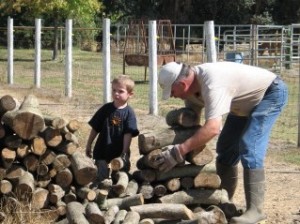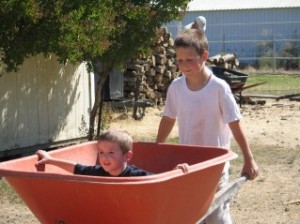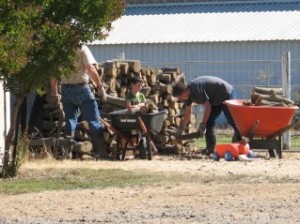 The five year old found a little wagon we have here for them to play with,  and he began loading that with two or three small  pieces of wood and wheeling it over for Grandpa to stack.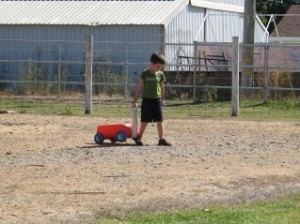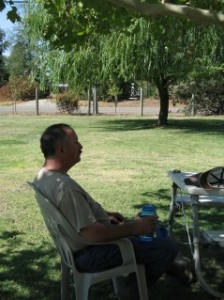 My husband was so hot and tired when the job was done!  Just beat!  But the firewood is put up and stacked  and we should have more than enough for this year and even into next fall and winter.  What a huge blessing!
Afterwards, Copper had to make a run to town to take our power push mower in to be serviced.  It decided a couple of weeks ago that it did not want to start.  We mow most everything with our small tractor mower, but the little mower is necessary for our little-bitty, fenced backyard.  I felt so bad that he had to take off when he was so hot and tired.  Aaron went along to keep his dad company.
The grandbabies and Will played and played in the front yard.  Dani and I watched them and clapped for their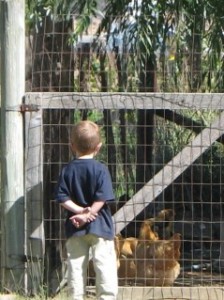 performances!  The grandboys and I collected the chicken eggs from the hen house – one thought it was very cool, and the other was grossed out at the feathers and other chicken stuff involved.
I'm not sayin' which boy is which!!  I love 'em both so much, and thought that both of their reactions were quite correct!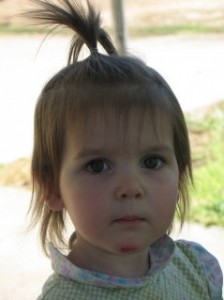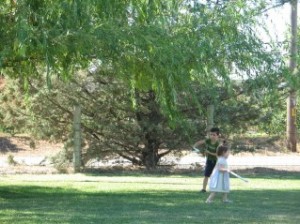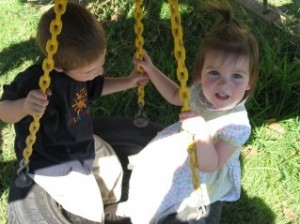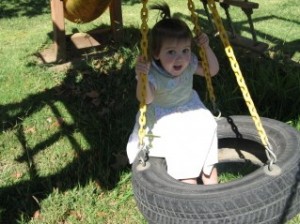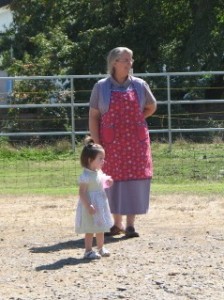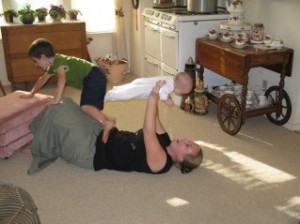 Will brought out snacks for everyone, and I fixed them up into little cups.  They were having such a wonderful  time and then Dani was stung by a wasp.  On the knee.  Four times!!!  Poor Dani.  She does, generally, have a minor allergic reaction to wasp stings, especially multiple stings, but an oral antihistamine does the trick.  We had a problem today, though. Because she has been taking a combination antihistamine/decongestant for her allergies, she was not sure that she should take more antihistamine.  She developed her usual facial tingling, though, so I had her call the advice nurse.  After much consultation between Dani, the advice nurse and the duty physician, they told her to go ahead and take a Benadryl.  Within a few minutes she was just fine!  Thank you, Lord!
With the babies coming this afternoon, I worked quickly this morning to get everything done before they came. I had my normal laundry for Tuesday, as well as my normal daily chores.  My bathroom needed a mid-week cleaning, too, so I quickly did that as well.  We are having French Toast for breakfast in the morning so that meant that I needed to make a couple of loaves of bread for that.  So thankful for my bread machine!  I made the second loaf late this afternoon and it was baking while we had our dinner.
The grandbabies bring so much fun and excitement to my home.  My Will just has the best time playing with the boys!  They played and played and played and things got a bit wild from time to time.  Corin's children are used to early bed times, and we have our dinner a bit later than they do.  That meant that the grandbabies were ready for cleaning up and bed right after we ate.  They are such treasures, and I love every opportunity I have to have them with me for a bit.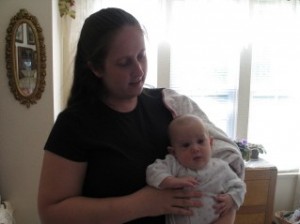 This day has passed much too quickly.  I was blessed with the opportunity to spend part of the day with my  grandbabies!  The littlest just smiles and coos and is getting too big too quick!  I love listening to everything the older three have to tell Grandma, and they do have plenty to tell!   I enjoyed the few minutes that I was able to visit with Corin, too!  I am very thankful that Danielle's reaction to wasp stings has remained relatively minor and that she was able to have her symptoms relieved so quickly today with a simple over-the-counter medication.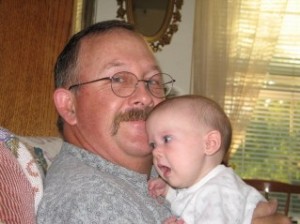 Tomorrow will bring a full day of home schooling, home making, and home loving.  I delight in it!
God bless you as you look well to the ways of your household!
Proverbs 31:27