Do you see what this is?  It's my planner/calendar back up and running!  I cannot tell you how happy I am!  I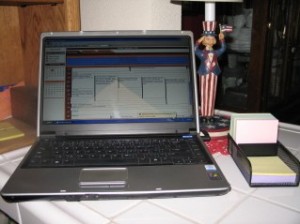 have been out of my element for days without my planner, and I am so grateful to have it back.  A big, big thanks to our friend Sven, computer-guy extraordinaire, for getting my planner back with all of its information intact!
Things in my home have been off kilter, to say the least without my planner.  If you remember, I had just re-worked my household routine to better mesh with our current schedule.  I was caught between what I remembered from the routine I've kept for the last year, to what I remembered that I wanted to change!  I was thinking about just printing up some of my old planning/scheduling sheets and trying to start all over again from scratch.  My husband directed me to wait and see if it could be repaired, so I did just that.  I took care of the basics around my home and just waited.   However, good things, apparently, do come to those who wait!!  I am so thankful to have it back.
Thankfulness seems to be my heart cry these days, doesn't it?  I'm still praising God for His mercy toward Corin and her family Sunday night.  I have not yet seen pictures of their totalled van, and perhaps it's best that I not see it quite yet.  This mama's heart, thankful though it is, is still having to push back all of the could-have-beens.  I shared the news of the accident across our common fence with my neighbor, Catherine, today, and she shared my joy at their all being safe.  My family has been praying for her father who has been quite ill, and I was so glad to hear that he is doing better.  She and I shared how happy we are to see the Lord's hand in our lives every single day.  It's not been too terribly long that I've been doing this in my life, day by day, just looking for the Lord's working in my daily life.  It was always there, but now I have eyes to see it.  You look, too.  Your heart will be filled with wonder, with love for your Lord, and with so much thankfulness!
That said, I can now be thankful for the time that my planner was down.  Hmmmm……..more accurately, I can now be thankful for the insight I gained during the time my planner was down.  I now remember what it was like, oh, so many years ago now, to try to maintain my busy home without a plan.  With no routine or schedule, there was no rhythm, no rhyme nor reason, to the way my home was kept, and it showed.  (It shows a bit now, too, by the way!  Yikes!)    I will, for those of you patiently waiting for the homemaking page on the web site to happen, try to carve out a bit more time to work on that for you.
My Dani is having some problems with her back, and I would ask if you would please pray for her as she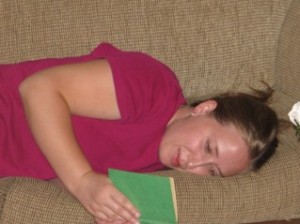 crosses your mind.  Copper drove her out to the chiropractor today.  I am a bit concerned because he could not find the source of her problem.  He did some minor adjustments for what he could find, and thereby relieved a great deal of her allergy suffering; but the pain is still there and he does not feel it is anything he can take care of for her.  I am praying that she will be much, much better in the morning.  If not, we will have to make an appointment with the physician.  She is being good and taking it easy and has done a lot of reading today.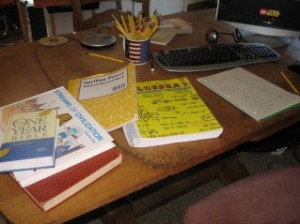 Today was the official start of our new homeschool  year.  It really was a wonderful day.  Oh, we had some complainin' part way through, but we're dealing with the hearts in our homeschool, too.  Yes we are!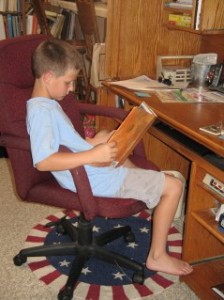 William finished up a bit early and was allowed to choose whether he would read quietly or go outside to play.   He chose reading!!  I have to admit to being a bit surprised by that today.  He loves to read, but I thought that after reading quite a bit for school today that he'd be ready to head outside.  He polished off these
– three
– picture books
from our shelves in about 30 minutes.  Then he went outside and played!
My high school boy woke up nervous.  I'm not sure what he thought was going to happen today that didn't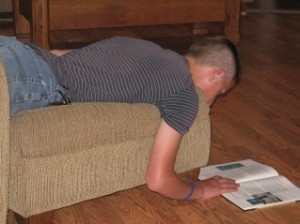 happen three weeks ago when we last had a homeschool day!
Before long, though, he settled right into his normal position and did just fine!  It's rumoured that he picked up one of his "school" books this afternoon to read for pleasure.  I suppose that means that I chose his first literature selection well.  Ya gotta love a boy that understands Jane Austen's humor
!
Dani told me that a couple of our ewes are getting close to lambing.  I'm so glad!  We had some beautiful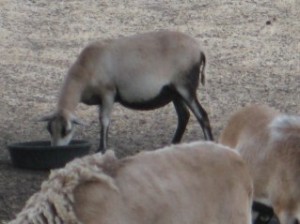 spring lambs, and I didn't think we'd have any more before mid-winter.  I much prefer them to be born while the weather is still hot and dry!!  We've not done too well with our winter lambs.  We have almost 100% survival with our warm weather lambs, but only about 50% with our winter lambs.  I went out to check and this ewe is definitely heavy!  The other ewe is not quite so big, but they are both bagging up so we will expect lambs anytime in the next couple of weeks.  The sheep really are a flighty breed, and we really have no real hands on dealings with them outside of their basic food, water and sheltering.  They are hardy, though; and serve us well by keeping our pasture grazed and protected from fire danger.
We are expecting Rob and Corin and the grand babies out yet tonight.  They have rented a vehicle to tide them over until their insurance gives them the okay to purchase a replacement vehicle.  They have had my van since Sunday evening, and they are planning to return it tonight.  I will be happy to see them and to check the babies' bruises and to see for myself just how they are.
God bless you as you look well to the ways of your households!
Proverbs 31:27