Tuesday is our morning to enjoy a big breakfast together.  I'm so glad that I started doing this again on a day that my husband is always home with us.  With my husband gone for all three of his meals four days every week, it's nice to have a leisurely morning breakfast worked into our routine on one of his days off.  We enjoyed one another's company this morning, especially since Aaron is feeling so much better today, and we talked and laughed together as though we had all the time in the world to sit at the table.
After breakfast, Copper went next door to see if our wonderful neighbors were still using our trailer.  It was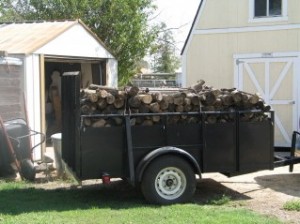 empty,  so he brought it on home.  He and the boys left soon after to drive an hour or so to our good friends' home to pick up some firewood.  We've bought almond firewood from the same company for several years, but their flyer this year gave us sticker shock!  Our friends own a walnut orchard and sell the tree trimmings every year to whomever wants them and then donate that money to a missions organization.  This year they are planning to donate the money here .  We do have central heat in our home, but much prefer to heat with our wood stove.  The bedrooms stay quite cool, but the rooms we live in during the day are comfortably warm, and we keep our electric bill to a manageable amount.  We are so blessed to have this firewood available to us this year for a price we can afford, and to know that the proceeds are going to be used in such a wonderful way!
The guys were back home in the early afternoon.  Dani fixed them a quick bite of lunch, and she and I helped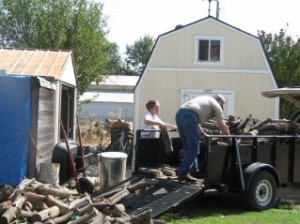 my husband unload the trailer while the boys ate.  Dani and I reached over the sides of the trailer and pulled out logs one by one and threw them onto the stack.  Now and then we'd find small enough logs that we could pull out one with each hand to toss.   My husband dove right in, bent over the stacked wood in the trailer,  pitching the logs fast and furious behind him, one hand and then the other!  After twenty-nine years of marriage, I still admire his muscles!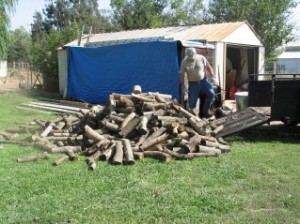 My guy surveying and neatening up the first load of firewood.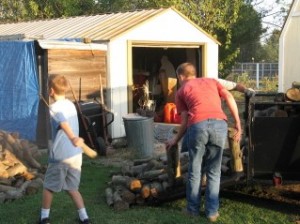 The guys made a quick turn-around and headed back for a second load.  They made it home around 6:30, and  went straight to work unloading the trailer.  I know they had to be hot and tired, but they kept working until the job was complete.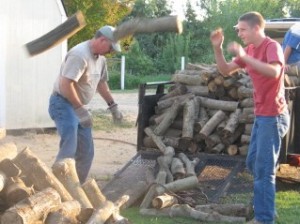 The wood was flyin'!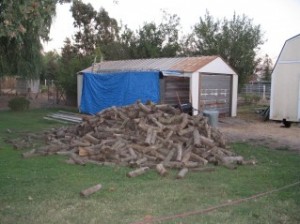 The plan is to return for one more load next week.  All of the wood will then be neatly stacked in our wood  shed (which is the blue tarp covered lean-to against the side of our metal shop in this picture).
My day was full of the normal Tuesday tasks about my home.  The daily laundry, watering, meals, clean up, etc.  Yes, just the ordinary things, but they are the things that keep my family and my home running smoothly.  Ordinary things, but necessary things.  Ordinary things, but pleasurable tasks just the same.  I dust and Webster my schoolroom and mudroom/sewing nook on Tuesdays, so I tended to that while the fellas were off getting that second load of firewood.
I'm in and out and about my home all day long.  When I go out to move a hose or to change an irrigation line, I check the chicken coop for eggs.  The eggs are carefully placed into the pockets of my apron until I can get back inside.  When I hang a load of laundry on the line, I pause a moment to watch the sheep (always checking for lambs these days!), or to speak a word to one of our goats.  Sometimes I'll bend down and pull a few weeds here and there.  I can take the time "to smell the roses" so to speak, or I can just rush about and move from one job to the other without a thought.  I much prefer a slower pace.  It gives me time to remember to thank the Lord for all of the many blessings in each and every day. The blessings of the ordinary, the blessings of home and family, the blessing of the word He gives me to do.
When I go out late in the afternoons I open the little gate between the chicken yard and the goat yard, and the hens are then free to roam about an acre of so of grassy area, scratching for bugs and eating the grasses.  They have only recently learned where it is that we want them to lay their eggs and then return to roost each night, so this ability to roam about in the afternoons is new to them.  I enjoy watching them push and shove and squawk and fuss at one another to be the first through that little door!  All the chicken commotion brings Harley, our big wethered Nubian goat, over to see what is going on.  He always looks so disappointed that it's only the chickens raising all of that ruckus.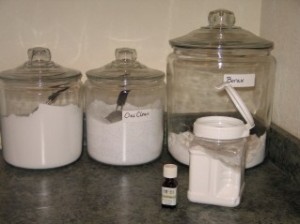 I re-filled my container of homemade scouring powder today.  I am so pleased with the results that we've been having with this!  I simply scoop equal parts of baking soda and Borax into my container, add about 20 drops of lavender essential oil, and then shake really well to mix.  The lavender oil is distributed throughout the container and smells so wonderful when I shake some powder out to clean my kitchen sink every morning.
My copy of The Complete Book of Essential Oils
has been on my breakfast bar for a week now, and I have only had the time to just take a peak into it here and there.  So far I have learned about the amazing properties of the lavender essential oil that I so love, as well as the Tea Tree Oil that is also on my shelf.  I'm starting with the chapter on essential oils in caring for the home, but the chapters of this book range from health care, skin & hair care, gardening, cooking……I'll be sharing more as I have the time read it.  I am enjoying learning about the role that essential oils can play in helping me maintain my home naturally, but also how I might use them in maintaining my family's health.
I put the second coat of red on the rims of my little pots today, and that did the trick.  When that was dry I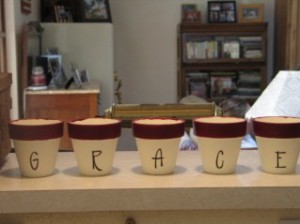 came back with my off-white paint and touched up the places I'd gotten a bit messy with the red.  It only took a few minutes for the touched-up paint to dry.  I did a wee bit of measuring and then applied the letter stickers I bought, spelling out the word "grace".  I put a tea light candle into each little pot, and I am done.  What a wonderful idea Manuela had on her blog, The Feathered Nest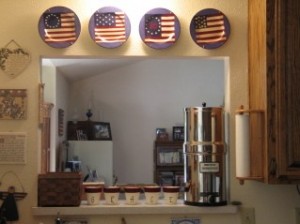 In my kitchen window now are my basket of knitted cotton dish cloths, my GRACE candle-pots, and our  Berkey water filter.  Now that I have the pots in place, I believe that I would still like a small plant hanging from the center top of the window.  I think a lovely hanging plant there would finish things off nicely!  I am, more and more, enjoying bringing live plants into my home.  However, it's almost two full weeks until my next shopping trip.  You just never know what the Lord might bring into my home, or put onto my mind, to hang up there in the meantime!!!
I'm glad that there's some time in there for me to look about my home, and root through some stored items, and see if there isn't something that I already have in my hand that can be used there.
I had to take a little time today to update my planner a bit.  Now that we're using the Berkey to filter our water, I scheduled in a weekly cleaning, as well as a daily reminder to fill the upper chamber every morning.  I will, more than likely, think to put water into the top half each morning, but just in case I stumble and forget once in awhile, having it as a recurring "appointment" on my calendar will be sure that there is always plenty of filtered water available.
I ended the afternoon doing some ironing while I waited for the guys to get home.  I was able to do all of the items from today's laundry that needed ironing, as well as a few more items from my stack.  It was a profitable use of my time, though I was sorely tempted to sit down with either my knitting or a book instead!  I'm glad I ironed instead.
Since we had a nice big breakfast, and had it rather late, and then the guys had a late lunch, we were all fine with a late dinner.  Our 6:00 normal dinner time (okay, our dinner time is really 6:13, but that's a really long story!) got shook up a bit with today's activities and that's just fine.  It was fun to go out late for a meal, especially when a restaurant meal is, usually, reserved just for birthdays and other special occasions in our family.  Since we were celebrating Dani's birthday with dinner out a day early, the late hour just added to the festiveness!  We waited for the guys to shower and clean up before we headed out the door and arrived at the restaurant around 8:00.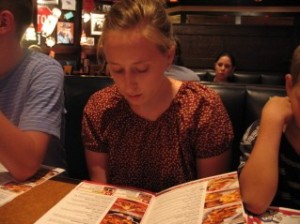 Dani tries to decide what to have.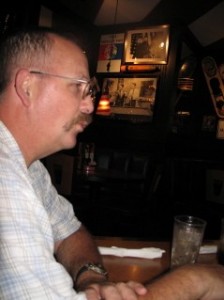 Copper telling tales about all of the memorabilia hung on the walls at TGIFriday's.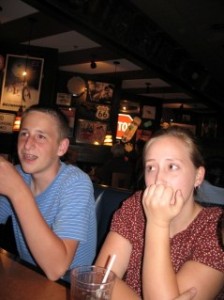 Dani and Aaron listening to Dad.
The late hour and Dad's silly stories finally caught up with Aaron!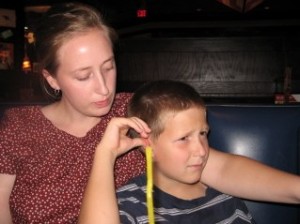 My children have inherited many, many wonderful traits from their Daddy.  However, one thing that I wished they would NOT have inherited are the horrid leg cramps that come following a busy day.  From Corin, right on down the line, the children have all experienced these throughout childhood.  Will toughed it out through most of his dinner, but finally ended up snuggled next to Dani.  A sister who has experienced those leg aches is always sympathetic.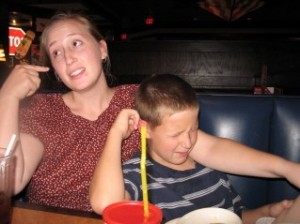 Dani says it's time to take this little boy home!  And so we did!  We rolled back in the door at almost 9:30.  A small blanket was put into the dryer and set on the hot cycle.  Copper rubbed and massaged his youngest child's aching legs while the blanket heated.  I measured out a dose of children's pain reliever and gave to him.  The blanket was then wrapped around Will's legs and he was put to bed for the night.  Poor baby!  Both of my boys are now in bed.  I am sure that they will soon be fast asleep after working hard loading and unloading firewood all day.  I think the rest of us will follow suit shortly.
God bless you as you look well to the ways of your household!
Proverbs 31:27