My husband was watching me work in the kitchen last night. As I spooned these into the serving bowl, he said, "That looks good!", and they were!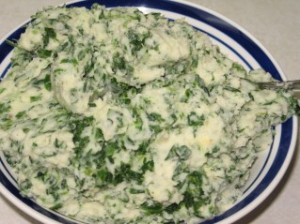 This is a great way to get nutrient rich spinach onto your family's table without anyone objecting. The spinach adds some lovely color to family-friendly mashed potatoes, and the sour cream and cheese make this dish hearty and extra delicious.

COPPERSWIFE'S HEARTY MASHED POTATOES
8 small – medium sized potatoes, peeled and cut up
salt and pepper to taste
4 Tablespoons butter
1 small box frozen chopped spinach, thawed and thoroughly drained
3/4 cup sour cream
1 cup grated cheese (I used a blend called "mexican" available at Costco which contains Monterey Jack, Medium Cheddar, Queso Quesadila and Asadero cheeses)
Fill a large pot with water and potatoes.  Bring to a boil, cover and cook potatoes until they are soft. 
Thaw and thoroughly drain spinach. Squeeze to remove all moisture. Set aside.
When potatoes are done, transfer to mixing bowl. Work quickly while potatoes are still very hot. Salt and pepper to taste. With electric mixer, mix on low speed for a few seconds to begin mashing potatoes.  Add butter, spinach, sour cream and cheese.  Mix very well on medium speed to whip all ingredients together until creamy.
Please note: All original written material, photographs, recipes and tutorials on this blog are the sole property of the author and may not be copied, in whole or in part, or re-printed elsewhere, without the express written permission of the author.  Recipes, of course, may be copied for your own personal in-home use!