"beep-beep-beep" "beepbeep, beepbeep, beepbeep" "BEEEEEEP"
Dani and I had to giggle.  At the same time, exactly, the microwave, the washer and the dryer all sounded their ending beeps at us late this morning!  Kind of makes you wonder who is serving who!
I am grateful for these servants in my home.  The washer cleans all of our dirty laundry for us with minimal labor required from me.  The dryer, humming merrily, dries a load of bath towels in no time at all, leaving them soft, fluffed and ready to be folded.  The microwave, which Dani uses far more than I do, heated up the refried beans for today's lunch nachos in just a minute or two.  I am grateful for these servants, I just with they weren't so bossy!
We've had a difficult day.  It was hard for all of us to get back to the books after having enjoyed so many days
of outdoor work.  William had an especially hard time of it.  Sometimes I know exactly what causes him to have a hard day, and other times I'm clueless.  We suspect that he may not have slept well due to leg cramps again, and that he is just overtired.  It was hard today to keep him on an even keel, and to keep his siblings from becoming irritated with him.  I was semi-successful. It was not an easy day, but I will tell you that when I saw the school buses rolling by this afternoon with the weary little heads bobbing inside, I was able to thank the Lord for the ability to have my children at home with me, where I can educate them, nurture them, train them and discipline them according to His Word.  I'm thankful that the Lord can use even imperfect, sinful me to do His work.  I cannot imagine a more fulfilling life than the one I lead.
Wednesday is the day that I do the weekly cleaning in my parlor.  I have so many lovely things in there, but the lovely things do take quite a bit of time to dust each week.  I am still using my vacuum cleaner to do the dusting, and it's a wonderful time saver.  It keeps my allergies in check, too!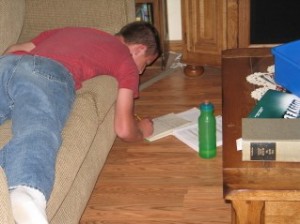 The vacuum was turned on and off, on and off, several times as I worked today.  The interruptions were numerous, but as I just said, I am so glad to have my children home with me.  Will needed instructions on what to read next.  A grammar lesson for Aaron required my help.  Will is starting a little grammar study of his own, and I spent a few minutes with him talking about capitalizing days of the week and punctuating abbreviated titles.  Aaron needed some help memorizing a list of prepositions. An algebra lesson needed to be corrected.  The parlor did, eventually, get dusted, webbed and put back in order; and then I put the vacuum hose and attachments away for the day.
Since the firewood took longer than anticipated to stack, we did not start the demolition of our front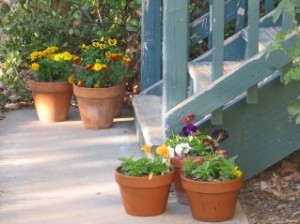 porch.  My husband has it on his agenda for next week's days off.  I swept my front walk this afternoon and then brought all of the flowers I potted the other day around to the front steps.  They'll brighten things up for the rest of this week before I have to find them a new home!  I've always loved having potted annuals near the entrance to my home.  I started this when we still lived in the city.  I enjoy having flowers there so much, and I hope that guests to my home enjoy them, too.   In our climate, I change out the flowers in my pots three times a year – early spring, summer and early fall.  These fall annuals will bloom nicely until we've had at least one good hard frost.
The fourth week of every month has me concentrating my monthly and other longer term cleaning efforts on my school room, mud room/sewing nook, living room and back porch . It's one of Will's jobs to sweep the back porch and steps twice a week, and to wipe down the porch rails.  I am a huge proponent of assigning chores to our children.  Not just busy work, but needful things.  Chores that benefit the family as a whole.  I do not come along behind my kids and redo their chores on a regular basis.  Two reasons for that – if the child really has given their best effort, then coming along behind and re-doing the chore is heartbreaking for them.  On the other hand, if the child has not given his best effort at the job, he should be made to re-do the job himself until it is satisfactorily done.  Learning to do a job right is so important.  Of course, we need to remember to show proper appreciation for a job well done, too!
That said, I do find it necessary, from time to time, to bring things back to a certain standard.  Will has given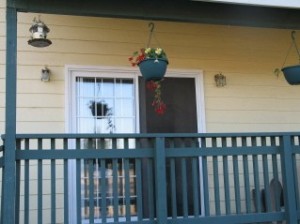 the job his best effort, but he is eight and the porch has been his sole responsibility for several months.  Today I gave my back porch a good, thorough sweeping, working well into the corners, and under the porch railings.  I swept and shook out the outside door mat.  I wiped down the porch railings well.  I swept down the siding on the side of the house (before I swept the porch), and then I wiped down the back porch light fixtures.  I wiped down the outside of Dixie's dogloo
, and I shook out her comforter and then put it back inside.  The bird feeder and the hummingbird feeder were cleaned up and re-hung as well.
Then I looked up, and realized that the porch overhang was a mess!!!!  I swept and knocked down cob webs  and spiders over my head.  I screamed!
Yes, yes I did.  Unashamedly, I might add.  I do not like spiders much anyway, but I certainly do not like them falling on me from on high!  I had to re-sweep the porch when I was done with the overhang.  While I was out there, I cleaned the outside of the sliding door, too.  
I called for Aaron and he got the shop vac
out and vacuumed the dirt and rocks out of the sliding door track  on the outside.  The last thing I did was to scrub the white trim around the outside of the sliding door.  All in all, the job took less than 30 minutes, start to finish, and it looks great!  It should not be a problem for William to maintain this area for us now for another few months without any help.
While Aaron and I worked on the porch, I put Will to work doing some much needed straightening up in the school room.  On a good day Will can clean up a room in a flash with no direction at all.  On days like today, he is more task oriented.  Dani gave him five or six tasks to complete, one at a time, and he finished the job in no time!
I had planned to do some of the scheduled cleaning in the mudroom/sewing nook today, but Dani started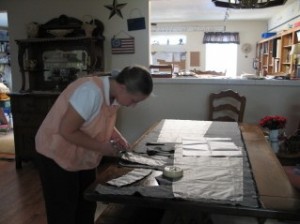 another sewing project and I did not want to interrupt. She cut out a skirt from the beautiful suiting she bought awhile back.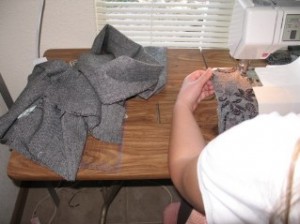 She took the time to overcast all of the raw edges before she started sewing, which will give her skirt not only nicely finished seams, but will also prevent raveling.  She began the skirt construction today, too.  I may not get to any of the scheduled cleaning in the mudroom/sewing nook this time around.  That's okay!  I would much rather have the room in need of attention and her encouraged with her sewing than the other way around.
Our day wound down pleasantly.  Giving the boys some extra chores at the end of their school day was a good thing.  We were all working together on necessary tasks, much as the boys have been doing with their dad, and it was a good thing!  The late afternoon was pleasantly spent, with cheerful conversations and enjoying one another's company.
Since the grandbabies were here for dinner last night, there was not enough tri-tip left over for tonight's meal. That's okay, because there was, unexpectedly, plenty left over from Monday evening's meal!  Just a sweet little bit of extra provision from the Lord.  By the way, the Pasta with Turkey Meatballs & Bocconcini was a hit with everyone!  Oh, it was good!  Last night's apple and grape salad was good, but I did not make it from the recipe from Everyday Food.  While I was in the kitchen working, I ended up just winging it with the salad, and it turned out well.  Scroll down for the recipes for that and the Hearty Mashed Potatoes.  The Hearty Mashed Potatoes is sort of a work in progress, but they were good and I'll definitely make them again.  I'll update the recipe as I improve it.
God bless you as you look well to the ways of your households!
Proverbs 31:27