My family is scattered today.
Copper took a vacation day from work.  He and Aaron drove an hour or so this morning to participate in a work day in preparation for our church's Reformation Party this evening.  They will be down there working all afternoon.
Dani left before 8:00 this morning to drive the hour and a bit to Lisa's.  As always, I am sad to see her go, but happy all at the same time to be able to send her to help.  Though she is not here in my own home, she is in the home of a dear friend, being Lisa's hands and feet as Lisa looks well to the ways of her own household.  Are you remembering to pray for Lisa?  She is thankful for your prayers, I know.  The Lord has kept baby Grace safe in her momma's womb, and the most recent report from the doctor is encouraging!
Will and I are having a quiet day.  We will leave here mid-afternoon to take the hour's drive for ourselves, meeting Corin and her family somewhere for a quick bite to eat.  Towards evening my family will all be together again as we celebrate and remember an important date in our church history.  It should be a fun evening!
We had a lovely day yesterday, all of my treasures and I.  My children and I spent several hours in our favorite
park with Corin and my sweet grandbabies.  The weather here is glorious, but we know that this will quickly pass. Corin and I made the "executive decision" to have one last park day Thursday to enjoy the weather while it lasted.  It was pleasantly cool in the shade, and not too hot for the children to play, and play hard, all afternoon in the sunshine!  They drank plenty of water, and enjoyed their time together immensely.  There were several times that we just laughed until we cried watching them!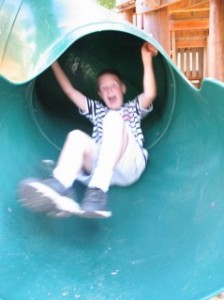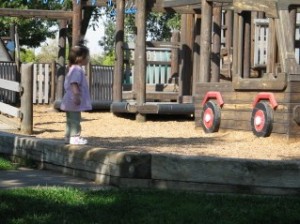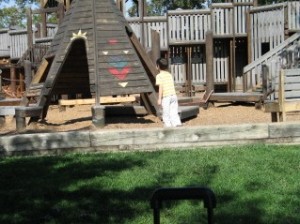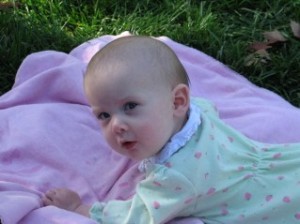 I have been enjoying my re-reading of Hidden Art of Homemaking
.  There is such practical wisdom in Mrs. Schaeffer's writing about the home.  So many times I have heard women offer excuses for their lack of making their living quarters a true home, which reflects their own tastes and creative talents.  The excuses include that the current home or apartment is "just a rental", or that there is a lack of funds to do anything, or that they just aren't "creative", or that they don't have the time.  In her book Mrs. Schaeffer says this, "Interior Decoration, as I intimated before, is not just one's artistic efforts, but is that which your home (even if it is just a room) is.  If you are "decorating" with clothes draped on every chair, with scratched or broken furniture – it is still your interior decoration!  Your home expresses you to other people, and they cannot see or feel your daydreams of what you expect to make in the misty future, when all circumstances are what you think they must be before you will find it worthwhile to start.  You have started, whether you recognize that fact or not."
Isn't that wise?  It's no wonder that I enjoy re-reading this book every couple of years or so!  I am so encouraged by her words in my efforts as a homemaker, and there is always something new to learn!
I've heard from a few of you recently about your living circumstances, some of which are, I'm sure, quite difficult.  Living in just a couple of rooms offered to you in the home of another family. Squeezing a large family into a small apartment. Or even traveling from city to city, living in hotel rooms, with a husband whose job keeps him on the road.  Mrs. Schaeffer's advice still applies!
If you are between homes of your own, how about unpacking two or three pretty things that say "home" to you and displaying them wherever it is that you now reside.  If rooting through packed boxes isn't possible, perhaps you can find a pretty thing or two at a thrift store for the same purpose – a small glass candlestick to hold a scented votive candle or a lovely framed print to stand on a table or dresser.  If you are traveling from place to place, bring a few small things from home to make your hotel room seem more inviting.  Perhaps a pretty tablecloth to spread over the hotel room table, two or three framed photos, and a vase that you can arrange a bud or two purchased from a grocer's display or a farmer's stand.  Keep your surroundings tidy and pleasant to look at.  Arrange a pile of books or magazines that you are reading, or your children's homeschooling materials, nicely when they are not in use.
Mrs. Schaeffer rightly reminds that wherever we are currently "living", even if it is just for one night, that is our home.  When we go camping, I try to keep a neat "home" there, as well.  Shortly after breakfast I'll head into the tent to straighten up sleeping bags, fluff and place our pillows, straighten up the laundry baskets that we use for our clothing when we camp, and sweep up the floor a bit.  This little bit of effort makes it much more inviting for us to enjoy a short nap in the afternoon, or to invite us back into our cozy "beds" at the end of the day.  We keep throw rugs or Astroturf at the door of our tent to help keep the dirt outside.  I keep the picnic table cleaned off and tidy it often throughout the day as we use it for meals, games, etc.  I wipe the dust off of my camping "kitchen" area before preparing meals, and I clean it thoroughly as part of doing the dishes after each meal.  I've even been known, in years past, to bring along a basket of silk flowers for our camp table!  Where you and your family are – that is home.
The girls and I were quiet again, too.
I would like to share with you that I have just not been feeling well.  I was down a couple of weeks ago, and woke up quite ill again Thursday morning.  I'm still not feeling great today.  This will all pass, I know, but I do not like being sick.  It's sometimes hard to find joy and to have a thankful heart when we're sick, but it's not impossible.  Instead of having a pity party, I'm plugging along and taking care of the most needful things in my home.  I'm working slowly, and I'm sitting down frequently, but I'm still caring for my home.  This is really beneficial to me.  When I'm busy, I'm not really concentrating on how I feel.  When I do sit down to rest, and I must quite often, I find something gainful to do – knit, read, go over a school assignment with a boy, jot down some notes for ideas I've had, or answer a couple of e-mails.
I'm not overdoing, nor would I ever advise you to overdo during times of illness; but wallowing in self-pity has never done me much good either.  I can choose to look at the list of things that I'd hoped to get done this week that won't get done because I'm just not up to it, OR I can choose to take joy in the fact that the laundry is humming along, there are a few items out drying in the fresh air of the clothes line, my kitchen is clean and neat and scented with lavender, and I've had the opportunity to read quite a bit and to knit several more rows of my shawl. Guess which choice I'm making?  I am choosing joy!
God bless you as you look well to the ways of your households!
Proverbs 31:27