As I sat down to relax a bit in my parlor late this afternoon, the sun, low in the autumn sky, was shining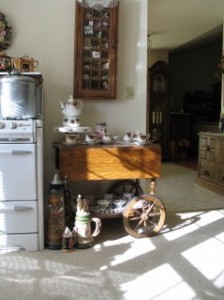 brightly  on a pretty, footed tea cup.  I have several tea cups on the bottom of my tea cart.  The tea cart itself was a gift from my mom, so many years ago that I don't recall the occasion.  It was something I had mentioned to her once, in passing, as being something that I'd like to have.  I loved that about Mom, that ability to hear a desire mentioned by someone she loved,  remember it and carry it out later on.  The Old Country Roses china displayed on top was my mom's, too, though the beautiful, reversible cake stand was a gift this past Mother's Day from Corin, Rob and the grandbabies.
This afternoon, that little footed tea cup caught my eye  and made me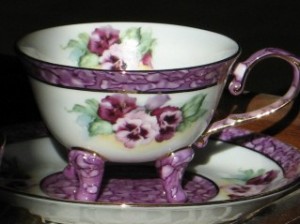 smile.  It is banded and trimmed in purple, with pretty pansies painted on.  There is just enough gold trim, which was caught by the sun, that it drew my eye. The sweet memories, of course, followed suit.  My mom's buying the tea cart for me.  The joy my mom had in collecting a full set of china, her first and only set, in her senior years.  The lovely gift from Corin and her family.  All of the tea cups on the bottom shelf, most of which belonged to my beloved mother-in-love.  Even the trio of beer steins situated on the floor bring fond memories of times distant, and of others not so very long ago.
You see, I love my life.  I wish I could say that I have always found the joy and contentment that I do now.  I am so very thankful for all of the people and books that the Lord sent my way over the years that have caused me to see things so differently.  Those people and books, flawed though they were, pointed me directly back to the flawless Scriptures, which held all of the promises and unfurled all of the mysteries of joy and contentment that had eluded me.  I've not arrived, of course; and if I am not careful, daily reading His precious Word and holding it fast in my heart, I can fall right into the trap of discontentment again.  It's not a place I like to dwell.  As soon as I find myself falling into that trap, I confess to Him immediately, turn my wayward thoughts back to the One who brings such perfect peace, and then I can't wait until I am able to sit awhile and read His Word, drinking it in.  He is so faithful!
I can love my life, and find contentment and peace, even on days when I don't feel well.  Or on days, just like today, when I am overcome physically with fatigue, and when my joints are aching.  It would be easy for me, today, to look around my home at the things that I am not getting to and be discontent.  However, I chose, instead, to notice the sun light on that tea cup.
Things have continued to be quite busy here.  My husband and I spent quite a bit of time the other day at a lumber yard an hour's drive from here, planning and making decisions about our new porch.  It was so much fun! We got quite brave, actually, and chose two colors of the composite material to use on our porch, one main color and a second for trim and accent.  My husband is still working on his plans and how, exactly, he will build the framework and structure that will support the actual "pretty" part of the porch; but I have absolute confidence in him!  He is detail oriented and I know that our porch will be beautiful, though it may take quite awhile for him to build working just on his days off.
We had the wonderful gift last night of sharing our evening meal with friends from church.  We do drive a wee bit over an hour to our church, but there are others who drive just as far, and even further, from other directions to attend.  This family is one of those!  They were passing very close to our home on their way to visit relatives, and we were thrilled to be able to offer them a meal and a brief respite on their journey.  In God's perfect providence, they were traveling on one of my husband's days off, which enabled us to enjoy their company as a family.  I enjoyed their visit so very much! The children played happily together and we enjoyed a bit of time to talk together before they needed to continue on their way.
My menu plan last night called for Mediterranean Meat Pie, salad and soft bread sticks.  Two of the meat pies can be made as easily as one, and a big green salad takes only a moment or two.  Dani graciously made a big pan of whole wheat dinner rolls, in place of the soft breadsticks, and a batch of her big chocolate chip cookies.
Today, of course, was Library Day at Grandma's house.  We read together three books that we chose jointly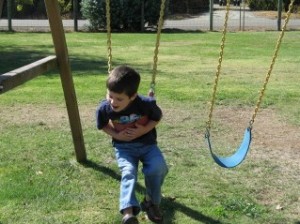 from my picture book shelves; and then each of my little treasures chose three books to enjoy this week at their house.  We read the simple story of a hen and her chicks
making their get-away from a bad dream.  The five year old chose Albert
, who learns to bravely venture outside even when things are not quite to his liking.  Later, the five year old tried to fly on the swing just like Albert did in the book!  We finished with my favorite version of the story of Johnny Appleseed
, which is a perfect autumn read-aloud.
My girls, the grown two and the littlest grand, chatted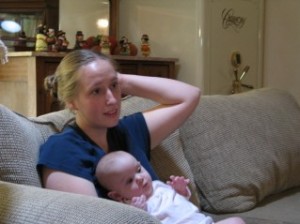 together with Aaron, Will and their dad while I read to  the others in the schoolroom.
I have, for a couple of weeks now, felt the need to find a bit of something to do with the grands after our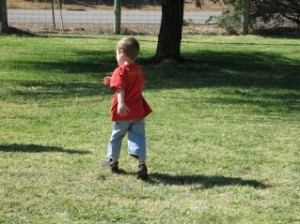 read- aloud time together.  We did enjoy the fall weather outside this afternoon, but it was just almost too cool to be outside without sweaters and jackets.  It won't be long before the cold weather, or the rain, keep us indoors all afternoon.  I plan to spend some time this next week searching the shelves of my home library for a fun, easy fall craft or two for us to work on together for part of the afternoon.  I will, of course, allow plenty of time for uncles and little ones to play together, too!
I was feeling very tired this afternoon, but I did enjoy watching the children, treasures every one, all playing in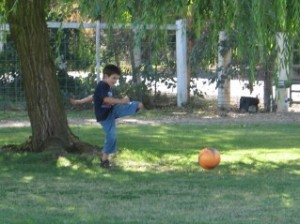 the front yard.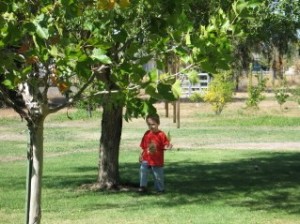 The little boys wrestling on the trampoline.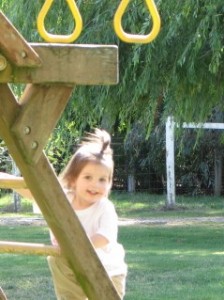 My sweet granddaughter, in her very high and girlie voice, chattering while she played.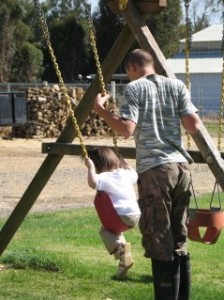 My oldest son, pushing her on the swing.
My Will, climbing high up into the tree by the road, and calling out for everyone, "Look how high I am!".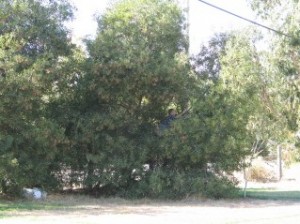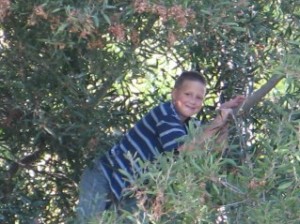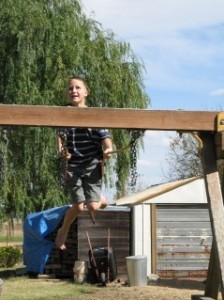 And that same boy swinging insanely high!
Collecting the eggs with my grandsons (who were way too fast for Grandma's camera!).  And spending the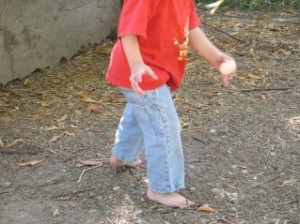 afternoon chatting away with my grown girls, not talking about anything really, just girl talk.  All the while, of course, the wee one snoozed inside where it was not so breezy and cool.
After so many ideas gone wonky, I have at last decided to knit my shawl just as Jewels and Rosie did theirs with only one minor adjustment.  For the size shawl I want, I will need to increase two stitches each row rather than just one.  I will follow their instructions with the knit one, yarn over, knit the rest of the row, but I will knit into the front and back of the last stitch of each row to get that second increase.  I would love to link you to Jewels' beautiful blog, and her daughter's shawl instructions, but Jewels has very recently felt led to remove her blog from public view.  It is, sadly, no more.  I will miss her very much , though we'll likely never meet in this world.
Oh, but you all know that I recently met a blogging friend.  Sweeet Sherry, of Lula's Hardt, sent me a surprise fall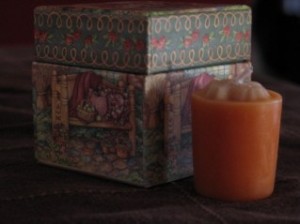 gift today via my daughter, Corin.  She sent a yummy smelling votive candle, with a leaf embossed at the top, enclosed in a beautiful, tiny box.  She had it wrapped so attractively, too; but I was so excited I ripped it all apart before thinking to take a picture.
Thank you, Sherry!  I am blessed to know you!
My husband, having worked so very hard these last few weeks on his days off and not getting nearly enough rest, has worked himself into a bit of a chest cold.  He felt well all day yesterday, but as our guests left (and as he walked his forgetful wife out to the well pump to shut off the irrigation to the vineyard in the damp, late evening) he began coughing and feeling not so great.  He stayed home from work today, felt just okay for part of the day, and felt pretty well by late afternoon.  In fact, he treated us by taking us to a local pizza place for dinner!  However, as the damp evening air has moved in tonight, he feels poorly again.  It looks like he will be home again tomorrow, taking it easy, resting up, and doing what is necessary to shake what ails him.
The evening is getting late.  The lights are on, and the sun has long since set.  Today's cool breeze has turned into a fairly cold wind.  Snug and warm in my home, I am enjoying hearing it blow through the trees outside.  I'm thinking it might almost be cool enough for a fire in the wood stove.  I wonder if the rest of my family would agree……
God bless you as you look well to the ways of your households!
Proverbs 31:27