Oh, my word!!!  We've had such a hugely great weekend, I don't even know where to begin!  So many, many good things!  I'd love to share it ALL with you, but I'll just have to settle for the highlights.
My boys and I did our mega-shop on Friday.  We did everything except the Costco run.  I had ordered Aaron's birthday cake from Costco earlier in the week and since it would need to be picked up on Saturday, we decided to just do all of the Costco shopping then.  We came home, the boys unloaded the van for me, and I sent them out to play football while I put everything away.  Even though I was working alone, I got things put away quickly.  I saved the re-packaging of the bulk meats and stuff until after our Costco run the next day.
When Aaron went out to feed the animals Friday evening, he began calling me frantically, "Mom!  Mom!  We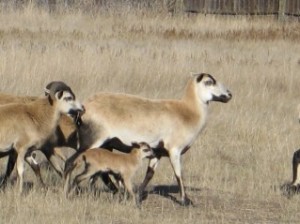 have another lamb, we have another lamb!"  Now, we knew we had another ewe pregnant, but we were thinking, judging by her size, that she wouldn't lamb until closer to Christmas.  We were wrong!  She was small because she was carrying just one little lamb, instead of the usual twins.  Oh, and we are just so tickled that this single lamb is a little ewe lamb!!!  So, in the last few weeks, our little herd has grown from 9 to 14.  Since the newest lamb was just a single, she's also just a bit larger than she should be for brand new.  It will be so much fun having five lambs so close in age. They are such a joy to watch!  And to hear!  Oh, their pitiful little bleats are so precious!  I love hearing the momma ewes scolding bleats, too.
Dani was home Saturday just a bit after noon.  Lisa is following doctor's orders and her sweet baby (named Grace!) is staying put.  Dani delighted me with her stories of how Lisa is looking very well to the ways of her household, though she is confined to lying flat on her back in her bed.  Please do remember to keep Lisa, and baby Grace, in your prayers these next several weeks.  Every week that baby Grace remains in the womb is an answer to prayer!  Lisa and her family have blessed us incredibly by allowing Dani to drive one of their vehicles home.  I was able to tend to things here all morning Saturday while Dani drove herself home.  She'll be returning to Lisa's later this week, and will just be able to hop into their car for the return trip.  What a blessing!
The boys had a list of chores to accomplish Saturday, and Dani and I headed to Costco.  I'm not used to the Saturday crowds, but we put our hands to the grindstone and got 'er done!  I have to tell you, honestly, I just really do not care for the demonstraters in that store!  They cause such huge road blocks and just generally make the shopping experience for those of us who are there to conquer the store, and not graze, miserable.  The fun  part for us, though, is that we always come home with at least one or two good stories from it!  Saturday's favorites were the man who blocked the only open space in the aisle, looked around at the resulting jam up, and said, "Wow!  Look at the log jam!".
My personal favorite was the guy who, after seeing Dani having to climb into the refrigerator case to retrive our three cases of milk from the diminished supply, just had to comment, "Gee.  She just climbed right on in there."   Well….yes, yes she did.  That's the only way she can reach the milk.  Oh, my…..we laughed over those two.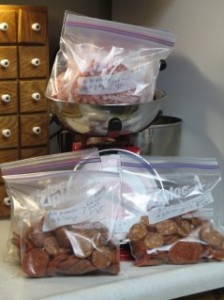 Re-packaging of the bulk meats and things finally happened Saturday towards evening.  A local market had run a few really good specials on some meats that inspired me to plan for some all meat pizzas in the next few weeks.  I purchased a pound and a half of bulk pork sausage and 3/4 of a pound each of chorizo and pepperoni.  I re-packaged these with 1/2 lb. of the sausage in  a bag with 1/2 lb. of ground beef from my freezer.  Then I sliced the chorizo and packaged 1/4 of it with 1/4 lb of sliced pepperoni.  Later this week when we have our all meat pizza, I'll simply brown the sausage and ground beef, thaw the sliced pepperoni and chorizo and then top our pizza with all four meats before baking.  If I'm on the ball, I'll even remember to add some crumbled bacon to it.  For far less than the price of one all-meat pizza from our local pizza place,  I have enough meat to make three pizzas of the same quality at home!
Yesterday we drove home right after our church worship service.  Aaron turned 14 yesterday, and we had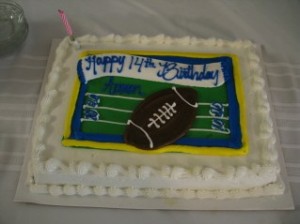 planned a small, family party for 3:00.  We were thrilled to have Copper's dad and his wife, Meg, here, along with Copper's brother and his family, and Corin and her family.  We had such a nice time of chatting and then enjoying Aaron's opening his gifts, followed by stuffing ourselves with cake and ice cream.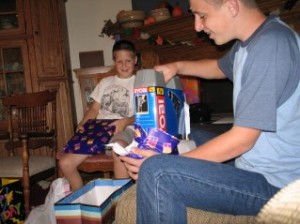 A new corded drill/driver.  Aaron's very first power tool!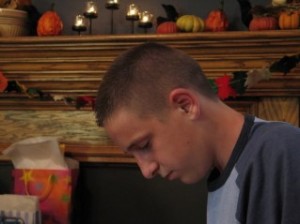 Oh, how did my treasured boy get to be so grown up??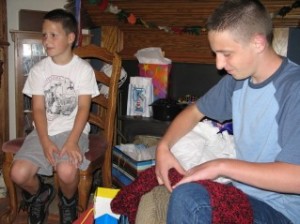 The scarf that Will knit for his brother!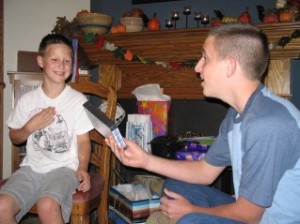 Will hoping that his brother will share that brand new computer game with him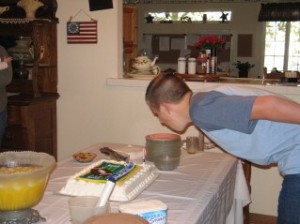 Even though that was wonderful, the real joy of the afternoon came later.  I enjoyed some sweet fellowship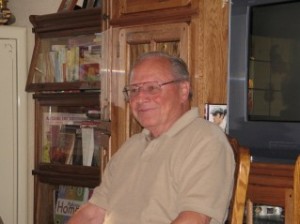 with Meg as well as with my sister-in-law, Leigh.  My husband and his dad talked for a good long while in the living room, too.  Sweet fellowship.  I am so thankful that the Lord sent Aaron to us, and that we were able to celebrate his birthday with our family.
Lu, Copper's Dad, and predecessor in law enforcement.
But the real party was happening outside!  The Lord gave us a glorious warm, sunny fall afternoon, and the kids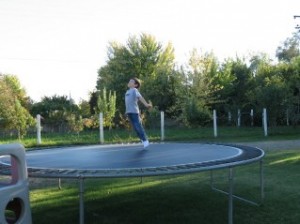 (including some pretty BIG kids) played for hours outside.  From my sweet two year old granddaughter right on up the line to my husband, ages 2 – 52, they played.  There was trampoline jumping.
My five year old treasure in fine form!!!
Ryan, my 20 year old nephew, caught mid-flip on the tramp!!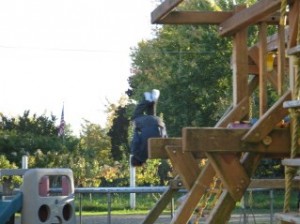 There was baseball playing.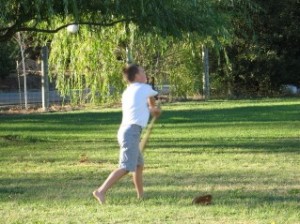 My 15 year old nephew, Matthew at bat, and running the bases…..in his socks.  Being outside in socks must be genetic!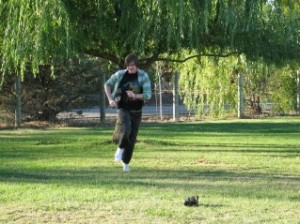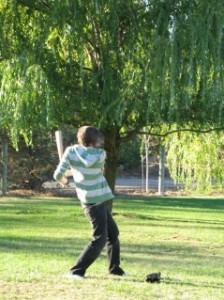 There was football playing.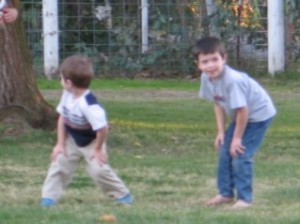 These two were just too cute.  I know the picture is out of focus, but these little guys were watching the big guys and doing everything they saw them doing!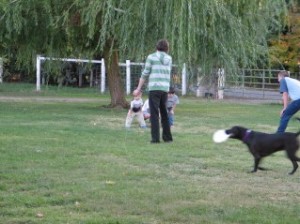 The little guys facing off against the big guys….while Dixie officiates the game.
There was swinging on the swings and climbing on the playset.  But most off all, there was just a lot of good,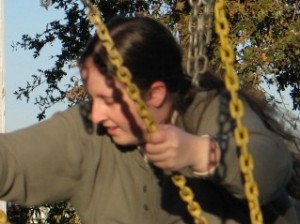 wonderful, silliness and fun!  My nephews, who are 20 and 15, played with the little kids and let them climb them, tackle them, pile on top of them, chase them, and otherwise generally trounce them.  Those big guys took it all quite good-naturedly and flipped and tossed little kids all afternoon.
Corin on the swings!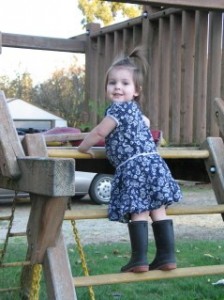 She doesn't mind a bit that there are weeds growing ON the playset!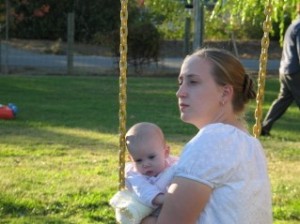 Two of my beautiful treasures!
The weather   remained warm until dark.  My brother-in-law and his family left as the sun was setting, and the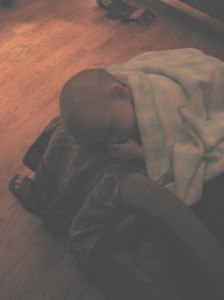 rest  of us headed inside.  We popped up several batches of popcorn.  Will and the grandbabies watched a quick Veggie-Tale video, and the rest of us chatted.  It wasn't long before I had my hands on my sweet, wee little granddaughter.  She would nap a bit and then wake up grumpy.  Then she'd nap a bit more and wake up all smiles and fun and make me just laugh right out loud.  By and by, though, she took a good long nap in my lap. and my other treasured granddaughter fell asleep on the couch between her momma and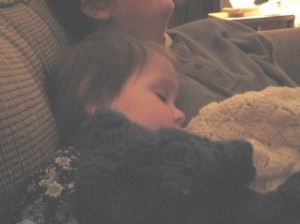 daddy.  It was quite late before we were all ready to call it a night.  It was a wonderful, full, joyous day!
Today was a full, busy day.  My husband, though I know he is longing to get back to work on the front porch,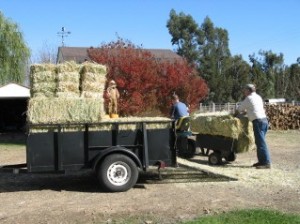 spent his day winterizing our pool and buying and storing hay for the next few months.  I did not volunteer to return to the hay broker's with him today, I stayed right here, thankyouverymuch!  The boys went of course, and came home loaded down with candy and gum.  Why is the hay broker always so friendly and nice when I DON'T go?  I dunno!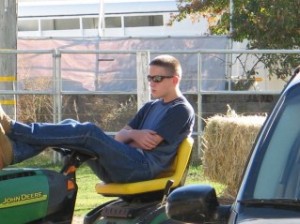 I did my daily laundry and tidied up a bit here and there.  I started to put Aaron's birthday gifts away, as they are all still in the living room, but you know what?  I've always allowed my kids to keep out new birthday or Christmas gifts for a couple of days or so, to enjoy them at their leisure.  A few stray things here and there aren't hurting a thing!
Dani cut out the black top that she's making to go with the skirt she just finished..  I think it will be a striking outfit when she's done.  Our brand new iron is on the fritz, though, so there is only so far she can go without pressing seams open, pressing up hems, etc.  I am not too happy about the fact that I have to package up the iron and mail it off to a city far-far away for repairs.  I don't have a back up iron.  Corin is going to loan us hers for a couple of days, so I'll have to sort of plan ahead a bit and try to have all of our church clothes and things figured out early in the week.
This is the 4th week of October, of course, which finds me working on the longer term chores in my school room, mudroom/sewing nook, living room and back porch.  I pulled the matching valances down from the school room and mudroom/sewing nook windows today and ran them through the washer and dryer.  I will iron them, as soon as I get Corin's iron, and then rehang them.  I have quite a few things to tend to on the list for these areas, but I've been especially anxious to get a few things re-organized in these areas, too.  Lord willing I'll have the time this week to:  re-organize the drawers in my side-board, re-organize the shelves in the sewing nook, take care of the overflowing basket of papers to be filed, clean off the tops of my bookcases (removing the clutter!), take down the time-line on the wall, and (here's dreaming big time!) clean out and re-organize the school room closet!  I'm laughing as I'm typing all of that……..you gotta have dreams, right?  Just now the song, "To Dream the Impossible Dream" from Man of LaMancha is echoing in my head!
Our tradition is for the birthday person to choose a restaurant for their birthday dinner.  Since Aaron's birthday fell on the Lord's Day, we are going out for dinner tonight instead.  We have a fabulous, sit-down, family style Chinese restaurant in a little town that I still call by its original name, rather than by the name of the city that has now absorbed it.  It's just about 12 miles from home and Aaron chooses his birthday dinner there every year!  We all really enjoy the food there, and we might even have enough left overs for lunch tomorrow.  You just never know!
God bless you as you look well to the ways of your households!
Proverbs 31:27