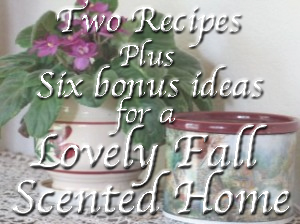 Every fall I enjoy filling my home with lovely scents!  There are so many ways that I've done this. Here are six quick ideas:
scented pinecones purchased at the grocery store and displayed in a bowl near the wood stove
scented candles
tart warmers
scented potpourri displayed in bowls or hidden in vases around my home
lamp rings scented with essential oils
plug in room fresheners
(If you click on the links below, and then make a purchase, some of them may put a few pennies into my pocket. Of course, there is no additional cost to you. I am always grateful to those of you who choose to bless me this way. You can read about how I spend those pennies, and more about how I earn them, in my disclosure policy.)
The one thing that I've done consistently over the years, feast or famine, is to use spices from my pantry in a pot of simmering water.  This option works even when the budget won't allow for purchasing of wax tarts, scented candles, essential oils, or plug in fresheners.  You can, of course, keep a pan simmering slowly on your range all day.  You can also add the spices to a pot on top of the woodstove (being very watchful to not let it boil dry!).
Over the last few years, I have purchased a few electric potpourri pots
 for just a few dollars each, and used them year after year.  These sell for less than $10 at Wal-Mart and are sold, most usually, in the crafts department.  I have all three of mine filled and plugged in here today, and the scent is wonderful!  I've had these three pots for several years now, and they continue to serve me well.
I keep the wonderful scent going by re-filling the water level in the pots as they get too low during the day.  If money is tight, it's not necessary to change the spices in the pots every day; but it is helpful to add just an extra pinch of the ground spices first thing in the morning to refresh the pot.  If you are using one of the recipes with fruit, be sure to replace the fruit slices every couple of days at least.  I usually wash out my pots and replace the spices every four or five days.  If a filled pot has sat unplugged for more than 24 hours, I always wash it out and replace the spices to prohibit any mold spores from developing.  And always, ALWAYS, remember to unplug your potpourri pots (and/or blow out all of your candles!) when you leave the house or retire for the evening.
Here are a couple of our favorite, frugal simmering potpourri recipes.  The first one is the one I have in my home today.  This is a good way to use the bruised bits of an otherwise good apple. The apple and spices give the aroma of apple pie baking.  The second recipe is one that Dani came up with a few years ago.  It's spicy citrus scent is wonderful, and is especially appealing to the gentlemen.
Copper's Wife's Favorite Fall Simmering Potpourri
Three cinnamon sticks
Three or four whole cloves
Two pinches of ground cinnamon
One pinch of nutmeg
Two or three apple slices, including the peel (optional, but really nice!)
Dani's Winter Citrus Simmering Potpourri
Two or three thin slices of orange, with the peel
4 – 6 whole cloves
Dash of ground cinnamon
With either of these blends, simply add your spices and fruit to the potpourri pot, add warm water and simmer all day!  Check your water levels from time to time so that they don't burn dry, and add a fresh sprinkling of cinnamon and/or nutmeg to refresh the pot the next morning.